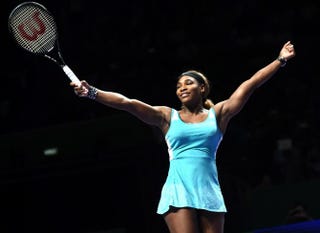 Serena Williams won her 19th grand-slam title Saturday night, continuing her winning streak in six Australian Open finals and extending her decadelong command over Maria Sharapova with a 6-3, 7-6(5) victory despite a hacking cough, the Associated Press reports.
Williams initially celebrated prematurely on her third match point, "letting her racket go before hearing a let call to what she thought was an ace," the news site notes. But she quickly regained her composure.
"I thought, 'Wow this is it, I did it, only to hear let. I was like, 'OK, Serena!'" she said, according to AP. "I was very disappointed, because Maria was playing so well. I thought she's going to try to hit a winner now … [going] for broke on match point."
The celebration became real on Williams' 15th ace of the set and 18th of the match. AP said that Williams "jumped around like a little child, bouncing up and down, before shaking hands with Sharapova at the net."
"I'm so honored to be here tonight and to hold this 19th trophy at my favorite stadium," Williams said.
The win makes Williams, at 33, the oldest winner of the Australian women's title in the Open era and moved her into second place on the list of major winners in the Open era, behind only Steffi Graf's 22, AP writes.
Read more at Yahoo Sports News.