The Associated Press just confirmed what we already knew: Serena Williams is the greatest of all time. On Saturday, the news org named Williams the AP Female Athlete of the Decade after a vote by AP beat writers and member sports editors.
Williams beat out gymnast Simone Biles—who was recently named the Associated Press Female Athlete of the Year—for the honor.
"Serena Williams dominated the decade, on the court and in conversation," the announcement read. In other words, she slayed—on and off the court—for an entire decade.
"When the history books are written, it could be that the great Serena Williams is the greatest athlete of all time. ... I like to call it the 'Serena Superpowers' — that champion's mindset. Irrespective of the adversity and the odds that are facing her, she always believes in herself," said Stacey Allaster, CEO of the WTA from 2009-15 and now chief executive for professional tennis at the U.S. Tennis Association, which runs the U.S. Open.

"Whether it was health issues; coming back; having a child; almost dying from that — she has endured it all and she is still in championship form," Allaster said. "Her records speak for themselves."
On the court, Williams demolished opponents by winning a dozen Grand Slam singles titles, four times the number of wins other female competitors garnered during the same time period. She has also won a whopping 23 Grand Slam singles titles, "more than anyone else in her sport's professional era," AP wrote.
In fact, Williams captured the AP Female Athlete of the Year award five times in the last decade: in 2002, 2009, 2013, 2015, and 2018.
G/O Media may get a commission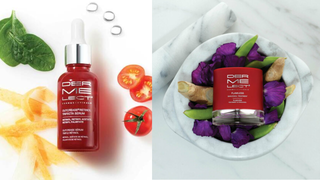 Save $19
Retinol Renewal Kit
Off the court, Williams shone just as brightly. A fashion school graduate, Williams launched her S by Serena clothing line, a fashion line showcasing the tennis star's design sensibilities; Serena Williams Jewelry, a luxurious line featuring silver and gold designs and conflict-free diamonds; and of course, her Nike "Queen" collection, shoes and sportswear fit for tennis royalty.
Not content with just being a tennis champion and serial entrepreneur, Williams has also become outspoken about social issues that impact women. After her near-death experience post-labor, Williams began petitioning the medical establishment to listen to black women. And earlier this year, she starred in a female empowerment-themed ad for dating app, Bumble. The ad, which encouraged women to take control of their careers and their love lives, aired during the Super Bowl, which shows just how much weight Williams' brand carries.
Williams is proving that she is an undeniable force in every sphere she enters. Fans are as drawn to her vulnerability as they are to her success. AP wrote:
"I definitely feel like when I lose, I don't feel as good about myself," she said.

"But then I have to, like, remind myself that: 'You are Serena Williams!' You know? Like, 'Are you kidding me?'" Williams continued with a laugh. "And it's those moments that I have to just, like, come off and be like, 'Serena, do you know what you've done? Who you are? What you continue to do, not only in tennis (but also) off the court? Like, you're awesome.'"
She IS awesome, as she has been since she first ran onto the tennis court rocking beads and not giving a damn, just a couple of decades ago.