For the students at Middle School 118 in New York City's Bronx borough, it was an immersive lesson gone way too far.

Teacher Patricia Cummings is catching heat from students and parents after a social studies lesson she delivered about the Middle Passage—one that involved her stepping on her students' backs.
The New York Daily News reports that Cummings singled out black students in her class and had them lie on the floor in front of the classroom.
A student, who declined to be identified, told the Daily News that Cummings, who is white, asked the kids, "You see how it was to be a slave?"

But, according to the News, she didn't stop there:
When a girl on the floor made an uncomfortable joke and said she felt fine, Cummings stepped on her back, the student said.

"She put her foot on her back and said 'How does it feel?'" the student said. "'See how it feels to be a slave?' "
G/O Media may get a commission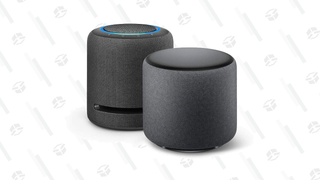 25% off - Prime Exclusive
Echo Studio + Echo Sub Bundle
The lesson was taught multiple times in several different seventh-grade classes, the Daily News reports. Students and adults at Middle School 118, whose student body is 81 percent black and Latinx and just 3 percent white, reported being horrified at the lesson, which took place about two weeks ago.
Cummings' over-the-top lesson is just the latest in a steady stream of controversial classroom incidents around race that range from the insensitive to outrageous. While games and role-play can be useful and effective teaching tools, educators across the country have debated their efficacy when it comes to dealing with more sensitive and traumatic subjects, like slavery.
A 2014 article from Teaching Tolerance, an organization that aids educators in teaching about social justice and anti-bias, explicitly advises teachers against the use of role-play, saying it can "induce trauma and minimization, [and is] almost certain to provoke parental concerns."
The article also advises educators not to focus on brutality, separate kids by race, or treat students as "modern-day proxies for enslaved people or owners of enslaved people"—all of which appear to have happened during Cummings' lesson.
The Daily News reports that Cummings was "removed from her post" for a couple of days following the lesson but has since returned to the school. She declined to comment to reporters who spotted her on campus Thursday.