While many of the stories about HBCU students being pulled out of line during graduation exercises for various reasons (usually financial or not having completed necessary coursework) skew hyperbolic, there is some truth to the narrative. At my own graduation from Morehouse College in 2001, I absolutely did see somebody pulled from our baccalaureate procession, and the next day, during graduation, I watched him watch us march to our campus green as we prepared to walk across the coveted graduation stage, going from Men of Morehouse to Morehouse Men.
Other graduates from HBCUs have similar stories. But most places, I imagine, let students walk across the stage; they just can't get their actual degrees until they cut that check. I imagine Howard University is one such current case. In the midst of turmoil caused by their financial aid office's apparent improprieties, the plight of financially deficient students is really the most important. As per HU's financial office, students were sent letters stating that the school had exhausted its financial budget; meanwhile, the office was basically a semi-automatic money-gun party.
Any college student knows that financial issues are the most stressful to have while trying to graduate. Many students never make it to the other side because of financial issues, often dropping out or delaying their education trying to make money to pay for it. It sucks but is common.
But to have that problem after your school's financial aid office denied your application because of a lack of funds, when employees were makin' money moves? To the tune of an estimated million dollars? That's that shit we don't like.
Imagine you're trying to graduate and have completed all of the academic requirements but can't get your degree because of a $500 financial deficit. Or because you're $2,000 short for the last semester's tuition. And you have a LETTER from the school, from the financial aid office, saying that all of the funds in the financial aid budget have been depleted, a letter that you read right after you liked the picture of Tyrone Hankerson Jr. jumping in the air on Instagram.
G/O Media may get a commission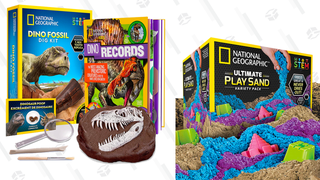 Up to 33% off
National Geographic Science and Activity Kits
Enter Scholly. Founded in 2015 by current CEO Christopher Gray, then a student at Drexel University in Philadelphia, and two fellow students, the company's primary mission is to link students with financial needs to potential scholarship money. But now they have another mission: Help students at Howard University affected by the financial aid scandal close up financial gaps, pledging up to $10,000 per student who can demonstrate both a need and proof of being negatively impacted by the shenanigans at the Mecca through their Scholly for Howard Fund.
According to Gray, whom I spoke to by phone, since creating the Howard Fund and drawing awareness to it via social media, they have received almost 500 submissions for financial help from Howard University students. The funding requests have been all over the place, with some folks requesting more than the maximum amount because of special circumstances (consider that some students have been screwed out of financial assistance for multiple years). Ouch.
The plan? Have students fill out an application on the site and submit an explanation of how they were personally affected by the ongoing financial aid scandal. Priority will be given to students who can provide documentation—emails stating that they were unable to receive aid because of budget exhaustion from the school, for instance—and college seniors trying to get out of school in May.
In order to maximize the ability to truly help students, Scholly and Howard University will have to work together, especially for disbursement, but obviously—and Gray confirmed this—HU isn't really talking to many folks right now. Getting the top blown off of some shenanigans will make you circle the wagons.
From a humanitarian standpoint, wading into the waters of assisting potentially wronged students at the nation's most famous HBCU is an awesome decision on the part of Scholly. As an app that finds ways to help students find money and make the most of a college opportunity, helping Howard students get to the finish line is in their wheelhouse and is a great PR move to boot. Obviously, that's not the primary objective, but positive boosts never hurt anybody.
Hopefully the students at Howard who have been negatively impacted by their rogue financial aid officers are able to get made whole somehow, whether through Scholly or elsewhere, but it's dope that a company like Scholly is also tossing their support into the ring for the students at HU. Maybe others will follow suit. The most important part is that students have an ability to access some aid while the school gets itself together.
Last thing that needs to happen is students who got screwed NOT being able to graduate. That's a whole new set of headlines.