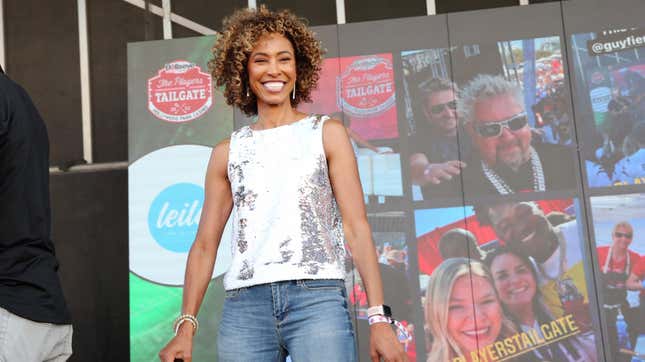 Well, no one saw this one coming. During a recent interview with Megyn Kelly, Sage Steele told a story about an alleged exchange that happened with her and the late Barbara Walters back in 2014 in the greenroom of The View. During an episode of The Megyn Kelly Show podcast, the former SportsCenter claimed that Walters tried to assault her after a segment about Barack Obama.
Here's The Moment 20/20 Co-Anchor Deborah Roberts Felt Like She Made It | Securing the Bag: Part 5
Walters created, co-hosted and produced the esteemed talk show for 17 seasons. "It was Barbara, Whoopi [Goldberg] and myself in the dark green room off to the side," Steele told Kelly. "I was probably about four feet from the wall and the trash can, and Barbara was standing over here in front of me.
"She just started to back up toward me and looked at me and got close and elbowed me, and it pushed me back into the wall and the trash can. I was like, 'What did [she] just do to me? This 140-year-old woman just tried to like tackle me.'"
Walters died at the age of 93 last year, which would have made her around 85 years old at the time of the alleged altercation. Even though Walters was reportedly ready to square up with Steele, a representative for the Walters estate stated, "I find this impossible to believe and uncharacteristic of Barbara!"
However, Steele claims the media personality was really about that life. "Some of the producers saw it. Whoopi saw it. And Whoopi was like, 'Come here.' She was great," Steele asserted. "She pulled me aside in her little area and she's like, 'Don't you let her do it.' And I'm like, 'Am I in a movie right now?' One of the legends in this industry just tried to beat me up!"
Steele was ultimately removed from the air on ESPN in 2021 after making a slew of ignorant ass remarks ranging from vaccine mandates to Obama's racial identity. Last week, the network confirmed that Steele is permanently gone. "ESPN and Sage Steele have mutually agreed to part ways.
"We thank her for her many contributions over the years," the statement read. We may never know the truth about what went down between Walters and Steele, but it's safe to say that Steele may have gone a bit to far for Walters' taste.