You know, sometimes we hate how much we love Rihanna.
I don't think you can take this, but here's a wild thought: What if Fenty Beauty had a brand-new eye shadow palette all set to drop on July 6, and the company sneak-released it almost two weeks early?
We're not pointing any fingers, but for at least a few hours (like, while we were composing this post instead of making a purchase), that seemed to be the case with Fenty Beauty's newest release, the Moroccan Spice eye shadow palette ($59), available now July 6 on both Fenty Beauty's website and, of course, that of Sephora, which describes the upcoming release as follows:
It's no mirage: The Moroccan Spice Eyeshadow Palette combines everything you need to take you from hot, steamy days to sultry, smoky nights with its rainbow of 16 richly-pigmented shades and finishes designed for all skin tones. From smoky bolds to spicy brights and savory neutrals, Moroccan Spice serves up a dash of matte, satin, pearl, metallic, and shimmer finishes to satisfy every craving.
The 16 purportedly long-wearing shades in question include matte, satin, pearl, metallic and shimmer finishes with predictably kitschy color names like Marrakush, Ca$ablanca, Souq It to Me, Fez Up, Cumin Get It and, our personal favorite, Henna Sea (not that that's going to stop us from wearing all of them simultaneously).
G/O Media may get a commission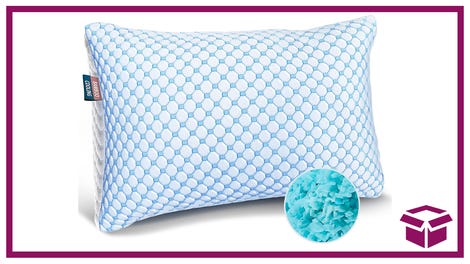 23% off
Nestl Cooling Pillow - Queen Size
This is Fenty's first eye shadow drop since the "hyper-reflective" icy pastels featured in last winter's Galaxy palette (still available for purchase). In contrast, Moroccan Spice (which admittedly sounds like a tea from Celestial Seasonings) is, as you'd expect, filled with warmer, desertlike hues, with a pop of turquoise blue in the form of a shade called Evil Genie.
Evil Genie, indeed. Admittedly, we're wondering if it was an honest mistake or a buzz-building tease that made the palette available for a few hours (we're guessing the latter, because Rihanna).
Alas, they're now listed as "Out of Stock," until July 6, that is. But after seeing these shades, what we really what to know is, was that perfect plummy, smoky eye Rih wore to the Ocean's 8 premiere created using a combo of Shisha Smoke, Fez Up and Nuts N Dates?
But wait, there's more! On July 6, Fenty's also set to release its first basic eyeliner, a long-wearing liquid liner pen cleverly called Flyliner ($20), which will debut in a single shade: Cuz I'm Black.
Cuz I'm Black, y'all.
As far as we're concerned, this product name needs no explanation whatsoever, but there's actually a vintage clapback in the backstory of this color. Members of Rih's Navy likely remember a 2011 tweet in which a civilian dared asked why the star's hair looked so "nappy" on the cover of her "Man Down" single. Ever the keeper of realness, Rihanna famously didn't hesitate to respond, "Cuz I'm black bitch!"
It's the kind of pop-culture moment we've come to love Rihanna for, and proof that she's likely far more than a face for Fenty, both hands-on and still clapping back, when necessary.
Looks like Independence Day has been moved to July 6 this year.