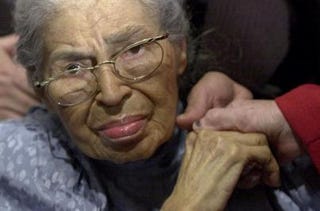 Long before Rosa Parks rose to fame for her role in the civil rights movement, she wrote a detailed account of her attempted rape by a white neighbor who employed her as a housekeeper in 1931, the Associated Press reports:
The six-page essay, written in her own hand many years after the incident, is among thousands of her personal items currently residing in the Manhattan warehouse and cramped offices of Guernsey's Auctioneers, which has been selected by a Michigan court to find an institution to buy and preserve the complete archive.
The Associated Press was provided with some samples of the documents in the archive, including portions of the essay. Archivists had reviewed the documents for Guernsey's and provided descriptions of their contents.
Civil rights historian Danielle McGuire said she had never before heard of the attempted rape of Parks and called the find among Parks' papers astounding.
It helps explain what triggered Parks' lifelong campaign against the ritualistic rape of black women by white men, said McGuire, whose recent book "At the Dark End of the Street" examines how economic intimidation and sexual violence were used to derail the freedom movement and how it went unpunished during the Jim Crow era.
Read more at the Associated Press.
In other news: VIDEO: O'Reilly: Crazies Might Save Obama.