Nearly 40 years after Roots made its epic network-television debut, the History Channel, along with Lifetime and A&E, is set to air a four-night reboot of the epic slavery saga based on Alex Haley's book for today's generation. 
In 1977, nearly 100 million people tuned in to the eight-part miniseries on ABC. It went on to earn 37 Emmy nominations (winning nine) and has since been lauded as a cultural phenomenon that not only changed television but also changed how we discuss race and the legacy of slavery.
LeVar Burton is on board as an executive producer for the remake, which begins Monday, along with Will Packer and Mark Wolper, son of David Wolper, who produced the original production. Here, we present the new stars—some playing familiar roles, while others portray entirely new characters—as well as the original cast, who had a thing or two to say about the reboot of a series that recalled one of the most important chapters in American history.
Kunta Kinte/Toby, Then: LeVar Burton and John Amos
G/O Media may get a commission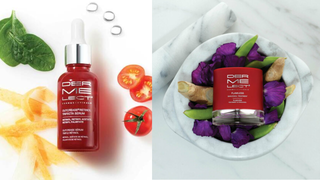 Save $19
Retinol Renewal Kit
Burton was only 19 when he played Kunta Kinte, a warrior of the Mandinka people in Gambia who is captured by slavers and taken to Annapolis, Md. Burton received an Emmy nod—Outstanding Lead Actor for a Single Performance in a Drama or Comedy Series—for his first role and is a co-executive producer for the remake. "Every day on the set, it was like reliving a chapter of my life that I just never expected to come back around again," Burton told Inside Edition. "I don't know if I have the words to explain what it's like to play the role of Kunta, then 40 years later be an executive producer on the remake."
Earlier this month, John Amos wasn't as hopeful about the revamped version of Roots. "I think there's a great deal of apathy about the subject matter," he told the Huffington Post. "I don't think people are quite as interested. We had so many things going for us that made it such a unique and popular experience." Amos received a nomination for Outstanding Lead Actor for a Single Appearance in a Drama or Comedy Series for his role as Toby.
Matilda, Now: Erica Tazel
Erica Tazel, who had a breakout role in FX's Justified, is set to play Matilda. "There are many representations of strong and resilient women throughout the miniseries," she said. "We are literally the physical carriers of the lineage that begins with Kunta and ends with Alex Haley."
Belle, Then: Madge Sinclair
Madge Sinclair was nominated for an Emmy for Outstanding Lead Actress in a Single Appearance Drama Series for her role as Kunta's wife. She went on to voice Mufasa's lion queen, Saraba, in The Lion King and portray Queen Aoleon in Coming to America. She died in 1995.
Belle, Now: Emayatzy Corinealdi
Emayatzy Corinealdi on the impact of Roots amid other on-screen productions about slavery: "It's an honor to do something that's … made such an indelible mark on culture and society," she said. "It's so much bigger than me. It's exciting to have all of these things out at the same time because they're so different."
Alex Haley, Then: James Earl Jones
After portraying the author of the novel the miniseries is based on, James Earl Jones became more widely known for his booming voice as Darth Vader in Star Wars and Mufasa in The Lion King. In this scene from Roots: The Next Generations, he finds the roots of his ancestry in Gambia.
Alex Haley, Now: Laurence Fishburne
Black-ish star Laurence Fishburne is portraying Alex Haley in version 2.0. "Not unlike the Holocaust, part of the reason that people retell that story over and over and over again is so that people don't forget what happened," Fishburne said.
Tom Moore, Then: Chuck Connors
Chuck Connors played Tom Moore, a poor farmer who rapes Kizzy and fathers her son, Chicken George. Over his 40-year career, Connors was best-known for his rough and rugged roles in more than 130 films and TV series, including Big Country and The Rifleman. Connors, who also played professional basketball and baseball, was nominated for an Emmy Award for his role as Tom Moore in the original miniseries. He died in 1992.
Tom Lea, Now: Jonathan Rhys Meyers
Jonathan Rhys Meyers portrays Tom Lea, the father of Chicken George. "My portrayal of Tom Lea is of somebody who sees the advantage of having such a splendid young son," Meyers said. "There is that pinhole of love in him—otherwise he would not be a character; he would be a cartoon. And I take that responsibility as an actor to play it how it was."
Mingo, Then: Scatman Crothers
Scatman Crothers played a cock trainer at the Lea plantation who develops a father-son relationship with Chicken George. Prior to Roots, Crothers co-starred on TV's Chico and the Man for four seasons as Louie the garbage collector. Shortly after Roots, he won a Saturn Award for his role in Stanley Kubrick's The Shining. He died in 1986.
Mingo, Now: Chad L. Coleman
Chad Coleman, who is best-known for his roles in The Wire and The Walking Dead, said that the retelling of Roots should resonate with audiences now because of racial and social tensions in today's America. "We're talking about ineffective systems, the same thing The Wire was probing. Systems that—you find, what is your motive? What are we trying to do?" he said.
Jon Reynolds, Then: Lorne Greene
Lorne Greene played Massa Jon, Kunta Kinte's first owner, in the original miniseries. Before the series aired, Greene became a household name as Ben Cartwright of the long-running series Bonanza. Greene died in 1987.
Kunta Kinte, Now: Malachi Kirby
Meet the new Kunta Kinte. British actor Malachi Kirby, known for his role in the BBC TV series EastEnders in the United Kingdom, said that he approached the role with a bit of trepidation. "'Nervous' is not the word," he told Inside Edition. "I was scared. It's an enormous weight of responsibility to tell a story like this." Producer Mark Wolper said that Kunta's role in the History Channel production is "a little tougher, a little edgier."
John Waller, Now: James Purefoy
Purefoy portrays John Waller, a Virginia plantation owner who buys Kunta Kinte when he arrives in America. "I'm playing a slave owner, so it's nasty," he told Variety. "It's pretty harrowing. But it's a crucial part of American history. It needs to be talked about and told, and told in a new way."
William Reynolds, Then: Robert Reed
Robert Reed, who was famous for playing the patriarch in The Brady Bunch, was nominated for the Emmy Award for Outstanding Single Performance by a Supporting Actor in a Drama Series for his role in Roots. He died in 1992.
William Waller, Now: Matthew Goode
British actor Matthew Goode portrays William Waller, the "more refined and successful" younger brother of John.
Missy Reynolds, Then: Sandy Duncan
You all remember that gut-wrenching scene when Missy, the niece of a slave owner who eventually betrays her friend Kizzy, stands in the window as Kizzy is wheeled away to another plantation. Sandy Duncan remembers the tension on the set all too well. "To be a white actor in Roots, first of all, you're a minority," she said. "I remember thinking, 'Oh, this is what it feels like to be the odd man out.' I remember crying a lot because I felt hated."
Missy Waller, Now: G. Hannelius
Disney Channel star G. Hannelius is one of the youngest members of the cast. Yet in an interview with Just Jared, she remarked on the importance of retelling history. "It also feels like such an important and relevant time to remind people of the perils of slavery as we continue to hear about issues such as police brutality directed at African Americans and others," she said.
Omoro, Then: Thalmus Rasulala
Thalmus Rasulala portrayed Omoro in the first two parts of the original miniseries. He started his career with roles in blaxploitation films of the '70s, including Cool Breeze and Blacula. Just before Roots, he appeared in TV movie The Autobiography of Miss Jane Pittman. The actor died in 1991.
Omoro, Now: Babatunde Olusanmokun
Nigerian-born Babatunde Olusanmokun has bounced around American television shows throughout his career, including roles in Veronica Mars, Law & Order: Criminal Intent, Gotham and the upcoming HBO series The Night Of.
Tom, Then: Georg Stanford Brown
Georg Stanford Brown played Tom—Chicken George and Matilda's son—in the original miniseries. For several seasons, Brown co-starred on The Rookies, a TV crime drama set in Los Angeles. After the original miniseries, Brown went on to star in 1979's Roots: The Next Generation, for which he also directed an episode.
Tom, Now: Sedale Threatt Jr.
Sedale Threatt Jr. is a newcomer to the screen in his role as Tom. He will appear in the fourth episode of the series.
Irene, Then: Lynne Moody
Like Georg Stanford Brown, Lynne Moody also went on to reprise her role, as Tom's wife, in Roots: The Next Generations.
Kizzy, Then: Leslie Uggams
In February, Emmy- and Golden Globe-nominated actress Leslie Uggams, who played the daughter of Kunta and Belle, remarked on Roots' impact over the last 40 years. "To this day, people come up to me and tell me how moved they were when they saw the series," she said. "A lot of people show it to their children, and it's a wonderful thing to be part of history." Initially, Uggams, who appeared on the Fox hit drama Empire this season, questioned the need for a remake. This month, however, she said that she would definitely be watching. "Are you kidding?" Uggams told the Associated Press. "I want to see what they're doing!"
Irene, Now: Carlacia Grant
Carlacia Grant, who will soon appear in the OWN drama Greenleaf, said that the original cast of Roots left big shoes for the cast to fill. However, the New Haven, Conn., actress doesn't want to try to walk in them. "You interpret it in your own way," she said. "There was a lot of pressure to live up to this. We did an amazing job on the reinterpretation."
Cyrus: Tip "T.I." Harris
Cyrus is a slave who has joined the Union Army. "If you had to be a slave in the 1860s, Cyrus was the slave to be," T.I. said. "I'm not going to be your boy. I'm going to conduct myself as a man. I'm going to expect and demand respect in return."
Nancy Holt: Anna Paquin
Anna Paquin portrays Nancy Holt, the fiancee of Confederate officer Frederick Murray, "who has her own agenda" in dealing with slaves. Paquin also said that the remake will draw in a new generation of viewers through its updated aesthetic. "Visual storytelling changes as film evolves," she said. "The way that young kids expect TV to look now is very different than it was in the '70s, and this visually looks a way that will draw in younger people, which I think is important."
Frederick Murray: Lane Garrison
Lane Garrison tried to ease any tensions on the set after running through his first scene as Frederick Murray, who is racist and violent toward slaves. "My first day on set was in Napoleonville in Louisiana, and I've got a crazy beard and Confederate garb on, and I'm in character saying all of these horrible, disgusting things," he said. "So the minute they yelled 'Cut!' on the first day, I turned to everyone and waved and said, 'Hi, I'm Lane Garrison and it's nice to meet you.' Everyone started cracking up, so that broke the ice."
Jerusalem: Mekhi Phifer
Mekhi Phifer portrays Jerusalem, a mute slave on the Murray plantation.
Silla Ba Dibba: Derek Luke
Silla Ba Dibba is Kunta Kinte's uncle, who is a strong Mandinka fighter who trains the men of Juffure.
Noah: Mandela Van Peebles
Mandela Van Peebles, the son of Mario and grandson of Melvin, portrays Noah in the History Channel remake. In an interview with Sway Calloway, Mandela discusses how he auditioned for the role—and why it was important for him to land it without his father's help. Mario directs the second night of the series, in which Mandela appears.
Kizzy, Now: Anika Noni Rose and E'myri Lee Crutchfield
Tony Award-winning actress Anika Noni Rose said that initially she was hesitant to take on the role of Kizzy. But the powerful message that Roots is intended to share is still so relevant in 2016, she said. "The fight that these people were fighting, to be treated in a humane fashion, is the fight we are still fighting for Freddie Gray," Rose said. "It is the fight that we are still fighting for the child of the immigrant whose parents are being shipped away. It is a fight that is continual, and we have to be able to look at it with fresh, clear, new eyes, to be able to listen to what these people are crying for, asking for, demanding and fighting for."
Newcomer E'myri Lee Crutchfield will play 15-year-old Kizzy the second night of the series.
Fiddler, Then: Louis Gossett Jr.
In Parade magazine, Louis Gossett Jr. recounted his initial hesitation to play the role of Fiddler, a man who has used his musical talents to get out of field work on the Waller plantation. He would go on to win the Emmy for Outstanding Lead Actor for a Single Appearance in a Drama Series. "I was insulted when they decided to give me the part of Fiddler," he said. "If it wasn't for Fiddler, we wouldn't be in America. He was a survivor. He understood both cultures and knew how to maneuver to stay alive and be solvent. We needed that lesson in order to survive here today. Having done Fiddler is a stripe on my uniform now." Although Gossett originally wasn't here for the remake back in 2015, he has since said that he will watch to see how it turned out.
Fiddler, Now: Forest Whitaker
Oscar winner Forest Whitaker is portraying Fiddler. In this video, he talks about the impact Kunta Kinte has on his character. "My character doesn't know what it's like to be free," he said. "But he sees in Kunta Kinte the spirit. There's a wind that's blowing on him that makes him feel what it's like to be free."
Chicken George, Then: Ben Vereen
Ben Vereen said that this Roots remake could serve as a gateway for young people to learn about their history. "This is another generation it's speaking to," Vereen said, "and if they like it, they'll go back and watch the original. We need to continue this dialogue until we learn the lesson." Vereen was nominated for Outstanding Lead Actor in a Drama Series for his role as Chicken George.
Chicken George Now: Rege-Jean Page
Rege-Jean Page, who grew up in London and Zimbabwe, is a newcomer to American television in his role as Kizzy's son. At the New York premiere of the series, he recalled how it felt to step on set for the first time. "Stepping on the grounds that were quite literally fed on the bloodshed in the story—there is something incredible about seeing the direct line of that history to where we stand today," he said.
Matilda, Then: Olivia Cole
Olivia Cole won the Emmy Award for Outstanding Single Performance by a Supporting Actress in a Drama Series for her portrayal of Matilda, Chicken George's wife. "I believe in evolution," she said about the 2016 miniseries. "I believe the story will keep evolving; I believe it will become the story of all of us in the process."