Candidate Repeats "100%" in Try for Damage Control
"Mitt Romney, recognizing the damage to his campaign, Wednesday night backed off his statement from earlier this year that he wouldn't contend for the support of the 47 percent of Americans who don't pay income taxes," Jonathan Martin reported from Coral Gables, Fla., for Politico.
" 'My campaign is about the 100 percent of America,' Romney said in his opening comments at a Univision forum here.
"Romney repeated the phrase, 'the 100 percent,' three more times in his initial statement.
"It was the furthest the Republican presidential nominee has gone to clean up an issue that has dogged him for three consecutive days. Romney, in remarks that were surreptitiously taped, said at a high-dollar fundraiser in May that the 47 percent of Americans who don't pay income taxes were sure to back President Obama."
Romney, former governor of Massachusetts, and President Obama agreed to participate in separate "Meet the Candidate" events with Univision after the Spanish-language network, the journalist of color associations and civil rights groups protested the failure of the Commission on Presidential Debates to include journalists of color as moderators of the presidential and vice presidential face-offs.
G/O Media may get a commission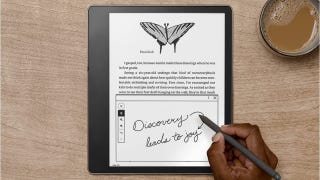 Releases November 30
Borrowing the display from the much-beloved Paperwhite, this screen provides a glare-free experience both indoors and outdoors so you can read by the pool or on the beach on a sunny day. New to this model is the inclusion of a pen. Take notes directly on the pages as you might in a traditional book, but the notes are automatically organized by title in a single place–letting you review and export them with ease.
An announcer touted the event as "historic" as Romney fielded questions about immigration, education, the Mexican drug war, same-sex marriage, health-care reform, unemployment and the role of the Spanish language. Two of the questions — about Pell grants and student debt — were asked by journalism or communications students.
"The Wednesday evening event marked a chance for Mr. Romney to tone down some of the charged rhetoric that has sidetracked his campaign in recent days and may have alienated voters during the GOP primaries," Sara Murray concluded in the Wall Street Journal.
The audience was filled with "students of the University of Miami that are Republican," as the announcer said, providing the candidate with consistent, enthusiastic cheers. But viewers conversing on social media noted that while Romney tried to make some of his policies more palatable — "We're not going to round up people around the country and deport them," he said — he also used the term "illegal alien," which many Hispanic leaders revile.
The Univision forum with Obama was to be livestreamed Thursday at 2:10 p.m. EST, with airing on Univision television and local Univsion America radio stations at 10 p.m. EST and PST.
Meanwhile, the NAACP, in partnership with American Urban Radio Networks, MSNBC-TV, the National Newspaper Publishers Association and the Grio, the NBC-owned African American-oriented website, has invited Obama and Romney to a presidential forum at Lincoln University in Pennsylvania on Oct. 9.
"The forum will be the only national platform dedicated to communities of color and the civil rights issues of our day," Benjamin Todd Jealous, president and CEO, said in Sept. 13 letters to the candidates.
Spokeswomen for the Romney and Obama campaigns did not respond to emails Wednesday asking about the status of the NAACP request.
Referring to the 47 percent of Americans who don't pay income taxes, Mother Jones reported on Monday that Romney said at the surreptitiously recorded fundraiser, "My job is not to worry about those people. I'll never convince them they should take personal responsibility and care for their lives."
The Politico story continued, "Taking a question from a pair of news anchors speaking in Spanish about those comments, Romney struck a very different tone before a live audience at the University of Miami Wednesday.
" 'The last several years you've seen greater and greater divisiveness in this country,' said the GOP hopeful. 'We had hoped to come back together. But instead you've seen us pull apart. And politics has driven us apart in some respects. So my campaign is about the 100 percent of America. And I'm concerned about them. I'm concerned about the fact that over the last four years life has become harder for Americans.' . . . "
Catherine E. Shoichet of CNN added, "Minutes into the forum, [co-host Jorge] Ramos and co-host Maria Elena Salinas asked Romney about his stance on immigration.
". . . The Republican candidate offered few specifics about his plan, but praised previous proposals by Republican Sen. Marco Rubio of Florida and said he supported offering permanent residency to people who serve in the military.
"Asked whether he would deport so-called 'dreamers' — young illegal immigrants brought to America as children who want to study and work in the country where they grew up — he responded, 'I'm not going to be rounding people up and deporting them. We're going to put in place a permanent solution.' "
As for the Spanish language, Romney said he sided with Puerto Rico Gov. Luis  Fortuno, who has said, "Spanish is the language of our heritage; English is the language of opportunity."
C-SPAN announced its plans Wednesday for covering the presidential debates between Obama and Romney on Oct. 3, 15 and 22, and the vice presidential debate between Joe Biden and Paul Ryan on Oct. 11.
"C-SPAN will make each debate immediately available via the online Video Library. Also, each debate will re-air on C-SPAN throughout the night (11:30 pm, 2am, 4am and 5:30 am ET). C-SPAN coverage of the debates will be livestreamed at c-span.org/campaign2012 as part of C-SPAN's Debate Hub, where viewers can watch and engage socially," C-SPAN said in a news release.
Also on Wednesday, CBS News announced that Steve Kroft would question Obama and Scott Pelley would question Romney in separate interviews to be broadcast Sunday on "60 Minutes."
The Univision event was streamed online in English and Spanish at 6:20 p.m. Eastern time and broadcast later on the Univision television network and Univision America radio stations.
Perry Bacon Jr., theGrio.com: Romney's real 47 percent problem
Michael Barbaro, New York Times: How the Romney Campaign Scrambled to Respond to Secret Video
Jelani Cobb, New Yorker: The Roots of Romney's Remarks
Michael Cottman, blackamericaweb.com: Mitt Romney Shows His True Colors
Mary C. Curtis, Creative Loafing Charlotte: Election 2012 Notebook: In Mitt Romney video, Mr. Monopoly lives
Editorial, Chicago Tribune: Romney's revelation
Stephen Henderson, Detroit Free Press: Most Americans defy Romney's stereotype of the 47%
Brendan James, Yahoo News: Three in four Americans feel little or no personal connection to Romney, Esquire/Yahoo poll finds
Ezra Klein, Bloomberg News: What Mitt Romney Doesn't Get About Responsibility
Bryan Llenas, Fox News Latino: Romney, Obama Move Over — Latinos Ready for Latino President, Poll Says
Amanda Marcotte, Slate: Ann Romney Fumbles the Women in Poverty Question
Unai Montes-Irueste, politic365.com: Latinos: Romney Can't Win Unless Your Vote is Suppressed or You Stay Home
Patrick Osio, HispanicVista: Romney: The Mexican-American Candidate
Pew Research Center for the People & the Press: Obama Ahead with Stronger Support, Better Image and Lead on Most Issues Democrats Narrow Engagement Gap
Geraldo Rivera, Fox News Latino: Mitt's Mexican Roots
Mark Trahant, Indian Country Today: Elections 2012: Romney Blames 'Those People' for What America Has Become
Marisa Treviño, Latina Lista: The 47 percent should be insulted by Romney's statement and the rest of the nation should be appalled and fearful
Mother Jones Scoop Makes Magazine Part of the Story
"Mother Jones, the left-leaning magazine that was founded above a McDonald's restaurant in San Francisco 36 years ago, found itself lavished this week with the kind of attention that is usually reserved for larger news outlets," Christine Haughney reported Wednesday for the New York Times. "And that is not a bad thing for a nonprofit publication with a circulation of just over 200,000 and a business model partly dependent on the largess of its readers."
Like most mainstream magazines, Mother Jones is not known for its staff diversity. However, two journalists of color are among the 13 people in its Washington bureau, which is led by David Corn, who obtained the videotape of Mitt Romney's damaging remarks at a closed-door fundraiser.
Adam Serwer, named last year to theRoot.com's "Root 100" of young black achievers and influencers, calls himself "black/biracial," with a white father and a black mother.
"We're very excited to have broken a major story, and we're looking forward to providing more aggressive coverage of the 2012 election," Serwer messaged Journal-isms. ". . . it's been fun, but not much has changed. We're all just back to working as hard as possible to get good stories."
Asawin Suebsaeng, an Asian American interactive writing fellow whose family is from Thailand, echoed Serwer's sentiment, messaging, "It's been great working here these past couple days, just like it has been all other days I've been here (perhaps a bit more exhilarating than most, but still)."
Haughney's story continued, "After Mother Jones released a video of Mitt Romney, the Republican presidential candidate, at a fund-raiser in May calling 47 percent of the public 'dependent' on government and feeling like victims entitled to help, millions of old and new readers tuned in."
"Clara Jeffery, a co-editor of Mother Jones, said that in the 12 hours after the story's publication on Monday afternoon, Mother Jones's Web site received nearly two million page views, double the magazine's previous 24-hour record. She estimated that the video of Mr. Romney had more than 5 million views on YouTube 24 hours after the story appeared and counted more than 348,000 Twitter posts related to '47%' or #47 percent during that same period.
"For a budget-conscious nonprofit like Mother Jones, there was another benefit to being in the middle of such a big national story: one enthusiastic reader sought out the magazine's hard-to-find Washington, D.C., bureau and dropped off a check. . . . "
Kara Bloomgarden-Smoke, New York Observer: Mother Jones Metrics 'Melted' After Romney Meltdown
Dylan Byers, Politico: Huffington Post, Mother Jones duel for video credit
Paul Farhi, Washington Post: How Mother Jones got the Romney '47 percent' story
Howard Kurtz, Daily Beast: Videotape Source Liked Corn's Liberal Writing
NABJ: Diversity Picture "Bleak" at Top of TV News
While people of color represent about 35 percent of the nation's population, they fill only 12 percent of the newsroom managerial positions at television stations owned by 19 major media companies, the National Association of Black Journalists said Wednesday.
NABJ surveyed ABC, Allbritton Communications, Belo Corp., CBS, Cox Media Group, Fox Television Stations, Gannett, Hearst, Journal Broadcast, Lin Media, Media General, Meredith, NBC, Nexstar Broadcasting, E.W. Scripps Co., Post-Newsweek, Raycom Media, Sinclair Broadcasting and Tribune.
"The study of network news organizations CBS, NBC, ABC, MSNBC and CNN show that people of color comprise 34% of newsroom managers and executives," NABJ said. "Attempts to retrieve data from News Corporation/Fox News were unsuccessful."
". . . The numbers in this report are discouraging," said Bob Butler, author of the report and NABJ's vice president of broadcast. "What's even more troubling is FCC's own statute directs it to collect this data, but for some reason it is not doing so." Butler said NABJ obtains the figures through its own reporting and asks the stations to verify them. Not all do.
On NPR's "Tell Me More," host Michel Martin asked Butler why he called the outlook bleak for people of color who want to break into television newsroom management.
"Bleak because we've been doing this study now for five years and the first year we did this, we looked at the stations that were owned by ABC, CBS, NBC and Fox," Butler replied. "And there were 61 people of color per — in management, one per station," Butler replied. "Since that time — that's about 16 percent. Since that time, it's gone down to about 12 percent of all the managers being people of color, which is well below the 35 percent approximately that people of color represent in this country.
When Martin asked if consideration shouldn't be given to the reality that "this a contracting industry," Butler replied, ". . . the problem with people of color is that, when you lose one person of color in a station like this, your numbers go way down because we're such a small percentage."
NABJ concluded in its news release, "NABJ welcomes the opportunity to partner with media companies to provide talent development training such as the 'Advancing in Broadcast Management' NABJ Media Institute Seminar hosted along with the CBS Television Stations Group. NABJ is also able to assist stations in selecting candidates to fill openings in their newsrooms."
Rachel Sklar and Alex S. Jones, Shorenstein Center, Harvard University: Sklar argues for more gender diversity in the tech industry
Thomas Umstead, Multichannel News: Time to Diversify The Picture
Soledad O'Brien Shows the Way on Countering Spin
Soledad O'Brien of CNN is quickly becoming the exemplar of how to hold politicians' feet to the fire while conducting an interview.
On Tuesday, Jay Rosen, New York University professor and blogger, posted a clip of O'Brien interviewing Rep. Peter King, R-N.Y., who repeated the GOP talking point that President Obama has gone around the world "apologizing for America."
"What does a wise press do when confronted with public actors who feel entitled to their own facts?" Rosen asked. "I think Soledad O'Brien of CNN is starting to answer that.
"The clip shows these elements in her style: If you interview people on television for a living, you and your team over-prepare. You anticipate points where a Peter King may feel entitled to his own facts. You know your material (and his) cold, so you aren't worried about the interview spinning out of control. You smile more as the struggle heightens. You interrupt when a dubious claim is first introduced, and each time it is re-asserted. The tone you maintain is a plea for evidence. You have your mark-up of the documents with you. You have your pen. You wave them, which is theatrical. But you also read from them, and send through the lens an evidentiary calm.
"If you do all this well, the clash of absolutes may cool into conflicting interpretations right on your show, a more livable zone for sources, journalists and citizens."
Erik Wemple, a Washington Post media blogger, added, "Soledad O'Brien, the anchor of CNN's morning program 'Starting Point With Soledad O'Brien,' has a sense about what makes for a viral television interview. 'Any time when you have an issue when you're going to put someone's feet to the fire, I think that's what people are interested in,' says O'Brien in a chat with the Erik Wemple Blog. The key, she says, is to drive a 'really good line of questioning that you didn't let someone get out of.' "
On Monday, Kelly McBride of the Poynter Institute retraced how O'Brien prepared for a contentious interview last month with John Sununu, the former New Hampshire governor who is an adviser to Mitt Romney, the GOP standard-bearer.
Investigative Reporter Gets a Counterpart on "Tremé"
"A.C. Thompson's reporting on transgressions by the New Orleans police force in the wake of Hurricane Katrina led to an article in The Nation, a reporter position at ProPublica, three convictions (one since overturned) for the police officers involved in the murder of a man named Henry Glover, and, starting September 23, a character on HBO's Tremé," Sara Morrison wrote Wednesday for Columbia Journalism Review.
"Tremé, written by former journalist David Simon, takes place in a post-Katrina New Orleans. Its third season premieres this Sunday at 10 p.m., when we'll be introduced to a new character: L.P. Everett. Much like Thompson, Everett comes to New Orleans to investigate racially motivated violence during and immediately after the hurricane hit, only to find that members of a corrupt and dysfunctional police force are behind some of it.
"Simon, Thompson, and Treme co-Executive Producer Eric Overmyer attended a panel sponsored by NYU, ProPublica, and HBO on Tuesday night to promote the show and discuss how Simon and [Overmyer] are turning 'real life' into 'reel life.' "
Thompson, who is of mixed race, ". . . told the mostly adoring crowd that he tried to be fairly hands-off when it came to how his fictional counterpart was written. As a journalist, he said he's had nightmares about subjects of his stories telling him he depicted them incorrectly. His suggestions to Simon and Overmyer were 'occasional,' Simon said, and usually only came when the show diverted from reality in ways that damaged that reality. Otherwise, Thompson said, he was content to let go and see where the story went."
Simon, a longtime Baltimore Sun reporter, has been critical of newspaper downsizing. "On the panel later, he added that 'a thousand points of blogger light,' well-intentioned though they may be, cannot replace professional journalism," Morrison wrote.
MSNBC Gains Sharpton "Measure of Respectability"
"At a recent party to toast the one-year anniversary of MSNBC's 6 p.m. hour, one of the news net's on-air personalities offered up a confession. 'I don't know if I would have brought Al Sharpton on to do a show!' he told the assembled guests," Daniel D'Addario reported Tuesday for the New York Observer.
"The speaker was the Rev. Al Sharpton.
"Later, he recalled that he originally took a meeting with MSNBC executives believing that he would be pitching the network on a weekly series. Instead, he was offered a nightly program all his own. He started as a temporary replacement for Ed Schultz at 6 p.m. when Mr. Schultz moved to 10 p.m. in the rejiggering prompted by Keith Olbermann's departure. Before long, the hour was rechristened PoliticsNation with Al Sharpton.
". . . In September 2011, its first full month on air, PoliticsNation averaged 598,000 nightly viewers; in the first two weeks of this month, the show is hovering around 912,000 per evening. Viewership in the 25-54 demographic has nearly doubled as well. (The program comes in second in its time slot among cable news outlets in both metrics, behind Fox News's Special Report with Bret Baier.) While Mr. Sharpton claims that his Saturday-morning [radio] audience is tuning in, PoliticsNation executive producer Matt Saal described the viewership of MSNBC as, traditionally, affluent. 'He speaks for people who aren't of means. He's making sure we're speaking not necessarily to those people — but for those people.'
"Though he's making fewer headlines these days, Mr. Sharpton finally seems to be achieving a measure of respectability. . . . "
Marin Cogan, GQ: The Big 2012 Profile: Al Sharpton's Got a Brand New Bag
Denzel Washington's Million-Dollar Look
For a cover shoot that is creating buzz around the Internet, actor Denzel Washington sports a new hairstyle and a million-dollar look. Well, it didn't cost quite that much. GQ itemized the cost of the threads for readers of its October issue: Suit $3,995, and shirt, $325, by Giorgio Armani. Tie, $195 by Burberry Prorsum. Tie bar, $15 by The Tie Bar. Pocket square, $160 by Brunello Cucinelli. Shoes, $1,360 by Tom Ford.
Washington sat for a brief "GQ-and-A" while in New Orleans filming his 42nd movie, "2 Guns," with Mark Wahlberg, providing more fodder for the celebrity-news websites.

Washington's cover appearance might not raise eyebrows today, but according to askmen.com, no African American was a cover subject until Sammy Davis Jr. in 1967. "It was here where Sammy cemented his commitment to civil rights, while clad in a slim-lined, double-breasted check suit complete with matching overcoat," AskMen said. ". . . The irreverence Sammy showed for the social norms of the day is subtly voiced by his sense of style."
"The White House said Tuesday that the FBI continues to investigate what role an anti-Muslim YouTube video played in the attacks in Libya that resulted in the death of the U.S. ambassador and three other Americans, and current evidence suggests the YouTube video was the trigger, rather than a premeditated attack taking advantage of protests over the video," John Eggerton reported Wednesday for Broadcasting & Cable.
For the American Prospect, Paul Waldman Tuesday produced a spoof of Newsweek magazine's infamously sensational cover stories, "which often prove that just because a question can be asked, that doesn't necessarily mean it should be." The latest cover, "Muslim Rage," was discussed in this column on Monday. Waldman's first spoof cover asks, "Was Mussolini Right? For All His Faults, the Italian Dictator Did Create Jobs."
Robin Roberts, "Good Morning America" anchor, "gave fans an update on her health Tuesday in a heartfelt blog post," Rebecca Macatee wrote Tuesday for E! " 'My body is so weak but not my mind ,' she writes, referencing 'the daily chemo/treatment' that 'caught up' to her over the weekend. 'YOU give me the courage to keep going.' Tuesday is Roberts' last day of chemo, and Wednesday 'is called a day of rest,' she writes. 'The [bone-marrow] transplant is scheduled for Thursday morning.' "
At the Washington Post, "Sandy Sugawara, a key architect of the Universal News Desk and its founding editor, will become managing editor of WaPo Labs, reporting to Vijay Ravindran," editors announced on Wednesday. "A former business editor, foreign correspondent and reporter for The Post, Sandy is a smart, hard-charging journalist with a powerful entrepreneurial streak. She will bring her knowledge of our news operations and the full range of our content and capabilities to her new role working alongside the innovators and engineers at WaPo Labs as they develop pioneering new digital products."
In Indianapolis, "RTV6 Anchor Grace Trahan announced she is leaving television news. Her last day with the station will be Friday," WRTV announced on Tuesday. "Trahan has been waking up the viewers of central Indiana for 14 years on 'Good Morning Indiana.' "
"Inspired by a pillar of antiquity, the Library of Alexandria, Brewster Kahle has a grand vision for the Internet Archive, the giant aggregator and digitizer of data, which he founded and leads," Bill Carter wrote for the New York Times. " 'We want to collect all the books, music and video that has ever been produced by humans,' Mr. Kahle said. "As of Tuesday, the archive's online collection will include every morsel of news produced in the last three years by 20 different channels, encompassing more than 1,000 news series that have generated more than 350,000 separate programs devoted to news."
"ABC News and Univision have quietly launched a website for the upcoming cable news channel the two companies are developing. The new site exists as a micro-site on ABCNews.com, and is part of the Yahoo!/ABC News Digital Network," Alex Weprin reported Tuesday for TVNewser.
"Oprah Winfrey's OWN Network has been hitting highs recently, and this past weekend was no exception," Chris Witherspoon wrote Tuesday for theGrio.com. "OWN's new series Iyanla: Fix My Life featuring Evelyn Lozada, had a two-night premiere, Saturday and Sunday, and is the network's highest rated series debut ever, ranking number 2 in all of cable when it aired Saturday night."
"ESPN's First Take commentator Stephen A. Smith furiously took to his Twitter account yesterday to dispute an article published by The Onion, not knowing the article was fictional," Carrie Healey reported Tuesday for theGrio.com. "The Onion, a news satire website, published the article, 'Stephen A. Smith Thinking Son Is Finally Ready For The Sex Argument,' about Smith discussing, or rather disputing the birds and the bees with a made-up 9-year-old son. . . . Once realizing, or being informed that the article was written to be fiction, Smith tweeted: 'Haaaaa. The got me. I didn't know it was on Satire! Got it. Peeps got jokes. It's cool."
In Winston-Salem, N.C., "WGHP/FOX8 Anchor Julie Luck is leaving the television station to explore other opportunities, the station announced Monday," John Hinton reported Tuesday for the Winston-Salem Journal. "Luck's last day will be Sept. 28 when she anchors the FOX8 News at 6 p.m., the station said in a statement."
In Dallas-Fort Worth, "Former WFAA8 anchor/reporter Debbie Denmon will still be a part-time commentator on KTXD-TV's (Ch. 52) upcoming The Texas Daily news program while also working full-time in her new post as director of communications for the Dallas County District Attorney's office," Ed Bark reported Tuesday for his Uncle Barky's Bytes blog.
"The U.S. Administration is stepping in to protect human rights in Honduras, stricken by an escalation of press freedom violations and violent attacks against journalists," Stephanie Nolasco reported Tuesday for Fox News Latino. "On September 13, Undersecretary for Civilian Security, Democracy and Human Rights, Maria Otero, and Honduran President Porfirio Lobo teamed up to launch the U.S.-Honduras High-Level Bilateral Human Rights Working Group. With sub-committees in the Honduran capital and Washington, D.C., the new group is set to investigate recent crimes plaguing local reporters. Honduras, which has the highest homicide rate in the world, is noted as one of the most dangerous countries for members of the media."
"Vietnamese officials are stepping up repression of old and new media even as they promote an image of an open, globalized economy," the Committee to Protect Journalists said, introducing a report by Shawn W. Crispin. "Intense surveillance and imprisonment of critical journalists, coupled with increasingly restrictive laws, are choking the flow of information."
"Writer, journalist, blogger, and free speech activist Eskinder Nega, the 2012 recipient of PEN American Center's Freedom to Write Award, lived in Washington, D.C., before returning to his native Ethiopia to start one of the country's first-ever independent newspapers," Kassahun Addis wrote Wednesday for the Committee to Protect Journalists. "On Friday, Eskinder was back in D.C. — not physically, but as the subject of a candlelight vigil at the African American Civil War Memorial that commemorated the first anniversary of the blogger's arrest . . . "
In Colombia, "At least 10 journalists in the northern Colombian city of Santa Marta were threatened with death after disseminating an interview in which a jailed former paramilitary commander alleged links between his organisation and local politicians, news reports said," according to Scott Griffen, reporting Tuesday for the International Press Institute.
Editor's note: A previous version of this column stated that Roslyn M. Brock, chairman of the NAACP's National Board of Directors, was one of the authors of the official letter inviting President Obama and GOP nominee Mitt Romney to a public forum at Lincoln University in Pennsylvania on Oct. 9. She was not an author. We regret the error.
Follow Richard Prince on Twitter.
Facebook users: "Like" "Richard Prince's Journal-isms" on Facebook.
Journal-isms is published on the site of the Maynard Institute for Journalism Education (www.mije.org). Reprinted on The Root by permission.