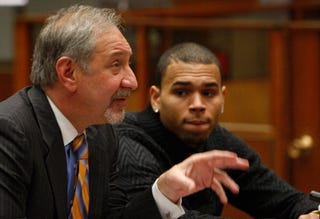 EURweb is reporting that nearly two years after the Grammy-night assault on her by Chris Brown, Rihanna has agreed to allow the restraining order keeping him away from her to be softened, her lawyer, Donald Etra, said. The pop star has requested that the restraining order be dropped to a level one, meaning that they can have contact as long as Brown doesn't annoy, molest or harass her. Brown's attorney Mark Geragos will still need to go to court to have the order officially modified by a judge, reports E! News.
Brown will not attend the Grammys because of a previous commitment, although Rihanna is scheduled to perform. After Brown completded his yearlong domestic violence class in January, the judge in the case said that he had finished "in fine fashion." Hopefully Brown has learned his lesson and will treat women with kindness and respect, even during conflict, in the future. Only time will tell.
Read more at Yahoo News.
In other news: Obama Proposes Solutions for Reducing Government Support of Mortgage Market.