Civil rights groups in Los Angeles said Thursday that they had been alerted by "credible sources," including attorneys, that immigration sweeps were taking place in the greater L.A. area, prompting more than 100 protesters fueled by fear and outrage to march in the streets of downtown L.A. on Thursday evening.
Justice Smith Talks New Dungeons & Dragons Movie, The Get Down On That's So Random
As the Los Angeles Daily News reports, the reported raids happened as Southern California lawmakers and immigration advocates have drawn battle lines against President Donald Trump and his hard-line stance on illegal immigration.
Coalition for Humane Immigrant Rights of Los Angeles Executive Director Angelica Salas told the Daily News that the group started getting calls just after 11 a.m. on Thursday.
"[Attorneys] were reporting that their clients were being picked up—many who actually have outstanding orders of deportation [and] others who did not," Salas said from the street in front of the Metropolitan Detention Center in downtown L.A. "We want to alert our community and also get answers from ICE."
G/O Media may get a commission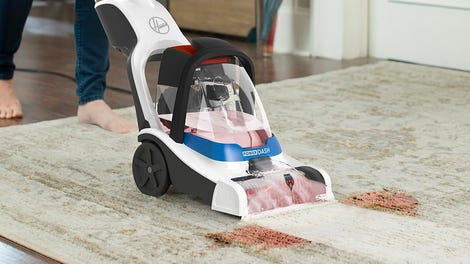 26% Off
Hoover PowerDash Pet Compact Carpet Cleaner
ICE said in an emailed statement that it conducts "enforcement actions every day around the country and here in Southern California as part of the agency's ongoing efforts to uphold public safety and border security."
"Our operations are targeted and lead driven, prioritizing individuals who pose a risk to our communities," the statement said. "To that end, ICE's routine immigration enforcement actions are ongoing and we make arrests every day."
Virginia Kice, a spokeswoman for ICE's western region, could not confirm a specific operation and said that any actions Thursday were not out of the ordinary.
"We're doing routine enforcement ... as we've always done," Kice said. "Nothing has changed."
A news release from CHIRLA on Thursday said that raids had taken place in Van Nuys, San Bernardino, Downey, Santa Paula and Oxnard, and that a number of immigrants "have been detained and are being taken to the downtown ICE office."
The ACLU of Southern California also tweeted that "ICE conducted multiple raids of homes across the city."
From the Daily News:
State Sen. Tony Mendoza, D-Artesia, released a statement Thursday night, calling for ICE officials to address the public about the reported raids.

"We need urgent clarification from ICE on how many people were detained, if any have serious medical conditions, if they have had access to adequate legal counsel or if local law enforcement participated in these raids," Mendoza said.

California Senate President Pro Tem Kevin De León, D-Los Angeles, took to Twitter to speak out against ICE's actions.

"(ICE is) refusing to list how many were detained today or provide names," he wrote. "Refusing access to counsel so no way to verify what they're saying."

De León later released a full statement, in both English and Spanish, advising his constituents to know their rights and vowing to "aggressively" defend law-abiding immigrants.

"It is now clear the Trump administration is not concerned with public safety, they are only focused on ripping hard-working men, women, and children from their families and communities," De León said. "Mass deportations will not make us safer, instead they will simply undermine our state's economy."

U.S. Rep. Tony Cardenás, D-Los Angeles, also released a statement Thursday night, pinning the action on the Trump administration.

"It's outrageous that ICE would go into the homes of hardworking people and tear them away from their children," Cardenás said. "I'm demanding that ICE provide me, the representative of this community, with more information and the purpose of these raids... I will not sit quietly by while they seek to harm the people of my district."
Of course, a Department of Homeland Security official told the Daily News that reports about the number of immigration-related arrests Thursday were "grossly exaggerated," but I wouldn't put it past this administration to be conducting the type of covert operations being described. Trump just signed an executive order Thursday related to illegal immigration, did he not?
It's worth noting that on Friday, people on Twitter reported ICE checkpoints at various locations in the Greater Los Angeles area, but those reports have not been confirmed.
Read more at the Los Angeles Daily News.