Maggie Carrie Heckstall says she's being treated like a criminal while being treated for a gunshot wound to the leg at New York City's Bellevue Hospital following last week's shooting at a T.I. concert held at Irving Plaza.
Heckstall, who's rapper Maino's girlfriend, says she's planning to sue the New York City Police Department and Irving Plaza.
In an interview with the New York Post, Heckstall explained what happened before and after last week's shooting.
"We were going to make a Snapchat," Heckstall said. "And that's when everything happened."
"I was grabbing my leg and trying to walk," she continued. "But it was almost dangling off, so I couldn't."
G/O Media may get a commission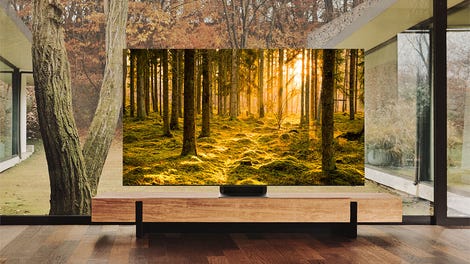 Up to 40% off
Samsung Smart TVs
During her hospital stay at Bellevue, Heckstall says, she's been denied visitation and that the police are treating her like a criminal.
"I cooperated with the officers. I don't know if they wanted me to tell them more, but I don't know what happened. Shots went off. Lights went off. I just tried to get out the room," Heckstall said.
Heckstall still has the bullet in her leg because it's too close to vital body parts to remove, but Heckstall's lawyer, Emel McDowell, told the Post that a lawsuit is coming.
Heckstall and one unnamed person were injured during the shooting. Ronald McPhatter was killed, and rapper Troy Ave accidentally shot himself in the leg and has been charged with attempted murder, authorities say. The NYPD has not charged Troy Ave in the killing of McPhatter, pending ballistic-test results.