When a journalist on Wednesday shared a quote on Twitter of Jennifer Lee Pryor confirming Quincy Jones' allegation that Richard Pryor had sex with actor Marlon Brando, it was more than Pryor's daughter Rain could take—and she spoke out in defense of her father.

Toheeb Jimoh Talks The Power, Acting With Toni Collette, & Ted Lasso on That's So Random
"My dad may be the GodFather of comedy, that does not mean he slept with the GodFather #Brando capiche!" Pryor tweeted.
Richard Pryor's sexuality has been a topic of widespread discussion since a salacious Quincy Jones interview was published at Vulture. In it, Jones alleged that Brando had sex with Pryor, James Baldwin and Marvin Gaye.
G/O Media may get a commission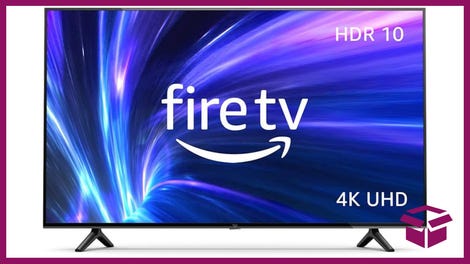 42% Off
Amazon Fire TV 50" 4K Smart TV
Jones told Vulture that Marlon Brando "used to go cha-cha dancing with us. He could dance his ass off. He was the most charming motherfucker you ever met. He'd fuck anything. Anything! He'd fuck a mailbox. James Baldwin. Richard Pryor. Marvin Gaye."
Later Wednesday, Pryor's former wife Jennifer told TMZ that the story Jones told was true.
When asked if Richard did, in fact, have sex with Brando, Jennifer said, "It was the '70s! Drugs were still good, especially Quaaludes. If you did enough cocaine, you'd fuck a radiator and send it flowers in the morning."
She also told TMZ that Pryor was openly bisexual and not only discussed it with his friends but also documented it extensively in journals that she plans to release later this year.
Rain's issue is not with the revelations about her father's sexuality. Her issue is with Jones coming forward with these stories now, when the four people he is dishing dirt on are not alive to refute or rebut his story.
In a Facebook post on Thursday, she wrote:
Q, was once a brilliant music producer who is losing his mind, and decided to garner publicity for himself with a sensationalized interview; and because y'all think and equate Fame and Money with decency, you ate it up like thirsty dogs, as he spewed out a lie about my father who's not here to defend himself.

Then on top of it all, my dad's so called widow validated it, because she needs to keep legitimizing herself and tarnish our dad even after he's dead. She hated Q and Daddy.
Rain posted a second time Thursday, denying the story that her father had sex with Brando. She also acknowledged the transgender woman her father reportedly had an affair with.
"My dad was very open with his life, so much so that news of his relationship with a trans woman in the early 70s and 80s wasn't really newsworthy nor notable. As a child I knew her, not as the trans person in our home, but the lady whom everyone accepted. So much acceptance I did not know she was Trans until recently," she wrote.

"However, Daddy did NOT have relations with Brando. There were no trips to his South Pacific Oasis, no flowers or love notes between. Not even a film role," she said, denying the claims made by Jones.
Rain also had some words about the sensationalization of the story in the first place.
Why this sudden need to drag Daddy through the Hollywood mud? I find it tasteless and infuriating. At least get the details right, but of course we live in the age of faux news is real unless we disagree for our own agendas, and people need to stay relevant by dishing dirt.

As one of his children, I should not have to defend my brilliant and bruised father to anyone. I should be commenting on his genius comedy and the fact that he not only wrote, directed and produced ... he had an office at Columbia Pictures and was once one of the Richest men. I should be sharing prolific anecdotes because he was an activist and so brutally honest. But instead I am sharing much vulnerability with some mean spirited gossip rag readers who believe anyone with money and fame.

Bottom line. This man Richard Pryor, is not your Hollyweird scandal performance. He is our Daddy. He is our perfect imperfection. He is our legacy and we are most certainly his. So get a life and focus back on what's really going on in the world.
She brings up a valid point. It's important for all of us to remember that no matter how juicy or titillating the details, there are real people behind these stories, and these stories have an impact on them and their lives.