Another day, another racist white guy attacking an innocent person for no reason other than existing. Earlier this week, officers arrested Jason Kendall, 52, for allegedly attacking a man working at a Middle Eastern restaurant with a pipe and telling his victim to "Go back to your country, terrorist," according to court documents.

KOIN reports that the altercation occurred at Al-Aqsa Restaurant in Salem, Ore. The victim told investigators that Kendall was yelling and screaming, causing a disturbance in the restaurant. When the victim asked Kendall to leave, he initially did, before coming back five minutes later yelling, "Get out of America" and "Arab, you need to leave, asshole."
Kendall allegedly threw a plastic item at the victim, hitting the victim in his head. The 52-year-old then attacked the victim with a pipe, hitting him over the head and leaving a small bump.
When he was being arrested, Kendall told the officer that he saw a "Saddam Hussein-looking guy" and that he believed a woman inside the restaurant was a slave. Kendall said that he went inside to tell the woman that she was "free to leave." (Honestly, not sure how this could get any more racist, but then again, these racists can surprise you.)
Kendall said that he saw an "evil totem" with Arabic writing on it and that he threw the "totem" at the victim (ah, I think it just got more racist). He accused the restaurant employee of hiding something in his hand under a napkin, which he thought was an ice pick. Kendall said that he defended himself by hitting the man with a metal pipe over the head.
G/O Media may get a commission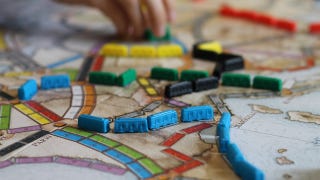 Tabletop & Board Games to Play This Fall
Kendall is facing charges of felony assault and unlawful use of a weapon and misdemeanor intimidation. The incident is being investigated as a hate crime.
Read more at KOIN.