Many of us are still trying to move on from the traumatic six hours we spent watching the #SurvivingRKelly documentary. The series shined a bright spotlight on the singer, illuminating the horrible acts he has long been accused of, and drawing renewed attention from law enforcement agencies.
WGN9 reports that Cook County State's Attorney Kim Foxx gave a press conference Tuesday, where she stated that families from around the Chicago area have called her looking for loved ones they believe may be in the company of the singer, who has been accused of imprisoning women in a sex cult of his own design.
Foxx said no new criminal charges are being announced against Kelly at this time, but she encouraged anyone who may be one of his victims to come forward.
Previously, Foxx released a statement which read:
The Cook County State's Attorney's Office has not been provided with information from law enforcement regarding any alleged victims of sexual assault involving entertainer R. Kelly. Though public allegations have recently been made, victim and witness accounts, testimony, and cooperation are especially critical in moving forward with charges. The Cook County State's Attorney's Office is committed to seeking justice for crime victims. We encourage anyone with information to come forward and contact our Sexual Assault and Domestic Violence Division at 773-674-6492.
G/O Media may get a commission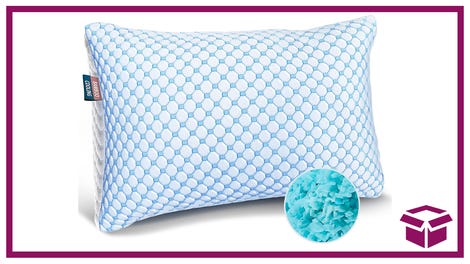 23% off
Nestl Cooling Pillow - Queen Size
The Chicago Police Department also released a statement related to the allegations against R.Kelly, saying:
There is nothing more important to CPD than integrity, accountability and the highest of professional standards. While we do not have any current complaints of misconduct, we strongly encourage anyone who may have information related to the domestic violence allegations or who suspect or have information about wrongdoing on the part of officers to please contact Internal Affairs or the external Office of Police Accountability or Chicago Inspector General's Office so these matters can be independently investigated.
One victim and the families of two others are planning to present evidence of Kelly's abuse to Foxx, according to TMZ.
The announcements in Chicago come on the heels of the Fulton County District Attorney's Office in Georgia opening a new investigation as a result of the allegations made in the documentary.
Investigators in Georgia have reportedly reached out to at least one of the survivors who appeared in the documentary—Asante McGee—as well as the attorney representing alleged victim Joycelyn Savage's family. They are also reportedly questioning anyone with any information regarding R. Kelly's former Atlanta home.
TMZ reports that the Chicago music studio featured in the documentary was visited by local police Tuesday evening, but the building was apparently vacant. The police went to the studio after seeing it profiled as a hub for Kelly's alleged sex cult in the documentary.
Kelly was being sued by Midwest Commercial, owners of that Chicago studio, for $80,000 in unpaid rent. The parties came to an undisclosed settlement agreement on Monday.
And radio stations are slowly coming around to the #MuteRKelly campaign. Two of the top R&B stations in Dallas confirmed on air that they will no longer play Kelly's music.
Service Broadcasting Corporation said in a statement: "Smooth R&B 105.7 and K104 made the decision to drop R. Kelly's music from our playlists due to the outpouring of concern from our listeners regarding Kelly's alleged sexual assaults of underage girls."
Claudia Jordan, a host on KRNB 105.7 said that after viewing the documentary, his songs have different meanings now.
"We cannot support this man anymore. I've been a victim of abuse from a man, and it wasn't as extreme as this. But reading all the comments, we have to at some point take a stance," she said.
Perhaps Kelly's day of reckoning is finally coming.
We have his courageous victims to thank for that.