The late Prince graced May's cover of The Source magazine, and it caught the attention of Questlove of the Roots. Many people probably didn't realize the magazine was still in print.
Questlove has been outspoken about Prince's passing, and most recently he gave an eloquent speech during the Billboard Music Awards (though that still won't make us forget about that tragic Madonna performance).
Sure, it may seem odd for the Purple One to cover a hip-hop magazine, but after the drummer gave 40 reasons why Prince was hip-hop, it made perfect sense.
And No. 40 still leaves a tear in my eye. Many people still can't believe Prince is gone.
G/O Media may get a commission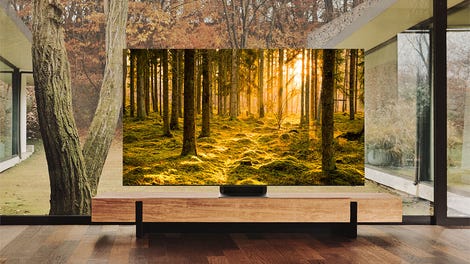 Up to 40% off
Samsung Smart TVs
In the Prince tribute issue, which went on sale May 24, The Source's owner and publisher, L. Londell McMillan, who was also Prince's former attorney, manager and friend, wrote about the singer's death:

Many more over time will marvel over Prince. The master musician and singer with his signature falsetto and deep baritone range. The exciting and provocative performer. The celebrated songwriter. The style icon—a true music superhero. Conversely, I will remember most his generosity and loving personality. I will also forever be grateful for his friendship and the "once in a lifetime" opportunity he gave me to serve as his lawyer, manager and partner for over a decade. What a wonderful experience to protect and be protected by this giant force in such a small yet powerful frame. Prince was the ultimate rock star, artist and friend. Indeed, like all of us, he had his unique share of issues. (Who doesn't?) Really, who wants to claim perfection? How would your issues pan out under the intrusive spotlight and grand lens of public scrutiny 24/7?

Prince was a king who had a wealth of endearing qualities, which made it an honor to share in his personal presence. Not because he was a celebrity, but because he was thoughtful, engaging, curious, wise, witty, cool, giving and he cared for things greater than himself. Prince had a passion and fire that burned for love, justice, and freedom. The "Slave" crawl was far more than just a poke at the contractual injustice in the music industry, or his fight to free himself from Warner Brothers. It was far more than a prelude to the Emancipation album and phase of his boundless commercial freedom. Prince was layered and far from someone you can read from the surface.
And it's those layers that made him one of the greatest musicians of our time.