If you watch television, chances are you've watched CCH Pounder. Over the past 38 years, the Emmy-winning Guyanese actress—who celebrated her 65th birthday on Christmas Day—has accumulated well over 100 acting credits, including recurring roles in the Avatar franchise, ER, The Shield, Law and Order: SVU, Sons of Anarchy and, currently, NCIS: New Orleans.
New Orleans is the location of not only Pounder's latest television show but also her extensive art collection featuring exclusively African artists and artists from the African Diaspora. An artist herself, her collection has been amassed through decades of patronage and her former roles as both gallery owner and co-founder of the Musée Boribana in her late husband's native Senegal.
Now part of that assemblage has been curated into a 42-painting exhibition for Xavier University Art Gallery titled "Queen: An Exhibition." It's a celebration of black womanhood in varied mediums, centered around the painting The Birth of Oshun, pictured above, Harmonia Rosales' reinterpretation of Botticelli's The Birth of Venus. As gallery director Sarah Clunis notes:
It opens up a conversation about art and women. ... For black women to be able to enter a museum and have a conversation about fine art and to be able to see themselves in it, that's important.
G/O Media may get a commission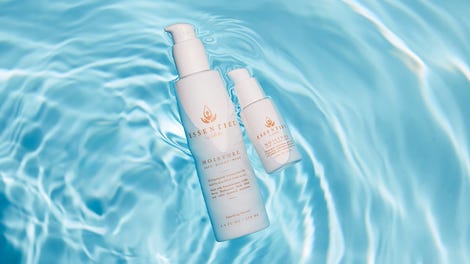 20% off
Essentiel by Adele
Pounder helped curate the exhibit, which includes pieces of her own and explores black "feminine beauty, identity and power," according to the Times-Picayune. The exhibit opened to the public on Nov. 16 and will be on display until Feb. 26, making it ideal for a Mardi Gras visit to the New Orleans HBCU's gallery, which is free of charge and open from 10 a.m. to 4 p.m. Monday through Friday. The location is a satellite site for "Prospect.4," a citywide exhibition of avant-garde sculpture, paintings, photos and installations. This year's theme is "The Lotus in Spite of the Swamp"—a fitting metaphor for black women's history and relationship to America.