You know what's really dope? When you're out here, living your best new-monied life, getting your step-and-repeat and twirl on in a Michael Kors gown (that you could easily pay for, but were instead loaned) on a Golden Globes afterparty red carpet where you're nobody's plus-one. The paparazzi knows your name and is screaming it because you've arrived, in more ways than one.
It may have been a rough start to the new year, but tonight, "she ready"—and she's feeling herself. In fact, you feel so good, you post a video to the 'gram.
You know what's really rude? To then have somebody hit you with:
"U pregnant?"
Boy, if you don't get TF out of my comments section ...
But Tiffany Haddish is clearly in possession of a cooler head than I, because, as reported by Yahoo, when a commenter asked if the star might be expecting, she took in stride.
G/O Media may get a commission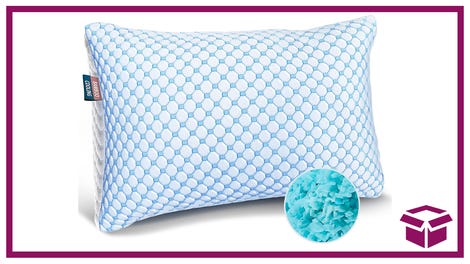 23% off
Nestl Cooling Pillow - Queen Size
"No just getting fat," she simply replied.
More than a few other commenters took the opportunity to once again read Haddish for filth about her disastrous (and now, infamous) New Year's Eve comedy set in Miami—and Haddish had retorts at the ready. But when it came to anyone potentially body shaming the star, countless followers rose to the comedienne's defense.
"Hunny you don't look fat or pregnant! Who's the hater!"
"You look gorgeous w ur blessed thickness."
"Fat where? You look like a snack."
"It's called eating realllllly good when you making good money."
"Not fat... healthy and happy 🤗 You are fabulous!"
And at least one commenter settled in for a healthy read of her own:
WTF!? She looks beautiful. I don't see where this comment would even come from. Are you ignorant? Are you insensitive? Are you rude? Are you here to get comments and feel validated because you're an ass? I choose D. All of the above.
As it turned out, the originator of the query in question was, in fact, a (very) young man, who apologized repeatedly for what he'd believed was an innocent (albeit very direct) question. Which leads us to our main point: If you have to ask, how about don't? Contrary to common public practice and perception, our bodies aren't open forums for discussion or debate (unless we want them to be). And in the event that a woman is pregnant, she'll disclose that information when she's ready, not when you are. Until she does, in the immortal words of Salt-N-Pepa: "It's none of your business."
Of course, Haddish is just one of many celebs who has been under scrutiny by a public that has long preferred women to look like snacks rather than occasionally indulge in them. Case in point: in 2017, Rihanna was heavily critiqued for showing off a thicker physique than her fanbase was accustomed to. While the megastar acknowledged that her added curves come with advantages and caveats, she also continued to flaunt them in any number of campaigns for her Savage x Fenty lingerie line. Rih even cleverly referenced the discussion in a new shade of lipstick for her highly successful Fenty Beauty brand, appropriately named "Thicc."
Similarly, if Haddish has put on a few lbs. of her own (which is her right and prerogative), we hope she continues to shrug it off—or leverage it to her advantage. But again, for the time being, she seems to be taking it in stride ... with snack in hand.