Stomping out the pavement for a few miles four times a week is how I'm able to gain my clarity and preserve my sexy. But just as frequently, my dreadlocks and scalp kick my ass just as hard as my fitness regimen. And when I try to recruit a new fitness buddy, I'm frequently met with frustrating rejections because of worries about their tresses; whether they've taken the chemically relaxed route to straighten their hair or are sporting their naturally kinky coils.
As a woman of color and a fitness nut, I want to eliminate some of the anxieties from your beauty regimen and incorporate great ways to get you back in the gym. If you're committed to getting fit, here are some sweat-ready hairstyles you may want to consider:

Be Protective With Braids, Twists and Cornrows
Protective styles such as braids and cornrows tend to be naturally low-maintenance. These styles minimize breakage from frequent styling or various heat applications, keeping your hair intact while you work it out. After kicking ass in the gym, consider unraveling your braids and sporting a twist-out.
G/O Media may get a commission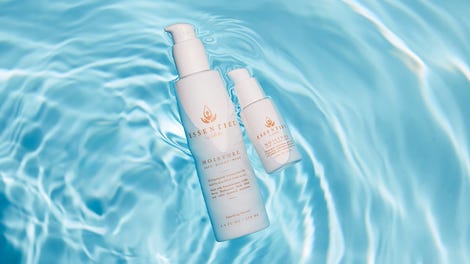 20% off
Essentiel by Adele
Pull It Back in a Ponytail or Bun
Ponytails and buns are not only easy, but versatile. Pop that hair to one side for a fun '80s-inspired look, or go for a classic high bun for a night out on the town after releasing all of those endorphins. Or tap into old Hollywood with a playful twist, similar to this chignon on Rihanna.
Slay With a Short Do
Regardless of what hair type you have, a short cut can accentuate your natural features while maintaining your chic. If done well, shorter hairstyles require less styling time than their longer counterparts. Tap into your inner Nefertiti with a fabulous high-top, or take your cues from Halle Berry and mimic her legendary gorgeous short haircuts.

Hide It in a Head Wrap
Plenty of women—including myself—have embraced wearing head wraps because of their versatility and practicality. Interestingly enough, there's an abundance of head-wrap history in African and Afro-Brazilian culture. If you're curious, check out this Nigerian Ankara head-wrap tutorial, or follow Franchesca Ramsey's one-minute video on how to rock that printed scarf that's been collecting dust for months.

Devote Yourself to Dreadlocks
Don't chop my head off. Yes, I did say I go through issues, too, but honestly, dreadlocks are very forgiving. However, please bear in mind that they are permanent. But like some of the aforementioned styles, you can cornrow your dreadlocks into braids, throw them into a sloppy bun or keep them in place with a stylish head wrap. If you don't want to commit, consider faux locs.
Be Unbeweavable
I didn't forget about my girls who love their sew-ins. While this is not just a tip for women who wear weaves, I heavily suggest wearing a headband or scarf to protect your edges. Wrap your hair and place a stocking cap on top before using a silk scarf or cap on top; that will allow you to protect your tresses and look presentable.

But wait: Here's a bit more info on protecting your hair while perfecting your health:

What to Do When Your Workout Is Done
If you have the ability, wash your hair with a good shampoo. When my locs require TLC, I prefer natural remedies, like soaking my hair for 10 minutes in an apple-cider vinegar wash to remove impurities from my locs. It's not something I'd suggest doing all of the time—doing this too much can screw up your hair's pH balance.
In between washes, using a dry shampoo on your roots goes a long way toward removing dirt and residue from your hair. After your workout, spritz your scalp with coconut oil, an olive oil sheen or even tea tree oil. For those who wear locs or braids, take it a step further by using peppermint or rosemary oil to remove any musty scents.
If your hair or scalp is damp underneath your sew-in, blow-dry your hair on a lower setting. A moist, sweaty scalp can lead to a foul odor and retain buildup, damaging your actual hair. And applying too much heat on a regular basis will cause hair breakage.

Remember to alternate your hairstyles every now and then. Some days, I allow my hair to do its own thing. Brushing or pulling your hair in the same direction can cause traction alopecia over time—and nobody has time for that.
I may not have all of the answers to your specific hair-care needs, but at the intersection of beauty and fitness, I hope this aids you in getting back into a regimen that you love.