Prince is currently on a solo tour that features only him, a piano and his microphone. During the Australian leg of the tour, the Purple One learned about the death of his ex-girlfriend Denise Matthews, also known as Vanity.
The singer, who is somewhat private about his personal life, opened up about Matthews' death during his Tuesday-night concert.
"Someone dear to us has passed away; I'm gonna dedicate this song to her," Prince said and then played a version of "Little Red Corvette" and "Dirty Mind."
According to the Herald Sun, Prince reworked his classic song "The Ladder," replacing the name "Electra" in the song with Vanity.
"This Prince, he had a subject named Vanity who loved him with a passion, uncontested," Prince sang.
G/O Media may get a commission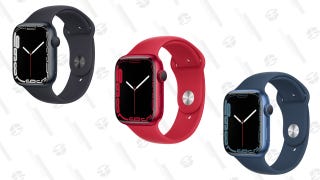 Up To $45 Off
Apple Watch Series 7
Even more unlike Prince was the fact that he also shared intimate details of his relationship with Matthews by sharing a touching story with the audience about their time together.
"Can I tell you a story about Vanity? Or should I tell you a story about Denise? Her and I used to love each other deeply. She loved me for the artist I was; I loved her for the artist she was trying to be. She and I would fight. She was very headstrong 'cause she knew she was the finest woman in the world. She never missed an opportunity to tell you that."
He then told about a fight they had where he threatened to throw her into a pool.
"'You can't throw me in the pool; you're too little,'" he recalled her saying. But his bodyguard was there to handle the job.
"I probably shouldn't be telling this story," Prince said, "but she'd want us to celebrate her life and not mourn her."