In the Beginning
The world was introduced to the music of 19-year-old Prince Rogers Nelson with the April 1978 release of his debut album, For You. Playing more than 20 instruments on the record, Prince brought together disco, pop, funk and R&B rhythms on songs like "Soft and Wet," "Just as Long as We're Together" and "Crazy You." His first album for Warner Bros. Records wasn't a chart success, but it showed glimpses of the greatness that was to come. 
Captions by Kimberly A. Hines
The Calm Before the Storm
Prince's self-titled sophomore album showed artistic and thematic growth. He took the fall of 1979 by storm with the lead single "I Wanna Be Your Lover," giving him his first No. 1 song on the R&B chart. Disco soul and light funk fare highlighted Prince on songs that were flirtatious, sweet and somewhat innocent compared to what he had in store on subsequent albums.
Sexual Revolution
G/O Media may get a commission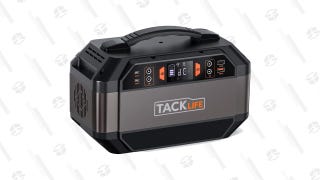 Tacklife Portable Solar Generator
A radical departure from his previous albums, Prince let his freak flag fly on 1980's Dirty Mind, with overt songs about sexual acts ("Head") and taboo subjects such as incest ("Sister"), which would carry over to Controversy in 1981 and 1999 in 1982. On this trio of albums, Prince challenged notions of acceptable lyrical content, behavior, style and black manhood. His music was put under a microscope, but the man who often dressed in overcoats and bikinis, frills and lace, and makeup and high heels remained a mystery.
Dance Music Sex Romance
Between 1980 and 1982, Prince carried on his fusion of soul with rock and roll while picking up a lot of synth pop and a little punk, and continuing the funk. Prince's music reflected a heightened political awareness ("Ronnie, Talk to Russia," "Free") in addition to his coming-of-age and sexual awakening, taking listeners from the dance floor ("Let's Work," "1999") to the bedroom ("Do Me, Baby," "International Lover"). Although some considered his music to be controversial and edgy, it was during this period that he gained critical acclaim and became a mainstream commercial success.
Purple Reign
The apex of Prince's career and the height of his superstardom came with the 1984 release of Purple Rain, the sound track to the film of the same name. Prince exploded musically and artistically on his sixth album, and second with the Revolution. With the hybrid Minneapolis sound that he created, Prince once again proved that R&B, rock and dance music could coexist to build a pop juggernaut. The Kid (his character in Purple Rain) was a grown man now, and he came into his own on songs such as "Let's Go Crazy," "When Doves Cry," "Baby I'm a Star" and the career-defining classic "Purple Rain."
Evolution After Revolution
After the runaway success of Purple Rain, Prince made a totally different album from what anyone expected with 1985's Around the World in a Day. The record was more experimental and socially aware, as in cuts like "America" and "Pop Life," and far less sexual and risqué than his previous work. Prince was morphing into the artist he wanted to be — as opposed to the artist many wanted to make him be.
Diversifying His Musical Portfolio
Prince's eighth album, Parade (1986), was the sound track to his widely panned second film, Under the Cherry Moon, and his last album with the Revolution before he disbanded the group. Prince continued to diversify his sound on Parade, which included the chart topper "Kiss," leaning further away from the rock edge of earlier albums and toward an overall more soulful groove that would continue on Sign o' the Times. That 1987 double album produced the pop-and-R&B hits "U Got the Look," "I Could Never Take the Place of Your Man" and "Adore."
Black to Basics
Sandwiched in between the release of Sign o' the Times and Lovesexy in 1988 was the infamous The Black Album, which would be shelved in 1987 in accordance with Prince's wishes and later released officially in 1994 by Warner Bros. That rare funk recording made way for the more pop-friendly Lovesexy, which was considered the antithesis of that scrapped (yet widely bootlegged) record, and featured more spiritual overtones than any Prince album to date on songs like "Anna Stesia" and "I Wish U Heaven."
Master of Reinvention
After experiencing a commercial disappointment with Lovesexy, Prince regained his throne on the charts with two back-to-back sound tracks: 1989's Batman and 1990's Graffiti Bridge. Prince reinvented himself on both records and even from one song to the next. With the exception of the soulful bedroom romp "Scandalous," Batman was a purely pop record. In contrast, the sound track to Graffiti Bridge, the poorly received sequel to Purple Rain, kicked the soul and funk back into high gear on tracks like "The Question of U," "Joy in Repetition" and "Thieves in the Temple."
Newfound Power
Prince created a new band in 1990, the New Power Generation, which accompanied him on his 1991 release Diamonds and Pearls. On this album, he added more hip-hop into the mix of his musical melting pot in an effort to appeal to both pop and urban audiences. Prince's raw sexuality also returned on songs such as "Gett Off," "Cream" and "Insatiable."
Symbolism
Prince released his 14th album in 1992 with The Love Symbol Album. As diverse as his past work, the album was largely overlooked despite the moderate success of singles "My Name Is Prince" and "7." After a dispute with Warner Bros. over the ownership of his work in 1993, Prince changed his name to the unpronounceable Love Symbol on this album cover and, from that point on, was referred to as the Artist Formerly Known as Prince. 
Slave to the Rhythm
In 1994 Warner Bros. dropped both the previously unreleased The Black Album and an album of new material, Come. Prince, whose new moniker was now shortened to just the Artist, refused to promote either collection and continued to work toward fulfilling his contractual obligations to the record company. He famously appeared in public during this period with the word "slave" written on his cheek in not-so-silent protest regarding a legal battle with Warner Bros. over the release of The Gold Experience.
Still Golden
Finally seeing the light of day in 1995, The Gold Experience was considered by many critics to be an album on the level of a Purple Rain or a Sign o' the Times for the 1990s, but with no label or artist support, it became a commercial flop. Prior to its inclusion on The Gold Experience, the single "The Most Beautiful Girl in the World" was the Artist's first independent release on NPG Records.
Independence Day
Prince/the Artist's 18th album, Chaos and Disorder (1996), was his final CD of new material for Warner Bros. With no interest in promoting that record, he celebrated his newfound freedom with the aptly titled three-disc collection Emancipation, the first album to be released on NPG Records. This 36-song set also boasted a number of cover songs, such as "Betcha by Golly Wow" (the Stylistics) and "I Can't Make You Love Me" (Bonnie Raitt), also a first for the Artist.
Return to Prince
Subsequent releases on NPG Records included Crystal Ball (1998) and Rave Un2 the Joy Fantastic (1999). Prince rounded out the decade with one last record of unreleased material, The Vault: Old Friends 4 Sale, from Warner Bros., which satisfied all contractual obligations between the two parties. Aside from making diehard fans happy, none of these records managed to make a splash on the charts. However, the big news at the turn of the century was Prince's return to using his given name.
Total Control
An early adopter of the digital space, Prince harnessed the power of the Internet for his fan club and an online music-subscription service with the NPG Music Club. Paid subscribers got first dibs on downloads of his new music before it was released to retail outlets, if at all. Prince released five jazz-oriented albums during this period: The Rainbow Children (2001), One Nite Alone … (2002), Xpectation (2003), C-Note (2003) and N.E.W.S. (2003). He also became a Jehovah's Witness and announced that he would no longer perform any of his racier material.
Back on Top
In an effort to once again achieve the chart success that had eluded him for years, Prince entered into a one-album deal with Columbia Records to release 2004's Musicology. The deal paid off, with that album going platinum and receiving two Grammy Awards in 2005 for "Call My Name" and the title track. In a very savvy business move that helped boost the album's sales, Prince included a copy of the CD with each ticket purchased for the Musicology Tour.
First Time for Everything
It took him only 28 years, but Prince's 2006 release, 3121, became his first album to debut at No. 1 on the Billboard 200. That same year, Prince entered the world of fragrance with a woman's perfume, also named 3121. Unfortunately, despite its popularity, sustained growth and the model it provided for other artists' online fan clubs, the pioneering NPG Music Club abruptly shut down in 2006.
Still Royalty
Since 2007, Prince has released four more albums on his own terms: Planet Earth, that year, in another distribution deal with Columbia Records; Lotusflower and MLPSound, in 2009, as part of a three-disc set sold only at Target; and 2010's 20Ten, available exclusively in the U.K. and other European countries. Seemingly unconcerned with chart position or album sales, Prince released 20Ten for free overseas, but it has yet to see a proper U.S. release, despite the rampant Internet piracy that he has vehemently spoken out against in the past.
Welcome Back 2 Prince
With a record-breaking, genre-busting career spanning more than 30 years, Prince is a living, breathing and, lucky for his fans, still performing legend. He started his Welcome 2 America Tour in December 2010 and has taken it to cities from coast to coast, including a recently wrapped 21-night stand in Los Angeles. Prince has shared the Welcome 2 America stage with new artists and his personal favorites — including Janelle Monáe, Esperanza Spalding and Stevie Wonder — all the while reminding us just how incredible an artist and performer he is.