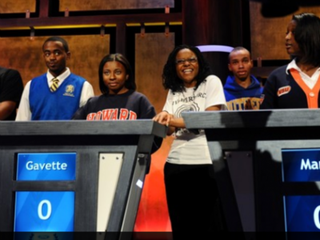 The Ford Black College Quiz Game Show is back: A televised competition, taped before a live studio audience at Howard University, features students from historically black colleges and universities throughout the nation competing in a Jeopardy-style game show. Check out a photo gallery from the taping at Howard. The program will air on Feb. 19, 2012.
Are Lawrence O'Donnell and Tamron Hall dating? The rumor is that the two MSNBC hosts have kept their relationship a secret but have been spotted outside the studio. MSNBC won't comment.
African-American unemployment falls: The black unemployment rate declined significantly in December to 13.6 percent from 15.8 percent. The overall unemployment rate also fell from 8.5 percent to 8.3 percent.
Rapper K'Naan not happy that Romney used his song: Somali Canadian rapper K'Naan is peeved that Mitt Romney used his hit song "Wavin' Flag" during his Florida primary-victory speech and will even consider legal action to make sure it doesn't happy again, Mediaite reports. The rest of us are just shocked that Romney has heard rap before.