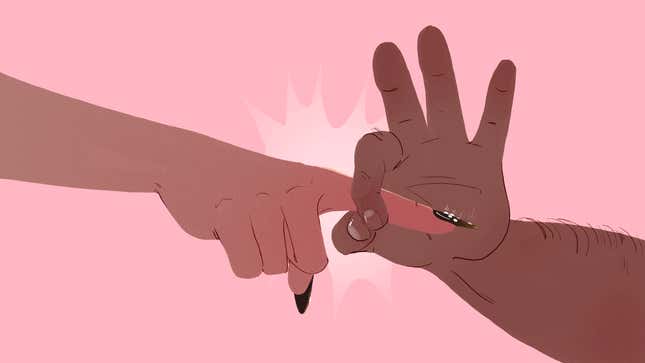 As a cishet woman, I will admit that while I am not into anal sex, I do love a little butt play during sex—and I know I'm not alone in this.

Beyoncé's Feminist Anthem "Run the World (Girls)" A Decade Later
There are plenty of men who are into butt play, too, whether it's a finger or two at a time or a strap-on dildo, but because we live in a society that is quick to label anything that is not a man sexually dominating a woman as gay, they won't admit it.
It's too bad, actually, because the center of a man's pleasure is his prostate, and if more men opened up to that realization, they could probably open up to more opportunities for being pleased, including pegging.
What is pegging?
As sexologist and founder of the Women of Color Sexual Health Network Bianca Laureano explained to to me, pegging "is the act of penetrating a heterosexual-identified cis man's butthole via dildo and strap-on play for pleasure."
G/O Media may get a commission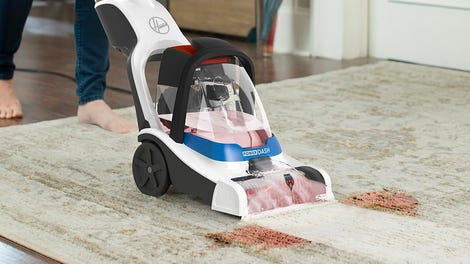 26% Off
Hoover PowerDash Pet Compact Carpet Cleaner
"Pegging has been around for a mighty long time! It became of interest in pop culture and media a few decades ago, in the 1990s, with educational pornographic films such as Bend Over Boyfriend," Laureano said. "Even though this definition was made popular by a particular community, other communities and bodies have been engaging in ass play forever. Sometimes heterosexuals are not as advanced or pleasure-creative as they think they are. Where's THAT Queer Eye for the Straight Guy show!?"
Laureano said that pegging can be enjoyable for both people who participate, and intense and more powerful ejaculations have been reported by men who engage in it, especially if the prostate is stimulated, but she stressed that "intense" and "powerful" are both subjective.
I was curious as to who would be willing to speak on their experiences with pegging. I was interested in speaking with both black men and women who had engaged in it.
Not shockingly, I found that more women were willing to discuss it than men. In fact, only two black men were willing to talk about it with me, and both did so under the condition that they remain anonymous because of the stigma attached to the activity.
Telling, right?
Addressing the stigma.
Comic and writer Ashley Ray told me she was not surprised that more women were willing to talk about it than men. She acknowledged that there is more of a stigma attached to it among black men.
"You don't hear fears of being 'on the down low' with white men, but I think black men fear that reputation if they try pegging," Ray said.
Her experiences with pegging have mostly been with men who are not black. The one black partner who did indulge her in butt play insisted that she only use her fingers and never toys.
"It was his request," Ray said. "He liked getting his ass ate and asked me to try a finger, but it started from a very 'while you're going down on me' or 'while you're eating my ass' place. I think him just bending over for me felt too weird for him at first."
"Eventually he was cool with that," she continued, "but it still could only be my hand or fisting, since that's not 'dick-shaped,' in his words."
Are men really into it?
Ray said that more men are into it than will openly admit to it.
"We live in this culture full of toxic masculinity, and that really limits the pleasures men are 'allowed' to feel without being shamed for it," she said. "People want to say stuff like it makes you gay or feminine, but that's just ignorant of the fact that it just feels good for anyone with a prostate."
Indeed, both men who opened up to me about it said that they are very into it and it is very pleasurable for them. Both identify as straight.
The first, a 35-year-old black man, told me: "It's something I enjoy but rarely get to experience. It's still considered as 'gay,' and we're still homophobic as a staff, label and crew."
The second, a 41-year-old black man, agreed. "I've tried it and love it. I don't get a chance to do it often," he said.
"It's pretty bad. I wish it wasn't that way. We just want to have fun ... it's just, we don't put a cap on the type of fun we're into. The woman I'm dating now is OK with it, though we haven't done it with the strap-on yet. Hopefully soon. We had the conversation Tuesday and she wasn't bothered. She's also bi," he added.
What about the women who are into it?
Tracy Renee Jones is a 45-year-old queer woman who identifies as biracial. She told me that while she likes pegging, she is not interested in doing it with a man who is not comfortable with himself.
"I'm less interested in a man that is scared or unwilling to express his needs and wants than I am with having a hard limit placed on anal play. I'm more averse to it because of my own expectations and needs, but I support a couple pegging if both parties are comfortable and enjoy it," Jones said.
Kyoko, a 26-year-old black bisexual woman, agrees. She said that as a part-time sex worker, she has often had clients request it, but there is a stigma attached to it that she believes is partially the fault of cishet women as well.
"Cishet women are complicit in the shaming, according to my clients," she said. "[Male clients] tell me if they actually work up the nerve to ask or test the waters about anal play, they often get, 'Uh, no, I'm not going to do that to you. Why would you want me to anyway? You're not gay, are you?' It seems to them that it's OK [for them] to do the penetrating and that women are more open to receiving anal sex nowadays, but that is where the exploration ends. I have several clients in their 60s or 70s, and that seems to be the case in my peer groups as well."
So how do we break the stigma and let everyone get theirs?
"It's a big, bold world out there, and it's sad to see that people aren't getting the satisfaction they want from their sexual encounters," Kyoko said. "Life is too short for bad food, bad whiskey or bad sex. Men and women should have the same agency in sexual exchanges, and if, after straightforward and honest communication, terms cannot be negotiated, then on to the next."
Ray said that we have to be open and bold about it, but she admits that even as she says that, there are still plenty of difficulties.
"It's hard because there aren't a lot of spaces where people can talk openly or freely about their sexuality or kinks, but I don't hide my harnesses, butt plugs or strap-ons from my partners," Ray said. "I try to make anyone who enters my space feel comfortable and safe trying something they might not have thought of before."
Sexpert Michelle Hope said, "I think that we must continue to educate people about the deeper meaning of sexuality and how it's a part of the whole human experience, not just what happens during the physical act of sex."
And for those who do decide to engage, a little advice.
For those who do decide to dip their toe in the pool, Laureano had this advice for beginners:
Discuss comfort, lube and desired outcome. This also requires understanding your body, trusting your partners and communicating effectively. Forms of injury could be minor tears in the mucous membranes of the anus, which may not be felt; some blood in the stool; polyps from longer-term play; painful/stressful bowel movements; amazing orgasms; strengthened communication; increased intimacy with lovers; and other amazing and human consequences of fucking like messy, smelly, sweaty things!

If you don't want to be in contact with someone else's shit, consider asking them to do a warm-water enema before play. If you don't want to do that and still don't want to encounter another person's shit, this may not be the activity for you right now. You get to decide on your own boundaries!
Whether you choose to indulge or not, the ultimate endgame is sexual fun and pleasure for both partners. This shouldn't be laborious but, rather, an enjoyable activity.
If you decide it's not for you, then it's not for you, but don't let stigma keep you from experiencing great pleasure.