Balmain, designed by 32-year-old Olivier Rousteing, the first person of color to head a French heritage brand, literally dazzled the crowd gathered at Paris City Hall for its Fall/Winter 2018/2019 presentation.
Olivier R.—as the designer prefers to be called—sent out his #BalmainArmy in futuristic fabrics inspired by fantasies of a soon-to-be-real cyber mashup world. Holographic polyvinyl chloride, or PVC, fabrics (you'll be seeing this trend everywhere come fall) shimmering with chemical rainbows like oil slicks were cut into sharply tailored, high-waisted pencil skirts topped with signature sharp-shouldered, military-style jackets festooned, as always, with gold buttons.
Those sharp shoulders, which have always been a signature of the house, are right on trend with what we're seeing across the board, fashionwise: women dressing with more authority in this #MeToo moment.
The authority to make your fantasy life a reality is something that Rousteing, an adopted child of mixed-raced origin, is always striving to lead his tribe of fashion—which includes 4.7 million personal Instagram followers and another 7.8 million who make up the #BalmainArmy on the brand's official site—in achieving.
G/O Media may get a commission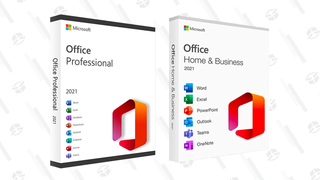 89% off
Microsoft Office Professional 2021 Lifetime License
The Balmain point of view is definitely for the male or female customer who wants to project the image that they have it all—and are not afraid to show it.
Gone from Balmain's runway this season were reinterpretations of athleisure—which have thankfully all but disappeared from most collections. At Balmain, they were replaced by holographic or crystal-beaded baggy balloon trousers—the kind of genie pants M.C. Hammer made famous—topped with cool, cropped tuxedo jackets with trompe l'oeil lapels. Baggy pants were also teamed with bell-sleeved blouses tied with oversized bows at the neck, jutting out well above the shoulders and placed just above the breast.
Shocking colors—highlighter-bright pinks, greens, yellows, blues and reds—are coming back into fashion; Balmain's take on this never-easy-to-wear trend was right on and wearable for most women. Neon-bright splashes of color were worked into black ruched bodices on black cocktail dresses, threading strands of color like embedded computer cables; creating a kind of body map that was a fun trip for the eye. What made it clever and wearable was the placement of black fabric as a background next to the face, which kept the neon (which can make nearly any complexion look sallow) at a safe distance.
But back to those shoulders—a signature motif of the maison—which showed up again on pleated tulle shorts and narrow minidresses with cinched waists worthy of a vintage Grace Jones album cover.
Shoulders were rounded and substantial, of course, but the standout were the tulle spines standing up like an army of soldiers from wrists to collar—seemingly sending the conflicting message of "I'm soft and sexy and feminine, but don't try me—I can be tough if touched."
Come fall, holographic accessories inspired by Balmain's Fall/Winter 2018/2019 collection are what you'll most likely see on the streets. Clear PVC shoes with black patent leather toe caps and heels fashioned out of silver chains will be trending strongly as well.
But there's no need to wait until fall to make your piece of the Balmain fantasy a reality; the house just launched a new Snapchat filter called #JoinMyReality, where you, too, can virtually be a part of Monsieur Rousteing's sleek, contoured and glittering world.