Updated Monday, July 17, 2017, 4:37 p.m. EDT: R. Kelly's rep has denied the allegations that he's running a cult.
In a statement to TMZ, Kelly's rep said: "Mr. Robert Kelly is both alarmed and disturbed by the recent revelations attributed to him. Mr. Kelly unequivocally denies such accusations and will work diligently and forcibly to pursue his accusers and clear his name."
Earlier:
Remember decades ago when R. Kelly was alleged to have been seen on tape urinating on a preteen? Or when the singer was accused of scouring Chicago high schools looking for his next "pretty young thing"? Or when the singer married a teenage Aaliyah? Well, apparently none of that was enough for a group of parents to keep their barely legal daughters away from Kelly because of promises of fame.

In a not-so-shocking BuzzFeed exposé by journalist Jim DeRogatis, who has been diligently keeping track of Kelly's underage-sex-abuse allegations for decades, several parents are speaking out, accusing Kelly of keeping their daughters in a sex-obsessed, abusive "cult."
According to several parents in the report, Kelly is now preying on young girls and keeping them holed up in his houses in Illinois and Georgia. But this time he's smartened up, according to the report, and learned the age of consent—17 and 16, respectively—in each of the states.
G/O Media may get a commission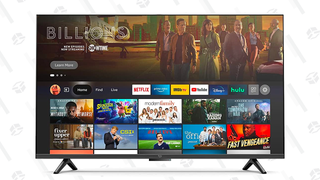 22% off
Amazon Fire TV - 50" Omni Series 4K - Early Access Deal
The report goes on to state that the women are required to give up their personal cellphones and call R. Kelly "Daddy," and eventually they end up cutting off communication with their family members. Although police in Illinois and the city of Atlanta in Georgia have done welfare checks at his residences, they say they have found nothing illegal.
One parent, whose 19-year-old daughter met Kelly backstage at a concert in 2015, discussed now realizing that what glitters isn't always gold.
"When we got to go backstage with R. Kelly, we stayed there over two hours," J told BuzzFeed. "One-on-one, with just me and my daughter and him. We went back to talk about the music. He listened to her CD. He was going to help her with her CD, and I was really impressed with him at first, because I have always been an R. Kelly fan.
"In the back of our minds, we were thinking [my daughter] could be around him if I was with her," J said. "It didn't really hit home. Even with the Aaliyah situation, now that I think about it, 'Age Ain't Nothing but a Number' ... but you don't think about that. You grew up with the song, and you like the song."
But, of course, the parent's tune changed. She has not heard from her daughter in two years. The Root has reached out to the firm handling Kelly's public relations for a statement, but has yet to hear back from Kelly or his representatives.