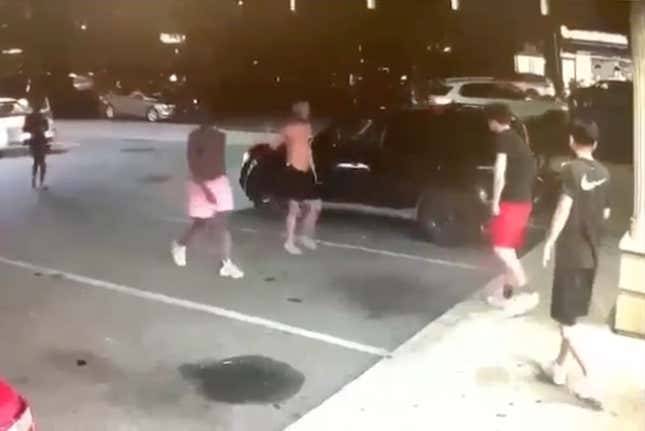 The killing of 28-year-old professional dancer, O'Shae Sibley, is being investigated as a hate crime by the NYPD according to officials. The tragic incident took place at a Brooklyn gas station on Saturday (July 29). Sibley was fatally stabbed in his torso shortly after 11 p.m. Officials have identified a suspect.
Small Town Horror Story: O'Shea Sibley's Brutal Murder
Police explained that the attack started as an argument outside a Mobil gas station on Coney Island Avenue and Avenue P in the Midwood section of Brooklyn at 11:15 p.m. In the surveillance video, a man wearing black shorts came out of Bolla Market after allegedly seeing a group of friends dancing.
The suspect then allegedly hurled comments at the group, which led to an argument that ended with Sibley being killed. The victim is remembered by friends as being a vibrant spirit who was known for his role in the ballroom community. A friend who knew Sibley well gave a statement to CBS News about his passing, but asked to remain unidentified.
"He was just a fun-loving, beautiful person, like energetic. He was very protective of his family, like all he promoted was just love," they said. "This circumstances is like ridiculous. He wasn't a part of no gangs. Like, he was out here, it was a night of fun."
Delivery worker Zafar Safaroe was working Saturday night and was stunned by the altercation. "I said, 'What happened?' And my friend was so shocked, he couldn't even talk first," he explained. "I came over and checked and they said, 'Back off, back off, there's someone dead.'" GLAAD has stated that Sibley is just one of LGBTQ people who has been on the receiving end of violence in recent weeks:
"O'Shae Sibley's shocking murder follows a disturbing rise in violence and harassment against LGBTQ people across the U.S. This cannot continue. No one should have to fear for their safety just for being themselves. Politicians spewing lies and proposing policies filled with disinformation, and media repeating their false and dangerous rhetoric unchallenged, are creating an incredibly hostile environment that endangers all LGBTQ people and all queer people of color."
Currently, no arrests have been made.