Fantastic news for Orange Is the New Black favorite Danielle Brooks: She's now a mom! The actress/singer and her boyfriend welcomed a daughter on Nov. 16, announcing her arrival (but no name, as of yet) via a sweet post on Instagram.
Preparing for one's first child is no easy feat, but Brooks was busy as ever during her pregnancy, not only celebrating the final season of Orange Is the New Black and renovating a Brooklyn brownstone just in time for baby, but hosting a new Netflix Family docu-series called A Little Bit Pregnant, where she lets viewers in on her pregnancy journey and addresses the terrifying maternal mortality crisis affecting black and Native women in America. And with all of this, somehow, Brooks still found time to curate a line of mom-friendly wear with size-inclusive brand Universal Standard.
While the capsule collection, called Fit Liberty (Mom), isn't Brooks' first collaboration with Universal Standard (she's a brand ambassador), it does offer a slew of new options for expectant and new moms with the understanding that bodies change during maternity—and that fuller-figured moms, in particular, often have a hard time finding stylish, comfortable, high-quality clothing options pre- and postpartum.
G/O Media may get a commission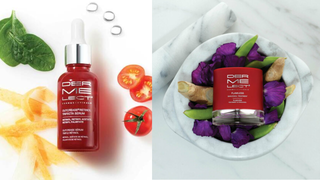 Save $19
Retinol Renewal Kit
"I'm a size 14/16, but I've gained over 50 pounds," Brooks explained on the brand's site, about five weeks before giving birth. "So now I'm like an 18, but pregnant I feel more comfortable in a 20. You think you can just size up, but it's really not that easy. Everything sizes up. The arms size up. The measurement of the ankle sizes up. Or the neckline sizes up—if you don't get it right, you just end up looking frumpy. It's been challenging to find fun pieces. And I don't feel like walking in a store either. I don't feel like trying on a rack full of clothes. That's how this collaboration happened. I posted something about struggling to find clothes, and I just sat down with [Universal Standard co-founder] Alex (Waldman) for lunch to catch up, and she heard me."
The new collection, sized for moms 00-40, is an expansion of the brand's successful Fit Liberty program, which allows shoppers to buy pieces from the core collection in the size they are now—and exchange them free of charge if their size changes within a year of purchase. "Fit Liberty gives you the freedom to change sizes without fear, anxiety, or added expense," reads the site, which also touts that Fit Liberty (Mom), curated by Brooks, "is not maternity clothing. It's clothing that you can wear anytime—when you're pregnant, and when you're not...these pieces are super stretchy, roomy where they need to be, and have incredible bounce-back."
But as Brooks points out, that kind of flexibility is even more crucial for new and expectant moms.
"Universal Standard really does embrace you wherever you are," says Brooks on the brand's website. "And they aren't about pointing out any one part of your body and making it feel isolated. It's not about how your thighs are getting bigger, or your stomach, or your stretch marks starting to show. It's about focusing on you as a person, as you change, and giving you clothes to wear while you do it."

"After I give birth, I'm going to have a new body—again," she later added. "I'm going to have to adjust to the new body. Ten years from now, it's going to be another new body. That's why I try not to put so much pressure on myself to what the world shoves down my throat and tells me I'm supposed to look like. In reality, you define what beauty is, at all times. You define your strength and your power."
Congratulations to Danielle Brooks' growing family!