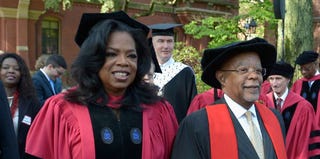 Oprah Winfrey teared up on Thursday as she accepted an honorary degree from Harvard University, the Mail Online reports, just hours before she was scheduled to delivered the featured commencement speech for the graduating Class of 2013.
Explaining the university's selection of Winfrey as the speaker, Harvard President Drew Faust said, "Oprah's journey from her grandmother's Mississippi farm to becoming one of the world's most admired women is one of the great American success stories."
The media mogul — who walked arm in arm with The Root's editor-in-chief, Harvard professor Henry Louis Gates Jr., during commencement exercises — told the graduates, "I have to say the single most important lesson I learned in 25 years is there's a common denominator in our experience: We want to be validated."
Read more at the Mail Online.