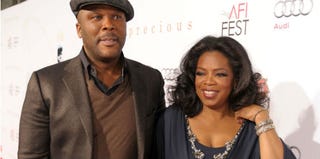 (The Root) — Maybe it's time to throw in the towel, tap out and call it quits. Could it be that this entire time I've been lying to myself? That I am, in fact, one of Tyler Perry's biggest fans and just didn't know it? Nah. I still think the writer-director-producer makes a mockery of storytelling, masquerading it as morality — but at this point does it even matter?
On Tuesday night Perry's new show, The Haves and the Have Nots, debuted to record numbers on OWN, the Oprah Winfrey Network, pulling in 1.77 million viewers. It was the highest rated series premiere for OWN to date, a title previously held by the reality show Life With LaToya, which drew in 1.18 million viewers.
The talk show titan and the king of the kitsch inked an exclusive multiyear deal back in October 2012, making Winfrey's network the "singular destination" for all TV-related Perry content. Perry's critics collectively groaned at the time. The deal seemed mismatched at best, desperate on the part of the flailing network at worst. But if this week's numbers prove anything, it's that Perry's formulaic and Frankensteinian approach to entertainment is just what Dr. Oz ordered — at least for now.
OWN has struggled in the ratings since its debut in 2011. Winfrey took over as CEO only after her long-running talk show ended and admits that she wasn't committed to the cable launch. In the documentary Oprah Builds a Network, Winfrey also said that the high expectations for the fledgling were "beyond anything I was capable of doing on my own." Enter Tyler Perry.
The Haves and the Have Nots was a colossally terrible train wreck of a TV show. Critics have almost unanimously panned it. Variety called the show "claustrophobically cheap." The Los Angeles Times wondered in print whether or not Oprah had "lost her mind." There's even a petition to "stop supporting racist stereotypes" calling for Perry's ouster at OWN on Change.org. But none of this seems to affect the director's clout, or confidence.
Perry seemed to give a wink and a nod to his detractors just before Wednesday night's premiere of Love thy Neighbor, his second scripted series for OWN.
"All right," Perry said appearing in a promo just before the show aired. "I want to know what you think, so tweet — except you. Only people who laugh lay it on me." The theory here, then, is that those who don't tweet praise on Perry's particular brand of humor are simply people who don't laugh, not people who just don't find him funny.
Either way Perry's bravado is bringing viewers to the wobbling OWN, perhaps building a stronger foundation than Oprah can do with her own celebrity-driven shows Master Class and Next Chapter. African-American audiences have shored up other beleaguered broadcast networks in the past.
In the early '90s, Fox, then the new kid on the block, had as many as six television shows geared toward African-American audiences. Remember South Central, Roc, In Living Color, Living Single, The Sinbad Show and Martin? All those early classics eventually gave way to American Idol and Glee.
African-American audiences then migrated to newcomer UPN, which was built on "urban" shows such as Moesha, Girlfriends and Everybody Hates Chris. When UPN and The WB merged to become The CW, those black shows disappeared altogether, giving way to Gossip Girl and The Vampire Diaries.
So perhaps Oprah doesn't need an intervention. She hasn't lost her mind at all. If anything, she's crazy like a Fox executive, building up capital among a loyal demographic who's been starved for shows of their own. Only time will tell whether or not that bodes well for Perry's permanent parking space at OWN headquarters — but one can hope it doesn't.
Helena Andrews is a contributing editor at The Root and author of Bitch Is the New Black, a memoir in essays. Follow her on Twitter.
Helena Andrews is a contributing editor at The Root and author of Bitch Is the New Black, a memoir in essays. Follow her on Twitter.