NBC's Welker Often "the Only Black Woman in the Room"
Elle.com, the website of Elle magazine, published "Meet the Girls on the Bus" Wednesday, confirming what many television viewers have noticed: More women than ever are covering a presidential race.
"This Is What NBC News Looks Like in 2016," read a headline on a video showing female NBC correspondents on the job.
The newly empowered women on the air are overwhelmingly white. Kristen Welker, a black journalist at NBC, is an exception. "Sometimes she'll look around at her peers and see that she's the only black woman in her row," Mattie Kahn wrote.
"She'll look behind her. No — she's the only black woman in the room. So, she keeps moving and meeting young women and showing them that there is space for them on television. She promises. . . ."
G/O Media may get a commission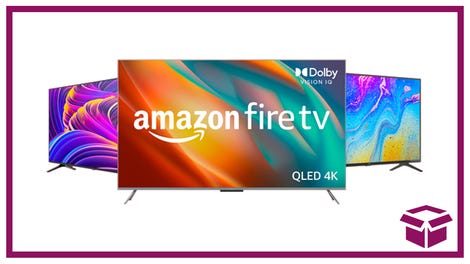 Ooh. stunning.
New Amazon Fire TVs
Sonya Ross, race and ethnicity editor at the Associated Press, chairs the Political Journalism Task Force of the National Association of Black Journalists. Ross told Journal-isms that she can relate to Welker's observation.
"In all honesty, it is not because we don't exist," she said Wednesday by email.
"I definitely sympathize with Kristen. I looked up to realize I was the only one at this rally, or that fundraiser or stump speech, more times than I could count. In 1996, I read a 'girls on the bus' article while literally sitting aboard a [Bill] Clinton campaign bus, and needless to say, that article did not mention me. I felt so invisible.
"Our numbers have always been very low in political reporting circles. Even in the Obama era, we have struggled to keep the pipeline populated with talented women journalists of color. But that struggle aside, there certainly are black women out there who are capable of doing this work. I suppose it gets down to whether or not this industry chooses to see us, and assign us."
A few other women of color are doing the work.
At ABC, Cecilia Vega, Saturday anchor and senior national correspondent, who is Latina, reported from New Hampshire Wednesday for "World News Tonight" on Democratic candidates Hillary Clinton and Bernie Sanders after Sanders' big New Hampshire primary vote.
Fox News Channel says Alicia Acuna, a general assignment reporter who is Latina, will be covering Nevada's Democratic caucus on Feb. 20 and the Republicans' on Feb. 23.
Last March, CNN hired the Washington Post's Nia-Malika Henderson, a black journalist, as a senior political reporter on its digital politics team, anticipating the 2016 presidential campaign season.
But it is at NBC where the presence of female correspondents is most pronounced.
"Hours after New Hampshire had been called for Republican Donald Trump and Democrat Bernie Sanders, MSNBC convened many of the NBC News campaign correspondents to talk about state of the race. It just turned to out that all six reporters are women," Chris Ariens wrote Wednesday for TVNewser (video).
" 'This is what the Boys on the Bus looks like this year,' said Rachel Maddow, referring to [the] 1973 book on the coverage of the 1972 election. 'Thanks for asking a man to attend,' added Brian Williams who, along with Maddow, anchored MSNBC's prime time coverage [in New Hampshire], and moderated the discussion with the correspondents.
"Among those taking part . . . Hallie Jackson, Chris Jansing, Kristen Welker, Katy Tur, Andrea Mitchell and Kasie Hunt. The correspondents were assembled in a circle, seated on folding chairs, with the discussion captured on a steadicam not far from the main MSNBC set in Manchester. . . ."
Kahn wrote in her elle.com article that "Mitchell is 'the Rabbi,' a spiritual and intellectual leader. Welker is 'the Welk-nado,' which [NBC News White House correspondent Peter] Alexander chalks up to the fact that she's 'a tornado of energy anywhere she goes.' . . ."
Kahn also wrote, "Welker says she owes her ambition to her mother, recalling how hard it was for Julie Welker, a black woman in the 1970s, to get a job. Almost 50 years later, Welker is an exception as well. It is still too rare to see a black woman on air.
" 'When I first went to the White House, candidly, that pressure that I felt [was] immense.' She pauses: 'I was very aware of it, let's put it that way.' . . . ."
Here are the women on the campaign trail, as reported by the television networks:
ABC:
"World News Tonight" Saturday anchor and senior national correspondent Cecilia Vega and digital journalists Ines de la Cuetara, Katherine Faulders, Jessica Hopper, Liz Kreutz, MaryAlice Parks, Jordyn Phelps and Candace Smith are on the trail every day covering the campaigns.
Congressional correspondent Mary Bruce is on the campaign trail regularly.
"Good Morning America" anchor Robin Roberts was in Iowa for the caucus and reports on the political campaign regularly for the network.
Martha Raddatz, co-anchor of "This Week with George Stephanopoulos" and chief global affairs correspondent, co-moderated Republican and Democratic primary debates.
Brandi Hitt and Marci Gonzalez, correspondents for NewsOne, ABC News' affiliate news service, and multi-platform reporter Lana Zak cover the campaign trail for special events.
Correspondent Linsey Davis reported for a series on the candidates' spouses for all programs and platforms.
Political analyst Cokie Roberts and contributor Donna Brazile are regularly included in special coverage such as caucus, primaries and future big election days.
Rebecca Jarvis, chief business and economics correspondent, will contribute to election coverage.
CBS:
"There are a lot of women in the field these days – we have Nancy Cordes and Julianna Goldman reporting regularly on the campaign trail," spokeswoman Jackie A. Berkowitz said by email. "Plus four female embeds/digital journalists." She added that the network "also has a lot of producers on the trail."
CNN:
Spokeswoman Lauren Pratapas did not respond to a request for information.
Fox News Channel:
"We have three females serving as embeds (out of seven), Lauren Blanchard, Hillary Vaughn and Tamara Gitt," spokeswoman Dana Klinghoffer said by email. "In addition, correspondents Shannon Bream, Molly Line and Alicia Acuna contribute to our campaign reporting."
NBC:
"Our female correspondents on the campaign trail include: Andrea Mitchell, Chris Jansing, Kristen Welker, Kelly O'Donnell, Katy Tur, Hallie Jackson, and Kasie Hunt. . . .," according to an email from  spokeswoman Erika Masonhall.
Charles M. Blow, New York Times: Hillary Has 'Half a Dream'

Ta-Nehisi Coates, the Atlantic: The Enduring Solidarity of Whiteness

Chaya Crowder, blavity.com: Why the black millennial vote is not guaranteed

Julia Craven, HuffPost BlackVoices: Ta-Nehisi Coates Isn't Feeling The Bern, But He's Voting Bernie Sanders Anyway

Tammerlin Drummond, Oakland Tribune: UC Berkeley students feel the Bern

Paul Farhi, Washington Post: Why PBS and CNN are teaming up for Thursday's Democratic debate

Fox News Latino: Ted Cruz just might be the biggest winner of the N.H. GOP primary in the long run

Suzanne Gamboa, NBC News Latino: New Hampshire Sets Up Nevada's Latinos to Shape White House Race

Marilinda Garcia, Fox News Latino: New Hampshire primary reveals what really matters to voters

Hadas Gold, Politico: The women in the van: Hillary Clinton attracts a rarity on the campaign trail — an overwhelmingly female press corps (Oct. 19)

Jeffrey Gottfried and Michael Barthel, Pew Research Center: Among Millennials engaged in primaries, Dems more likely to learn about the election from social media

Maria Hinojosa, Suzanne Gamboa, Izzy Ortega and Julio Ricardo Varela, Futuro Media Group: In the Thick: The Day After New Hampshire (podcast)

Gromer Jeffers Jr., Dallas Morning News: Want to see a future president? Iowa and New Hampshire have all the luck

Gromer Jeffers Jr., Dallas Morning News: Sanders wins, but Clinton is far from vanquished

Paul Kane, Washington Post: Congressional Black Caucus to formally endorse Clinton on Thursday

Annie Karni, Politico: Clinton surrogates knock Sanders' record on race

Ruben Navarrette Jr., Washington Post Writers Group: Chris Christie hurt Marco Rubio, but couldn't help himself

Chris O'Shea, TVNewser: Daily News Editor Responds to Trump

Rick Sanchez, Fox News Latino: What did we learn from New Hampshire? Debates matter

Gabriel Sherman, New York: Fox News Settles in for a Long Campaign With Donald Trump, a Candidate Who Proves the Network Has Lost Its Power

Margaret Sullivan, New York Times: When Women Fire Back, Are They 'Ferocious'? When Is a Critic a Scold?

Erik Wemple, Washington Post: After Sanders speech, MSNBC's Rachel Maddow rips idea of liberal media, liberal establishment

Hugh Wharton, usuncut.com: The DNC Just Screwed Over Bernie Sanders and Spit in Voters' Faces

David Zurawik, Baltimore Sun: Five media takeaways from New Hampshire election night coverage
Columnists Turn Attention to Deadly Football Head Injuries
Commentary about Sunday's Super Bowl 50 expanded beyond the Denver Broncos' 24-10 victory over the Carolina Panthers into discussion of head injuries and Beyoncé's half-time performance.
"For two years, the Boys & Girls Clubs of the Big Pines in Marshall, Texas, discussed Chronic Traumatic Encephalopathy, the dementia-causing disease found in scores of deceased football players," Derrick Z. Jackson wrote Saturday in the Boston Globe. "This week, just days before the 50th Super Bowl, the board of the club voted 18-2, with one abstention, to end tackle football. The club's program had 75 youth, aged 8-to-13.
"It is a decision that should ring around America as a shot in the revolution to protect children's brains. . . ."
Dr. Bennet Omalu, the world-renowned forensic pathologist who first identified CTE in football players, told Johnny Dodd of People magazine on Jan. 27 that O.J. Simpson might have had the disease.
" 'I would bet my medical license that he has CTE,' Omalu, who inspired the movie Concussion, starring Will Smith, tells PEOPLE exclusively.
"Those suffering from the disease, which can only conclusively be confirmed after death by testing cross sections of brain tissue, exhibit a wide range of symptoms. These include mood swings, unjustified violent tendencies, domestic violence, criminality and exaggerated emotional reactions to every day stresses.
" 'Given his profile,' adds Omalu, 'I think it's not an irresponsible conclusion to suspect he has CTE.' "
On the day of the game, Phillip Morris, columnist for the Plain Dealer in Cleveland, wrote, "The more we learn about concussions, the more we learn that permanent brain damage is a significant occupational hazard of football. Not all players who play the game will suffer chronic traumatic encephalopathy (CTE), a neurodegenerative disease caused by brain trauma, but many will. With the exception of kickers, CTE has been discovered in the brains of deceased players for every position.
"That reality is precisely why in the past few years, the NFL has become deadly serious about protecting its golden-goose brand — and its players. But changes to the rules that better protect quarterbacks and penalize players who deliberately attack the heads of defenseless opponents can only limit — not eliminate — the irreversible brain damage that some former and current players will experience. . . ."
Morris concluded, "Yes, many of us will be entertained — as long as they are not our sons."
"I want to thank Rudy Giuliani. As supremely unenlightened as I may be about pop culture, hearing the former New York mayor's cranky critique of Beyonce's Super Bowl halftime show makes me feel almost hip," Clarence Page wrote Wednesday for the Chicago Tribune.. . . And Others to Critics of Beyoncé's Halftime Show
" 'I think it was outrageous,' he said, venting full You-Kids-Get-Off-My-Lawn geezer rage on Fox News Monday. 'The halftime show I thought was ridiculous anyway. I don't know what the heck it was. A bunch of people bouncing around and all strange things. It was terrible.'
"For the record, the 'bunch of people bouncing around' consisted of pop superstar Beyonce backed by her female dance team who wore Black Panther-style black berets atop huge 1960s-style afros and at one point raised a 'black power' fist salute in the air.
"All of which Giuliani interpreted as a salute to the Black Lives Matter movement and a slap at police.
" 'This is football, not Hollywood,' Giuliani grumbled, 'and I thought it was really outrageous that she used it as a platform to attack police officers who are the people who protect her and protect us, and keep us alive.'
"Excuse me? If pro football is not entertainment, what the heck is it? And if police who behave badly and, by the way, make good police look bad are not going to be held accountable for it, who will?
"Yet it didn't stop with Giuliani. Over on Fox Business, Stuart Varney asked: 'Is there anything in America which can exclude race? I mean, why is race brought into the halftime show at a Super Bowl game, why?'
"And Rush Limbaugh called Beyonce's performance 'representative of the cultural decay and the political decay and the social rot that is befalling our country.'
"Well, I'm glad they got something out of the show. . . ."
Danielle C. Belton, The Root: Beyoncé Drops 'Formation' for the People, the Black People

Wayne Bennett, the Field Negro: The haters get in formation.

Yaba Blay, ColorLines: On 'Jackson Five Nostrils,' Creole vs. 'Negro' and Beefing Over Beyoncé's 'Formation'

Zeba Blay, HuffPost BlackVoices: Beyoncé Has Always Been Political — You Just Didn't Notice

Kevin Eck, TVSpy: WSOC Photog Documents Super Bowl Road Trip on Twitter

Emil Guillermo, Asian American Legal Defense and Education Fund: Year of the Monkey, my father's birthday, & Sacramento Kings' DeMarcus Cousins' ignorance

Allen Johnson, News & Record, Greensboro, N.C.: A dab of maturity would help: Newton's lack of grace following a tough loss

Allen Johnson, News & Record, Greensboro, N.C.: This Bud's for you: Manning shills to the bittersweet end

Roxanne Jones, CNN: Beyonce: Right voice, right time

Aliya S. King, Essence: 'It's Not That White Women Can't Write About Beyonce and 'Formation,' But Maybe They Shouldn't'

David A. Love, theGrio.com: Beyoncé's Super Bowl performance brought the mood of Black America center stage

Hadley Malcolm, USA Today: Beyonce's 'Formation' helped boost sales 33% at Red Lobster

Jim Newton, Los Angeles Times: Why 'The People v. O.J. Simpson' should be required watching for America's police chiefs (Feb. 5)

Terrell Jermaine Starr, Shadow League: Cam Newton Has Become The Black Tom Brady 
WCBS-TV, New York: Anger: Anti-Beyonce Rally Planned For Next Week At NFL Headquarters
Ferguson Urged to End "Game of Chicken" With Justice Dept.
"The Department of Justice filed a 56-page lawsuit against the city of Ferguson on Wednesday afternoon, citing 'a pattern or practice of conduct that deprives persons of rights, privileges, or immunities secured or protected by the Constitution or laws of the United States,' " Stephen Deere and Kristen Taketa reported for the St. Louis Post-Dispatch.
"The lawsuit came one day after the Ferguson City Council approved a revised version of a consent decree it had worked out with the department. The consent decree was meant to address problems with the city's police department and municipal court detailed after an extensive investigation last year. The investigation followed the fatal police shooting of Michael Brown and the unrest that followed.
"The Justice Department had immediately said the city's revisions to the consent decree would probably be challenged.
"The lawsuit against Ferguson was filed in federal court in St. Louis.
"It alleges that Ferguson officials use illegally practices in conducting stops, searches and arrests; by using excessive force; by interfering with the right to free expression; in the prosecution and resolution of municipal charges; and in discriminating against African Americans.
"The suit asks the court to force the city 'to adopt and implement policies, procedures, and mechanisms that identify, correct, and prevent the unlawful conduct.' "
The Post-Dispatch editorialized Wednesday, "The Ferguson City Council is playing a game of chicken with the U.S. Department of Justice that it is bound to lose.
"The city's leaders are fooling themselves if they think the consent decree it worked out with the Justice Department after months of negotiation is up for retooling. Ferguson has no leverage in revising the decree, which is intended to reform the city's police department and municipal court.
"The council voted Tuesday night to seek revisions to the decree. The Justice Department responded with a lawsuit Wednesday. . . ."
The editorial concluded, "Ferguson is being asked to guarantee it will not run a substandard police department that discriminates against African-Americans. It will be expensive, but so was the decision to hire a $1,355-an-hour lawyer to negotiate with the Justice Department. The sooner Ferguson can stop paying lawyers the better off it will be.
"Ferguson should hire the county police. It should work with the Justice Department on a reasonable compromise between what the county's already doing and what DOJ wants done in Ferguson. Good faith would go a long way, and be a nice change."
Reporter's Own Lead Problem Led to 20-Part Series
"Rachel Dissell lives in one of Cleveland's 'high risk' neighborhoods for lead exposure, a place where the state mandates screenings for small children," Erica Berry wrote Tuesday for Columbia Journalism Review.
"Still, when a blood test in late 2012 revealed that her young son had elevated levels in the aftermath of a home renovation, Dissell, a reporter for The Plain Dealer, was horrified — she hadn't fully realized the scope of the city's lead problem.
"When she called the city, the news was far from comforting: An official told her Cleveland's monitoring program was low on funds and behind schedule, only making visits to inspect homes if lead levels were high enough to hospitalize a child, which her son's were not. In a best-case scenario, someone could investigate her home in six to eight months.
" 'When that happens as a parent you're terrified, and you feel horribly guilty,' Dissell said in a recent interview. She was able to enlist private help to remediate the house, but she knows many people are not as fortunate. 'In what world does that seem okay that you should just sit around and wait?'
"Fast forward to late fall 2014, when Plain Dealer health reporter Brie Zeltner started investigating the effect of lead exposure as she dug into the long-term ramifications of Cleveland's childhood poverty rate, which is the second highest in the nation among big cities.
"But Zeltner had a whole list of potential stories on the theme, and lead kept falling to the bottom: She didn't want to write about a problem unless she could point to potential solutions, and she couldn't find another city that was managing lead in effective ways.
"Enter Dissell, who, Zeltner said, 'lit a fire' under the subject, motivated by her personal experience. The two reporters realized that local media would cover childhood lead poisoning once every decade or so, and each time, a flurry of grants and plans from the city and surrounding Cuyahoga County would follow. Then, quiet. And then, years later, another story about how the problem still wasn't fixed.
"Dissell said that pitching the story took some convincing, as editors were aware of lead's cyclical legacy. 'They would say, "Well, haven't we done lead already?" So I kept coming back and saying, "That's the point, it's still not fixed." '
"By early summer 2015, Dissell and Zeltner had begun collaborating in earnest on a major project. They knew that to break the cycle of attention and neglect, they would need not only to highlight the problem, but also outline a realistic path to improvement. 'We were going into it with the goal of talking about how we got here, what the solutions are, what could we have done differently to make it better, and to really make good by staying on the topic in order to hold the people accountable who we believed could actually make changes that would carry into the future,' said Zeltner.
"Last October, Dissell and Zeltner released 'Toxic Neglect,' an ambitious 20-part series of articles and online features about their region's mishandling of the persistent lead problem, and what could be done to fix it. . . . Within five weeks of the Plain Dealer series, three of the four leaders of the city's lead prevention program had been fired or resigned over management concerns. . . ."
Stephen Henderson, Detroit Free Press: Money for Flint? Yes, but bigger issues loom

Emily Lawler, mlive.com: Gov. Rick Snyder proposes $195M for Flint water as protesters call for his removal
Fusion Says It Is a Majority-Minority Company
"Newsrooms talk a good game about diversity, but rarely break down the numbers in public," Mark Joyella wrote Wednesday for TVNewser. "This week, Fusion chief executive Isaac Lee did just that, writing a memo to staff that details exactly how diverse the company —and its news operation — really are."
Fusion is the joint cable and digital news network aimed at millennials and owned by Univision and Walt Disney Co., although the Wall Street Journal has reported that Univision is in talks for Disney to exit the partnership.
" 'With conversations like #OscarsSoWhite happening in the broader entertainment industry, it is critical that the media covering our culture and politics also take a look in the mirror,' Lee writes. 'So today I want to share some information with you about how diverse FUSION is. While there is plenty of room for improvement, I am proud to say: we are a majority-minority company,' " Joyella continued.
"According to the memo, 52 percent of Fusion employees self-identify as non-white, 40 percent as white, and 8 percent of employees chose not to disclose their ethnic background. 40 percent of Fusion employees identify as Hispanic or Latino. 'Looking at the numbers, we are among the most diverse newsrooms in the country,' Lee said. . . ."
Mexican Journalist, Mother of Two, Found Dead
"The body of Anabel Flores Salazar, a reporter for El Sol de Orizaba who was abducted from her home near the city of Orizaba in Veracruz on Monday, was found today in the neighboring state of Puebla, according to a Puebla state official who spoke on the condition of anonymity because he was not authorized to discuss the matter," the Committee to Protect Journalists reported Tuesday.
The committee "calls on Mexican federal authorities to take over investigation and prosecution of the crime and to consider journalism as a motive," it said.
"At least eight armed assailants dressed in what appeared to be military uniforms forced their way into Flores Salazar's home at about 2 a.m. Monday and went straight to her room, the journalist's aunt Sandra Luz Salazar, who was in the house at the time, told CPJ in a telephone interview. The assailants claimed they had a warrant for the reporter's arrest, pointed weapons at family members, then forced Flores Salazar into one of three gray trucks outside, Luz Salazar said.
" 'We pleaded with them not to take her. I told them that she recently had a baby,' she said. According to news reports, Flores Salazar, who covers crime for El Sol de Orizaba, had a baby and a four-year-old son.
"Veracruz Governor Javier Duarte Ochoa said on Twitter Monday that authorities were following the case carefully. A statement from the state prosecutor's office, also released Monday, claimed the reporter had links with an alleged member of an organized crime group.
" 'The administration of Governor Javier Duarte Ochoa has a dismal record of impunity and has been incapable and unwilling to prosecute crimes against the press,' said Carlos Lauría, CPJ's senior program coordinator for the Americas. . . ."
Rival Pakistani Media Cooperate to Protect One Another
"Afzal Mughal, a Pakistani journalist from a small newspaper in Quetta, the capital of the Balochistan province, was abducted, in the early morning of November, by a group of armed men who broke into his home while he was asleep," Chia Lun Huang wrote Tuesday for World Association of Newspapers and News Publishers.
"Normally, stories like this don't make the front pages in Pakistan, which ranks as the sixth deadliest country for journalists according to the Committee to Protect Journalists.
"But the new 'Editors for Safety' initiative made all the difference. Instead of letting the case go by unnoticed, a message went out to a new Whatsapp group for Pakistani Editors, informing them of the kidnapping. In less than five minutes, 21 television channels were running the story. Its widespread dissemination even had international broadcasters, such as NBC, pick up the news.
" 'Within half an hour, he was back home, albeit badly battered,' [Dawn editor Zaffar] Abbas, one of the key conveners of the group, told the World Editors Forum. 'The government was rattled and the home security department stepped in to inquire.'
"Formed in 2015 with the support of the Open Society Foundation, 'Editors for Safety' has a single philosophy: An attack on one journalist is an attack on the whole industry. . . ."
"Journalist Michael J. Feeney, who died last month at 32, was remembered Tuesday night as a young man who made 'an impact on the lives of many,' " Jim Norman reported for the Record in Hackensack, N.J. "Hundreds of professional colleagues and classmates from Delaware State University filled the cavernous hall at the Community Baptist Church in Englewood as Feeney was given a rollicking farewell, including a New Orleans Jazz quartet that played 'When the Saints Go Marching In.' . . ."  Mira Lowe tribute [Feb. 11]

"When Pope Francis arrives in Mexico on Friday for a six day trip, some NBCUniversal-owned Telemundo stations will have reporters and anchors on the scene for live reports," Kevin Eck reported Wednesday for TVSpy. "Telemundo 52 Los Angeles (KVEA), Houston (KTMD), 39 Dallas-Ft. Worth (KXTX), 60 San Antonio (KVDA), Phoenix (KTAZ), 40 Rio Grande Valley (KTLM) and Denver (KDEN) are sending anchors and reporters to Mexico to follow the Pope's visit. . . ."
"Stefanie Bryant has joined cable station Channel 6 in Lawrence, Kan., as news director and anchor," Kevin Eckreported Tuesday for TVSpy. "Bryant comes from KTAL in Shreveport, La., where she was an anchor and reporter. She worked at KTHV in Little Rock, Ark., before that. . . ."
"Van R. Newkirk II, who covered social justice, race and culture for The Daily Kos, will soon join The Atlantic," Tracie Powell reported Sunday for alldigitocracy.org. "Atlantic editor J.J. Gould and deputy editor Matt Thompson both tweeted the news that Newkirk would join their team where he'll cover politics and policy issues. . . ."

Denene Millner, who worked at the Associated Press, the Daily News in New York and Honey and Parenting magazines before becoming an author and founder of MyBrownBaby.com, has created a black children's book imprint, Denene Millner Books, Millner announced Monday on her website.

"Diversity in mainstream beauty standards is catching up to reality, and bloggers like Patrice Grell Yursik deserve much of the credit," Kate MacArthur reported Tuesday for Blue Sky Innovation, part of Tribune Publishing. "A former newspaper editor, Yursik saw a void and in 2006 created Afrobella.com, a blog celebrating natural beauty of women of color. Since then, Yursik, a native of Trinidad, moved from Miami to Chicago and focused full time on the blog, becoming known as the 'godmother of brown beauty blogging.' . . ." 
"Elizabeth Dinh is joining Portland, Oregon Fox affiliate KPTV as weekday evening anchor," Kevin Eck reported Monday for TVSpy. " 'DFW will always have a special place in my heart,' Dinh, who works at Dallas CBS-owned station KTVT, wrote on her Facebook page. 'Of course, it's where I was born and raised, and I still have several family members here.' . . ." 
"The USC Annenberg School for Communication and Journalism has bestowed its 2016 Selden Ring Award to The Associated Press for a series of stories that showed how seafood sold in U.S. grocery stores and restaurants had been produced by slaves," the university announced on Monday. "The AP work prompted reforms and prosecutions — and the release of more than 2,000 people who had been held captive in horrific circumstances. 'Seafood From Slaves,' by Esther Htusan, Margie Mason, Robin McDowell and Martha Mendoza, shook the $7 billion-a-year Thai seafood export industry. . . ."
"Ann Simmons, a veteran reporter of national and international news, is taking on a new assignment as a global development writer/editor on the foreign desk," Kim Murphy, assistant managing editor for foreign and national news at the Los Angeles Times, announced to staff members Tuesday. "Ann will write on global sustainability issues. She will also curate a collection page on latimes.com that will serve as a center of news, analysis and debate for those interested in the granddaddy of all news topics, the development and survival of our planet. The work is supported by a grant from the U.N. Foundation. . . ."
"B.B. King: The Life of Riley" premieres nationally Friday on PBS at 9 p.m. ET. (check local listings). The documentary features interviews with Bono, Eric Clapton, Aaron Neville, John Mayer, Bonnie Raitt, Carlos Santana, Ringo Starr and others. "B.B. King became America's most recognizable and influential blues musician," said Michael Kantor, executive producer of the "American Masters" series.

In Africa, BBC and a Kenyan startup called Ongair "have created a mobile-focused website called BBC Drop that's available for testing today," Shan Wang reported Monday for NiemanLab. Wang wrote, "BBC Drop asks the user for a few favorite topics, or social media preferences, and then continues to learn what they like and dislike from what they swipe on screen. There is also the option of an even more personal news feed which incorporates the user's own social feeds. The end result is users getting to see content specifically tailored to them, and the stuff they are not interested in being filtered out. . . ."

"In Guinea, West Africa, five media associations staged a 'press-free day' on Tuesday in a tribute to journalist El Hadj Mohamed Diallo who was shot dead outside the offices of an opposition party last week," Chrispin Mwakideu wrote Tuesday for Deutsche Welle in Bonn, Germany.

"The Black Lives Matter movement, unlike its older cousin Occupy Wall Street, seems poised to leap into the political arena with both feet this year," Errol Louis wrote Monday for the Daily News in New York. "Let's hope this promising and important wave of activism doesn't shipwreck in the electoral storm. . . ."

"Moroccan authorities should drop the case against a leading independent journalist charged with 'harming territorial integrity,' " Human Rights Watch wrote Monday. "Parliament should amend the draft press law currently before it to abolish this offense, designed to punish anyone who questions Morocco's claim to Western Sahara. The trial of Ali Anouzla, editor-in-chief of the Arabic news site Lakome2.com . . . is based on an interview in the German daily Bild, which quoted him as calling the Western Sahara 'occupied.' . . ."

"As police cracked down on protesters in Delhi during recent protests over the treatment of Dalits, who occupy the lowest rungs of India's caste ladder, journalists were caught in the fray," Sumit Galhotra wrote for the Committee to Protect Journalists. "The protests were sparked by the suicide of Rohith Vemula, a student who had been barred from halls of residence and parts of campus, according to news reports. . . . This latest case raises the question again of how such misconduct-often unchecked-is able to continue in a country that claims the mantle of being the world's largest democracy. . . ."

Reporters Without Borders said Wednesday that it "condemns the ransacking of privately-owned Somali Channel TV's offices in the northern city of Buuhoodle by the bodyguards of Dr. Suleyman Isse, the health minister of the self-proclaimed autonomous state of Somaliland. RSF urges the authorities to condemn this act of violence. In the early hours of 8 February, Dr. Isse's bodyguards fired shots at the main entrance door, forced their way inside and then seized computers and cameras. Fortunately no journalists were injured during the raid. . . ."