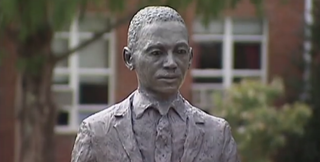 The parent organization of a University of Mississippi fraternity has closed the campus' chapter, nearly two months after expelling three members charged with hanging a noose around the neck of the statue of the school's first black student, the Associated Press reports.
The university announced Thursday that the national office of Sigma Phi Epsilon, based in Richmond, Va., had closed the chapter, the AP says.

The three students, all from Georgia, are accused of looping a noose around the neck of a statue of James Meredith and draping its face with a Georgia flag bearing the Confederate battle emblem. In 1962, Meredith's enrollment at the university sparked a vociferous outcry from anti-integration protesters. 
In February, the students were expelled from the organization and the chapter suspended. University spokesman Tom Eppes told AP that disciplinary proceedings against the three students are ongoing. He also said that the FBI continues to investigate the incident, the report says.
State charges will not be filed because no state laws were broken, the Lafayette County district attorney told the AP. Mississippi's hate crime law requires an underlying crime for those additional charges. Because the statute was not marred or broken, prosecutors say typical vandalism charges do not apply, the AP says.
Sigma Phi Epsilon CEO Brian Warren said in a statement that the group had "no choice" but to close the Ole Miss chapter.
"Though it's always painful to close a chapter, these students' actions clearly illustrate a determination to perpetuate an experience based on risky and unconstructive behavior," he said in the statement.
Read more at the Huffington Post.