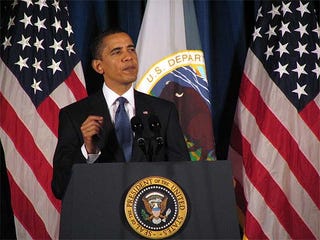 President Obama has spoken (with his advisors on Afghanistan)! From The Washington Post:
"President Obama has informed his senior advisers of his Afghanistan war strategy decision and ordered his commanders on the ground there to begin carrying out the plan.

Speaking Monday to reporters at the White House, Press Secretary Robert Gibbs said Obama met Sunday evening in the Oval Office with Defense Secretary Robert M. Gates; Adm. Mike Mullen, chairman of the Joint Chiefs of Staff; Gen. James E. Cartwright, vice chairman of the Joint Chiefs; Gen. David H. Petraeus, chief of U.S. Central Command; national security adviser James L. Jones; and Chief of Staff Rahm Emanuel.

He also spoke with Secretary of State Hillary Rodham Clinton by phone. After the Oval Office meeting, Obama briefed Gen. Stanley A. McChrystal, commander of U.S. and NATO forces in Afghanistan, and Karl W. Eikenberry, the U.S. ambassador in Kabul, on his decision. Gibbs said Obama gave the order to execute the strategy in those meetings.

The briefings and a series of calls to foreign leaders Monday come on the eve of Obama's scheduled prime-time address from the U.S. Military Academy at West Point, N.Y. He will use the Tuesday speech to explain his Afghan strategy to an American public that is increasingly pessimistic that the war is worth fighting after eight years and rising casualties."
Read more on the President's Afghan update at WashingtonPost.com