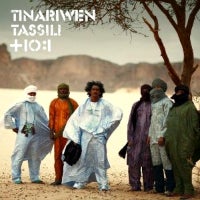 North African musical act Tinariwen is back with its latest album, Tassili, a much-anticipated follow-up to the band's critically acclaimed 2007 album, Aman Iman. Tinariwen gained notoriety around Europe for its unique rock sounds, defined by the seven members' roots as indigenous natives of the Saharan region of Mali, including the band's founding member, Ibrahim Ag Alhabib, whose rocky childhood provided the roots of a promising musical future with Tinariwen. 
Tinariwen has garnered praise from various outlets, including Slate.com and NPR. Tinariwen's sophomore album debuts Aug. 30. 
Previous recommendation: New Book: Are Blacks Marriage Material?
Got ideas for The Root Recommends? Send them to recommendations@theroot.com.