"A woman who could be considered Africa's Oprah Winfrey is launching an entertainment network that will be beamed into nearly every country on the continent with programs showcasing its burgeoning middle class," Michelle Faul reported from Lagos, Nigeria, Tuesday for the Associated Press.
"Mosunmola 'Mo' Abudu wants EbonyLife TV to inspire Africans and the rest of the world, and change how viewers perceive the continent. The network's programming tackles women's daily life subjects — everything from sex tips to skin bleaching.
" 'Not every African woman has a pile of wood on her head and a baby strapped to her back!' the glamorous Abudu, 48, told The Associated Press from a hotel's penthouse floor against a backdrop of the Atlantic Ocean and high-rise buildings flanked by palm and almond trees.
" 'We watch Hollywood as if all of America is Hollywood,' she said. 'In that same vein we need to start selling the good bits of Africa.' . . . "
As for Winfrey, OWN, the Oprah Winfrey Network, released a ratings report Tuesday showing a more than 30 percent growth in viewership, its best quarter yet, Whitney Gaspard reported Thursday for Essence.
G/O Media may get a commission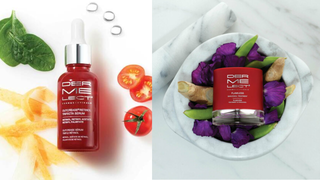 Save $19
Retinol Renewal Kit
"OWN's successful quarter is due in part to Winfrey's partnership with Tyler Perry," Gaspard wrote. "Last October, Perry announced that he would team up with the media mogul to produce two new shows for the network. Perry's scandalous new drama, The Haves and the Have Nots, premiered in May and set a new record for OWN. The show earned 1.77 million viewers during its first episode making it the highest rated series premiere in the network's history. . . ."
"The Lone Ranger" Flopping at Box Office
The critics and the bean counters are in agreement: "The Lone Ranger" movie flopped in its July 4 weekend opening, its portrayal of Native Americans quite beside the point.
Not that that portrayal isn't important. "The bottom line is that Tonto is probably the only Indian that a lot of Americans are going to meet," Theodore Van Alst, who directs Yale College's Native American Cultural Center and has studied the depiction of Indians in film, told Dan Zak this week in the Washington Post.
But this Tonto won't meet as many as the producers hoped. "The train wreck was supposed to stay on-screen," Michael Cieply wrote Friday for the New York Times.
"Walt Disney Studios spent the July 4 holiday watching its expensive action western, 'The Lone Ranger,' disintegrate in a box-office collision with a strong performance by the goofy little animated heroes of Universal Pictures's 'Despicable Me 2.'
"By Friday morning, 'Despicable Me 2' had taken in $59.5 million at the North American box office since its Tuesday night opening, according to an early estimate by Hollywood.com, and appeared to be headed for five-day total of $115 million or more. Its projected total is sure to more than double the five-day take for 'The Lone Ranger,' which by some estimates is expected to take in less than $50 million for the holiday, after collecting just $19.5 million in domestic theaters since Tuesday night. . . ."
He continued, "Critics were harsh. The film scored 37 of a possible 100 on the Metacritic.com service, and A.O. Scott, reviewing for The New York Times, called it 'a frantic grab bag of plots and themes, a semester-long Westerns 101 college course crammed into two and a half hours and taught by a professor whose lecture notes were rearranged by a gust of wind on his way to class."
Referring to Johnny Depp, the film's star, Cieply went on, "The audience, meanwhile, turned away from a film that seeks its appeal in Mr. Depp's wisecracking reinterpretation of Tonto, the Native American sidekick to John Reid, the Lone Ranger who has loomed large in American pop culture since the broadcast of a radio drama in the 1930s. The masked ranger is played by the actor Armie Hammer . . . ."
The film's creators consulted Native Americans in making it and said they gave the Tonto character, played by Depp, greater prominence than they did the Lone Ranger.
"I wanted [Tonto] to be no joke," Depp said in Rolling Stone. "First of all, I wouldn't f**k with someone with a dead bird on their head. Second of all, he's got the f**king paint on his face, which scares me … I wanted to maybe give some hope to kids on the reservations. They're living without running water and seeing problems with drugs and booze. But I wanted to be able to show these kids, 'F**k that! You're still warriors, man.' "
At Depp's request, proceeds from the film's $1,000-per-ticket gala premiere last week at Southern California's Disneyland resort supported the American Indian College Fund, Zorianna Kit reported Tuesday for Reuters.
How the Indians are represented matters. Paul Chaat Smith, associate curator at the National Museum of the American Indian and author of "Everything You Know About Indians Is Wrong," told the Washington Post's Zak, "It's more important to us than it should be. I don't know what other minority group takes so personally or invests so much of their hopes in a commercial vehicle. I used to think it's a bad thing and I just wanted us to get over it and say, 'Christ, it's just a movie. Have fun or don't see it or whatever.' But it does then become a conversation — the amount of calls the museum is getting about ['The Lone Ranger'], for example — and therefore it's an opportunity to advance the conversation."
LeAnne Howe, a Chocktaw and co-editor of a recently published collection of 36 reviews on nearly a century of films that have portrayed Native Americans, spoke with Craig Chamberlain, social sciences editor of the News Bureau of the University of Illinois at Urbana-Champaign.
"What makes this film unique for moviegoers is that Johnny Depp was officially adopted into the Comanche Nation in May 2012, in a ceremony in Lawton, Okla.," Howe said. "It is a case where art becomes life. Depp plays Comanche and is then adopted by respected Comanche elder LaDonna Harris, founder of Americans for Indian Opportunity. . . ."
Yet "Disney's spin doesn't convince Hanay Geiogamah," a Kiowa tribe member, Mandalit del Barco reported Tuesday for NPR. "Frankly, the UCLA professor is offended. He says Depp joins a long list of white actors playing Native Americans in the movies, including Burt Lancaster, Robert Taylor, Audrey Hepburn and Burt Reynolds.
" 'He could have, had he wanted to, cast himself as the Lone Ranger, and put a qualified, capable Native American actor … of whom there are quite a few now, in the role of Tonto,' says Geiogamah, who used to head UCLA's American Indian Studies program.
"Geiogamah doesn't like the way the 2013 Tonto talks. 'That sort of monosyllabic stuttering, uttering. Hollywood Indian-speak."
"And he doesn't like Tonto's new getup, either. 'We've got Johnny Depp with a taxidermied crow on top of his head and painted to the nth degree with paint, and he looks like a gothic freak.'
"Geiogamah says no authentic Native American goes around wearing war paint outside of ceremonial pow-wows, and certainly not day and night in the Wild West frontier.
" 'There's no way you can look at this and not say it's odd, unusual, strange, arresting, startling,' he says. 'It's a major setback for the Native American image in the world because that's how millions of people will think American Indians are now. . . .' "
JJ Duncan, Zimbio.com: How to Talk About the Problems with Johnny Depp's Tonto Without Sounding Sanctimonious


Felicia Fonseca, Associated Press: Will Disney's new Tonto be any better? (May 12)


Adrienne Keene, Native Appropriations: I saw The Lone Ranger so you don't have to


Wesley Morris, Grantland: How the West Was Dumb: The Lone Ranger and mega-budget dreariness


The Onion (satire): Ecstatic American Indians Praise 'The Lone Ranger' (June 19)


Lily Rothman, Time: Johnny Depp as Tonto: Is The Lone Ranger Racist?


Rotten Tomatoes: The Lone Ranger Reviews


TheImproper.com: Critics Crush Johnny Depp's Lone Ranger, But Public Mostly Likes It
Journalists at Egypt's Largest Paper Said to Detain Editor
"A source from Egypt's largest newspaper, Al-Ahram, said on Thursday that journalists have detained Editor-in-Chief Abdel Nasser Salama, demanding his removal, the Cairo-based website Aswat Masriya, part of a Thomson Reuters Foundation initiative, reported Thursday.
"Salama was appointed by the Mohamed [Morsi] administration that was ousted by the army and popular demand on Wednesday. . . ."
Meanwhile, "Al Jazeera has demanded the release of a top staff member who was detained when Egyptian security officials raided the Mubasher Misr channel, shortly after Mohamed Morsi was ousted as president," the network reported Friday.
"Three other television channels, all deemed to be pro-Morsi by Egyptian authorities, were also shut down on Wednesday in a move condemned by rights groups and journalists.
"Mubasher Misr's managing director Ayman Gaballah remains in custody. Four other staff members have been released.
"Global press news agency Associated Press Television News (APTN) was told not to provide Al Jazeera with any footage of the demonstrations in Egypt or any filming equipment, while the Cairo News Company was warned against providing broadcasting equipment.
"Al Jazeera Media Network's acting Director General Mostafa Souag condemned the actions, saying 'regardless of political views, the Egyptian people expect media freedoms to be respected and upheld.' . . . "
American Reporter Won't Venture Into Tahrir Square
Kimberly Adams, an American freelancer, explained on American Public Media's "Marketplace" Thursday why she was covering the crowds in Cairo's Tahrir Square from a hotel balcony 18 floors up.
"You might think, why not just go downstairs? Here's why. More than a hundred women have been violently sexually assaulted in Cairo's Tahrir Square in these protests, and foreigners (check) and journalists (check) tend to be targeted by what many report are organized groups of men out to assault and rape.
"I'm a freelance journalist, which means the various news organizations for which I work don't have any obligation to protect me or help me out if something goes wrong. Other female journalists covering these events try to bring a man with them or go in a group, but sometimes, not even that is enough, as other women have discovered in previous protests.
"There are laudable attempts by groups like Tahrir Bodyguard (@TahrirBodyguard) and Operation Anti-Sexual Harassment (@OpAntiSH), which through their very brave efforts were able to intervene and rescue many women over the past few days of demonstrations.
"But for me, yesterday wasn't worth the risk. . . ."
Al Jazeera: Egypt: Mayhem, Morsi and the media (July 6)


Committee to Protect Journalists: Egypt's army must exercise restraint with state media


Interview with Kimberly Adams, "Marketplace," American Public Media: Egypt's interim government faces tough economic issues


Reporters Without Borders: Call for Fully Civilian Government That Respects Basic Freedoms


Frank Smyth, Committee to Protect Journalists: Attacks in Egypt highlight risk of covering protests


Nancy A. Youssef, McClatchy Newspapers: Egyptians defend military as Morsi remains in custody, top Brotherhood officer seized


Earlier: First, Egypt's Army Went for the News Media
Blackmon Offered New Role as N.Y. Station Cancels Newscast
In the nation's No. 1 media market, "Fox-owned WWOR/Channel 9 has cancelled the news," Don Kaplan reported Thursday for the Daily News in New York and by Jerry Barmash Wednesday on his Tuned In blog.
"Effective immediately the [Secaucus, N.J.]-based channel will air a magazine-style show produced by an outside company, called 'Chasing New Jersey,' in place of its daily 10 p.m. news, the station's only news telecast," Kaplan wrote.
He added, "Co-Anchor Harry Martin may return to sister station WNYW Fox 5, reports the industry website [TVSpy], while Brenda Blackmon has been offered a new role producing and anchoring occasional specials for WWOR."
Blackmon joined WWOR in 1990 and says on her web page, "Brenda has done it all: reporter, film editor, film photographer, talk show host for television and radio, show producer, writer, and TV anchorwoman for decades. . . ."
Black Teen Dropouts Have 5 Percent Chance of Landing a Job
A day after Independence Day, when some commentators used the occasion to point out economic disparities between African Americans and the rest of the population, the PBS "NewsHour" noted on its website that "if you are a poor African-American high school teenage dropout, your likelihood of having a job is — 5 percent."
The figure came from Northeastern University economist Andrew Sum, who was interviewed by Paul Solman, "NewsHour" business and economics correspondent.
"What has happened is not a flat trend where every age group is moving up and down together as jobs grow and shrink," Sum said. "The younger you are, the more likely it is that you've been thrown out of the labor market. So for 16, 17, 18-year-olds, their employment rates have dropped to about half what they were a decade ago. Meanwhile, people 57 and over are more likely to be working today than they were in 2000. But the younger you are, the more likely it is you've been thrown out of the market."
He also said, "Employers just don't hire the number of people in the summer that they used to. Then, what exacerbates that is that the federal government used to have this summer jobs program, and in 2001, it went away. They resurrected it one year in 2009, when Congress passed the American Recovery Reinvestment Act, and we put about 400,000 kids to work for a short period of time. The next year, it was gone; we could not agree on putting that back.
"So that's why you find low-income kids work at such low rates. In the past, they would have gotten some of these jobs from the government. Now they require either the city, like Mayor [Thomas M.] Menino here in Boston, the mayor of New York, the mayor of Chicago, or the state to put up money to help get them a job. But the federal government has moved out [of] our workforce development system."
Solman asked, "And how about kids that are not in school, what percentage of them ages 16 to 19 are not working now?"
Sum replied, "Over half. If you're a high school dropout you're talking about 30 percent working. Among high school grads who graduated from high school in the last three years — we do a separate survey of them the fall after graduation — 45 percent of them held a job, the lowest in the last 50 years we've been collecting this data. And to make it worse, of that 45 percent, only half of them were able to get a full-time job. Only one in five young high school grads, not in college, [is] working full-time.
Solman: "So, you mean, it's effectively an 80 percent underemployment rate?
Sum: "Yes. And, if you happen to be a young black male, we're talking 90. Ninety percent are not working full-time. . . ."
Freddie Allen, National Newspaper Publishers Association: The 'forgotten goals' of the 1963 March on Washington


James E. Causey, Milwaukee Journal Sentinel: Living poor, living apart


James E. Causey, Milwaukee Journal Sentinel: Hopelessness fuels black suicide (June 28)


Esther J. Cepeda, Washington Post Writers Group: Revering our national anthem


Ta-Nehisi Coates blog, the Atlantic: To Be Born on the Fourth of July


Donald Gilliland, Patriot-News, Harrisburg, Pa.: Harrisburg native was first black war correspondent in American history


HuffPost LatinoVoices: 11 Latino Contributions To U.S. History (SLIDESHOW)


Greg Kaufmann, the Nation: This Week in Poverty: The Unfinished March on Washington for Jobs and Freedom (June 28)


Kevin M. Levin, History News Network: The Terror of Being Black at Gettysburg


Liliana Llamas, NBCLatino: DREAMers celebrate Independence Day in the country they call home


David A. Love, the Grio: Fourth of July: African-Americans are more dependent on government


Rachel Manteuffel, Washington Post: PostScript: Pirie and the revolution so far


Helen B. Marrow and Tomás R. Jiménez, Los Angeles Times: Mexican American mobility


Paul Pirie, Washington Post: The American Revolution was a flop
Dion Rabouin, HuffPost BlackVoices: Independence Day for Whom?


E. R. Shipp, HuffPost BlackVoices: Thankfully, America Is Still Young


Goldie Taylor, the Grio: Fourth of July: What kind of freedom is this?
"Economic Affirmative Action" Has Its Drawbacks
"I walked into the room hoping no one would discover my secret," John Blake wrote Tuesday for cnn.com.
"I feared my accent would betray my identity, so I kept silent. I glanced self-consciously at my cheap clothes, wishing I could afford better. I stared at the photogenic, self-assured students around me as if they were from another planet. For me, they were from another world.
"I was a 17-year-old African-American from an impoverished, inner-city community and had no idea what I was getting into. Next to me in a college freshman orientation class were students who came from private schools and grew up in homes with swimming pools and maids.
"But here was the catch: I wasn't an affirmative action enrollee at an elite white university. I was a black student thrust onto the campus of a predominantly black university. My hang-up wasn't race; it was class. I was suffering from 'class shock.' I was on a path to self-destruction because I didn't know how to cross the bridge from poverty into this strange, new world.
"I thought about that period in my life after learning last week that the U.S. Supreme Court had upheld the use of race in college admissions but had signaled that it may soon abandon that position. People are already preparing for what may come next: Colleges are going to create diversity by using class instead of race. Some call it economic affirmative action."
Blake continued, "But my experience suggests that there is a hidden challenge to such an approach. Placing poor students in top-tier colleges is only half of the battle. There's another psychological battle that some of these students will fight within themselves, and, as I found out, there's no college prep course out there to help. . . . "
Mary C. Curtis, Washington Post: How America's original affirmative action is still going strong


David R. Jones, Daily News, New York: Make CUNY a model of diversity again


Askia Muhammad, Washington Informer: LGBT=Sí; Afro=NO


USA Today: There's more to education than diversity: #tellusatoday
CNN's "The N Word" Special Sparks Rebuttals
Last Monday's CNN special, "the N Word," hosted by Don Lemon, drew harsh words from Michael Arceneaux, writing for Ebony, and Roy Miller, an Atlanta-based attorney who in 1994 persuaded the Funk & Wagnalls dictionary to strike the epithet from its text.
"I suppose it's much easier to discuss the semantics of a slur than systematic racism, but that does as much to educate people as eating a can of fruit teaches lessons about healthy living, . . ." Arceneaux wrote.
Miller wrote for the Redding News Review, "The soft approach and casual use of the N-word by the discussion panel seemed odd. Secondly, panel members made sure that they spoke the N-word. The panel seemed predictable and hand picked. And thirdly, no one, not even Don Lemon, mentioned how N-word usage affects children. . . ."
Daniel D'Addario, Salon: CNN's Don Lemon on Paula Deen, Rachel Jeantel and "The N-Word": "I don't think you can ever redeem that word"
Cuts in Store for Groups Providing Diversity to Public TV
Citing shifting priorities and reductions to its congressional appropriation that have forced cuts in station grants and its own budget, the Corporation for Public Broadcasting "is reassessing its funding commitments to several grantees that provide specialized assistance and diverse programming to the public TV system," Dru Sefton reported June 24 for Current.org.
Sefton wrote, "The five organizations that make up the National Minority Consortia (NMC) each took a 10 percent cut in CPB support for FY13, falling from a total of $7.5 million to $6.75 million. CPB is extending its contracts with each consortium through FY14 and will hire a consultant to analyze how the organizations could operate more efficiently, possibly through some type of merger. The corporation is shifting the $750,000 saved from NMC grants to World, a multicast nonfiction channel based at WGBH that features documentaries and multicultural content.
"And CPB is ending its 13-year support of the Producers Academy at WGBH, a training and mentoring program that provided training to station-based and independent filmmakers, some of whom went on to produce national programs such as African American Lives and Latin Music USA. CPB will redirect that funding to system leadership training, officials said, as part of an effort to cultivate a more diverse workforce at the senior-management level."
In "African American Lives," a PBS series narrated by Henry Louis Gates Jr., the Harvard professor, the ancestries of prominent blacks are traced.
" 'Our goal continues to be focused not just on cuts but seeing how we can strengthen public media through long-term efficiencies and free up limited resources for content,' said Michael Levy, CPB executive v.p.," in the story.
Sefton continued, "CPB is also reexamining its financial commitments to the minority consortia, created in 1991 to develop and support diverse programming for public television. The five organizations — the Center for Asian American Media, Latino Public Broadcasting, the National Black Programming Consortium, Pacific Islanders in Communications and Vision Maker Media (formerly Native American Public Telecommunications) — will soon enter strategic discussions with the corporation about their structure and funding.
"Each consortium receives around $1.5 million annually from CPB. That was reduced by $150,000 each for FY13 and FY14. . . ."
Sefton added, "Jacquie Jones, director of the National Black Programming Consortium, said the five organizations 'function independently and each do very different things. They are structured differently, with different priorities. And there's never been a clear metric used to assess success.' . . . "
In Philadelphia, "the manner in which the Nutter administration routinely stiff-arms the press is becoming troubling," Simon van Zuylen-Wood wrote Friday for Philadelphia magazine, comparing the actions of Mayor Michael Nutter's team with the surveillance efforts in the Obama administration.


" The St. Louis American won the top award for general excellence for the second consecutive year Thursday night at the National Newspaper Publishers Association's (NNPA) Annual Merit Awards ceremony," NNPA reported. "For the first time, the NNPA also presented excellence awards for two smaller categories. Winning in Category B was the Houston Defender. The Miami Times won in Category C. . . ."


"Cloves Campbell, Jr., publisher of the Arizona Informant, was re-elected to a second term as chairman of the National Newspaper Publishers Association at the NNPA's annual convention here," NNPA reported from Nashville, Tenn. "The voting took place on Friday, near the conclusion of the association's 4-day convention. . . ."


"The Newark Star-Ledger, whose owners are threatening to close the paper if unions don't make concessions, has put its headquarters up for sale," Emily Babay reported for Philly.com. "Publisher Richard Vezza says the sale is aimed at saving money and the newspaper is 'going to lease office space,' according to the Star-Ledger. . . . "


"50 years ago during the March on Washington, the Reverend Dr. Martin Luther King stood up to proclaim, 'I Have A Dream.' This summer, Reverend Al Sharpton and MSNBC will be honoring and celebrating that historic moment by 'Advancing the Dream'," NBC announced on Wednesday. " 'Advancing the Dream' is a multi-platform initiative to honor the spirit of the March throughout the summer. Reverend Sharpton and 'PoliticsNation' will highlight civil rights issues of the past and present and will tell the stories of the people and the personalities behind the Movement. The initiative is being launched at the Essence Festival July 4-7, will be continued in Washington DC for the anniversary of the March with a special 'PoliticsNation' on August 23, and will conclude with a star studded event from the Apollo Theater on September 6 focused on the next 50 years of the civil rights movement. . . . "


"Seventeen of the country's top journalists come together as one group in one studio to join Chris Matthews the next three weeks to address America's most challenging conflicts: war and race," NBC announced Wednesday. "The climactic discussions are designed to bring closure to the 11-year run of 'The Chris Matthews Show.' " Among the 17 are Clarence Page, Cynthia Tucker and Michele Norris.


C-SPAN plans to feature Bakersfield, Calif., on Book TV starting Saturday, July 6, at 12 p.m. ET, and on American History TV starting Sunday, July 7, at 5 p.m. ET. Included is the life of Dolores Huerta, the civil rights activist and labor leader who co-founded the United Farm Workers with Cesar Chavez in the 1960s. Author Camille Gavin discusses former slave and entrepreneur Bridget "Biddy" Mason, who after gaining her freedom, worked as a midwife and began purchasing real estate in California — attaining a net wealth of $300,000 in the 1890s. Also, former Los Angeles Times writer Mark Arax, author of "West of the West," discusses the Black Okies, a group of African Americans who migrated to rural California from the South, following the cotton trail west. More on the initiative [PDF]. 


"Starting Monday, August 12, Telemundo telenovelas will be seen in Africa," Veronica Villafañe reported for her Media Moves site. "The Telemundo channel in Africa, part of the Universal Networks International portfolio, will reach 48 countries throughout the continent on a digital pay-TV satellite platform. . . ."


"The avalanche of lawsuits on the internship front keeps coming," Eriq Gardner reported Wednesday for the Hollywood Reporter. "The latest is a proposed class action against NBCUniversal from Jesse Moore, who says he worked 24-hour-or-more weeks in the booking department at MSNBC in 2011, and Monet Eliastam, who says she worked 25-hour-or-more weeks on the staff of Saturday Night Live in 2012. . . ." Pro Publica is tracking intern lawsuits here.


"Malaysian authorities have denied entry to a leading opposition journalist who is the sister-in-law of Gordon Brown, the former British prime minister," Gerry Mullany reported Thursday for the New York Times. "The journalist, Clare Rewcastle Brown, who was sent back to Singapore, is the founder of the Sarawak Report and Radio Free Sarawak, two news outlets that have taken on the Malaysian government on issues like deforestation and corruption in the state of Sarawak, on the island of Borneo. . . ."
Follow Richard Prince on Twitter.
Facebook users: "Like" "Richard Prince's Journal-isms" on Facebook.
Journal-isms is published on the site of the Maynard Institute for Journalism Education (mije.org). Reprinted on The Root by permission.