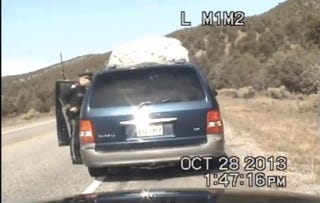 The New Mexico State police officer who shot at a minivan full of children during a traffic stop in October, has been fired, the Associated Press reports.
Officer Elias Montoya was fired on Friday after an internal investigation and disciplinary hearing. According to the AP, he plans to appeal.
New Mexico Gov. Susana Martinez said she supported the decision of the police force to fire Montoya, saying that his actions were "unacceptable" and he should not have resorted to deadly force.
On Oct. 28, video from a police dashboard camera showed Montoya shooting at a minivan driven by a woman containing five children, after the driver tried to flee the scene following a traffic stop. Attorneys for 39-year-old Oriana Farrell said that she was afraid for her children's safety when an officer knocked out the minivan's window with a baton. 
Read more at USA Today.