(The Root) — Etan Thomas is on a mission. While the 6-foot-9 forward would like to resume his 11-year NBA career after sitting out last season, his new quest has nothing to do with rebounds and blocked shots. It's about affection and connections.
Thomas, a poet who also blogs for the Huffington Post, grew up in a single-parent household, like more than 60 percent of African-American children. His parents divorced when he was 7, and although he still saw his father regularly, Thomas grew to resent the void. He recognizes those same feelings in today's youths during speaking engagements.
"When I go to correctional facilities, I see myself in those kids," he said during a recent panel discussion on fathers, held just outside Washington, D.C. "There's all this anger inside. A lot of them come from single-parent households and don't know what to do with it. So they make bad choices."
That's just one reason he wrote Fatherhood: Rising to the Ultimate Challenge. It's meant to inspire and encourage children — whether they're living with one or both parents — and dads, whether they're absent or active.
"I wanted to create something I wish I had when I was younger," said Thomas, who intersperses his own writing with 44 essays from athletes, entertainers and other celebrities. "I wanted to have Kevin Durant tell how he grew up in a single-parent household. Then I wanted to show Derek Fisher, Grant Hill and Allan Houston talking about how much they love their kids.
G/O Media may get a commission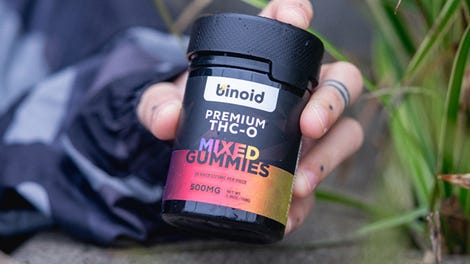 25% Off + Free Shipping
Binoid THC-O Gummies
"You don't see positive images with athletes a whole lot," Thomas said. "I wanted to use athletes — not to say anything different than anyone else — but to give their personal experience and have young people listen and learn from what they've gone through."
Thomas, an active participant on President Obama's Fatherhood and Mentoring Initiative, has three young children with his wife. He's clear in stating he's no expert and none exist on the subject. But he does believe that his story and others — including those of Taye Diggs, Kareem Abdul-Jabbar, Ice Cube, Malcolm-Jamal Warner, Isaiah Washington and Chris Paul — can help men become better fathers and help children cope with their fathers (or absence thereof).
Thomas was joined on the panel by former Washington Wizards teammate Laron Profit and former Washington Redskins linebacker LaVar Arrington, among others. "It's important that we start delving into this topic of fatherhood and understanding it and supporting each other as men," said Profit, who didn't meet his own father until his father was on his deathbed. "It's a very difficult journey."
The excursion can be particularly treacherous when children grow up without their fathers. That's what his mother was thinking when young Thomas came home one day as she watched an ABC Afterschool Special. She was crying while listening to depressing statistics on dropout rates, suicide rates, teenage pregnancy rates and rates of incarceration.
"They said if you come from a single-parent household, you're not going to make it," Thomas said. "We made a pact. I told her I was going to make right choices and make right decisions." He did just that. After playing four years at Syracuse University, he was drafted at No. 12 in 2000 by the Dallas Mavericks. He spent seven of his 11 NBA seasons with the Wizards before ending with Atlanta in 2010-2011.
Whether or not there is more basketball in his future, the 34-year-old will continue his crusade through speaking engagements, visits to youth groups and media appearances. He continues to interview men from all walks of life on his website and continues to encourage fathers, mentors and sons — no matter how well or how poorly they're performing in those roles.
"I really could have made two books," he said. "It's important to display everyone's experiences, thoughts, feelings, et cetera. I want this fatherhood movement to have an impact for everyone."
He's on the way to making that happen.
Deron Snyder's Loose Ball column appears regularly on The Root. Follow him on Twitter and reach him at BlackDoor Ventures, Inc.