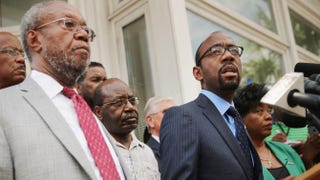 Fifteen years after imposing economic sanctions against South Carolina over the presence of the Confederate flag at the Statehouse, the NAACP has lifted the ban, according to the Associated Press.
The venerable civil rights group lifted the ban Saturday at its national convention in Philadelphia, ending the tourism and economic boycott that began in 2000 during debate over the flying of the Confederate flag atop South Carolina's Statehouse dome in Columbia, the report says.
The ban continued even after the banner, long a symbol of racism and oppression to African Americans after the Civil War, was moved to a flagpole on Statehouse grounds.
It was removed Friday, several weeks after Dylann Roof, an avowed white supremacist who posted online photographs of himself with the banner, allegedly shot and killed nine people at Emanuel African Methodist Episcopal Church in Charleston, S.C.
Read more at USA Today.