You've probably seen the face of adorable 10-month-old Landon Benton floating around social media. Many people think he's the spitting image of NBA star Stephen Curry, but Landon's mother had a difficult time dealing with the name-calling her baby received early on.
After posting an Instagram photo of Landon to social media, people labeled the baby "Stuff Curry" because of his size. The jokes were endless, and in an interview with ESPN, Landon's mother, Jessica Benton, says she decided to embrace the nickname and basically stunt on the haters.
"I'm not going to let them fat-shame my baby and put it all over online and I just give up there. I wanted to really turn it into something good and take control of it and say, 'OK, we're going to own this name. Yeah, we're Stuff Curry. We look like the famous basketball player,'" she said.
"I have people message me and they're like, 'I just wanted to let you know my mom loves your baby and we have secretly adopted him into our own family; he's so gorgeous, we love him. He looks just like Steph Curry,'" said Jessica Benton.

G/O Media may get a commission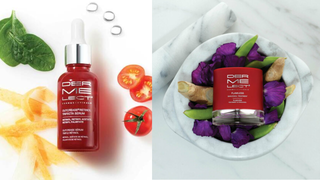 Save $19
Retinol Renewal Kit
Taking the high road wasn't easy for Landon's family, but Jessica Benton says she persevered because her 20-year-old son committed suicide when she was pregnant with Landon.
"When he was in 11th grade, he told me about how the kids at school would say mean things to him and call him names and make fun of him. And I didn't realize how much that had taken a toll with his own self-esteem at the time," Jessica Benton said. "I can't say it's directly due to bullying or anything, but I have one kid who's not here with me who told me that people made fun of him. I'm not going to have another kid think that the whole world was laughing at him."
As Landon rises to fame, he's also reaping the fruits of his cuteness. Fans are constantly sending him gifts, and he also has his own Curry jersey with "Stuff" printed on the back.
Kudos to Landon's mom for turning a negative into a positive.