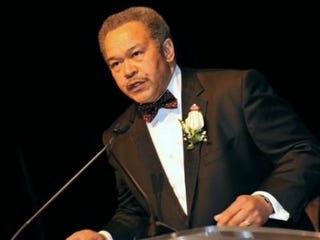 The man whom many credit for changing the public perception of Morehouse College is resigning. Morehouse President Robert Franklin plans to step down after five years at the prestigious all-male HBCU, according to CBS Atlanta.
Franklin, who graduated from the college in 1975, will become president emeritus and distinguished professor, according to CBS. If a successor is not found by July 1, he will stay in the position until either a replacement is found or the end of 2012. Franklin said that he plans to take a sabbatical as a scholar in residence at Stanford University's Martin Luther King Jr. Institute. He also said that he will return to Morehouse one day to teach social ethics.
Under his leadership, the college increased alumni giving from 17 to 36 percent and received more than $60 million in federal grants. He is credited by many with restoring the college's reputation and confidence in the school's mission.
We wish Franklin the best in his future endeavors.
Read more at CBS Atlanta.