A group of high school students on a social justice jaunt across the country helped to restore dignity to a defaced Emmett Till memorial after they came across it in Money, Miss., last week.

The Washington Post reports that the group of 24 students, part of the St. Louis-based Cultural Leadership program, traveled the country for three weeks learning about civil rights and meeting with notable figures such as Rep. John Lewis (D-Ga.) and Supreme Court Justice Ruth Bader Ginsburg.

On June 25, near a grocery store where 14-year-old Emmett allegedly "took liberties" in speaking with a white woman (she admitted lying years later), a sign commemorating his short life and horrific death had been defaced. Text and photographs had been removed from the sign, similar to the destruction of another sign by the river where Emmett's lynched, mutilated body was found.

G/O Media may get a commission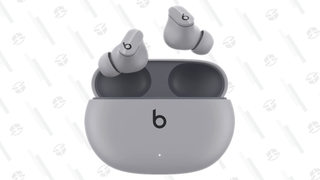 The Post reports that the group debated about what action to take before settling on repairing the sign with handwritten notes and drawings, and also speaking out about what had happened to the sign itself.
One of the students' signs read, "You can destroy this marker, but you cannot destroy history."
Another drew a picture of Emmett and posted it to the memorial. "I thought it was important to show he was just a little boy," said 17-year-old Josh Hagene.
In addition to "fixing" the sign, the group tweeted the Mississippi Department of Transportation to repair it. The department responded that it would "get this fixed as soon as possible."
It was the second time that this particular sign had been damaged. Another one dedicated to Emmett that was near the Tallahatchie River, where his body had been dumped, had been riddled with bullet holes last October.
Read more at the Washington Post.