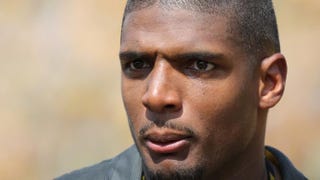 "It was a football decision." With those words St. Louis Rams coach Mike Fisher announced that defensive end Michael Sam, the first openly gay player drafted in the NFL, fell short of making the 53-man roster for the team. Fisher praised Sam's pre-season performance in which he had 11 tackles and three sacks. According to ESPN sources, the Rams would like to keep Sam on their 10-man practice squad. But he is eligible to get picked up by another team.
Sam, who made football history by coming out just weeks before the football draft in May, was attending his alma mater Missouri's home opener when he got the news. He tweeted his thanks to the Rams for the "tremendous opportunity and allowing me to show I can play at this level."
Read what's next for Michael Sam here.