My dad emailed me about a week ago, with a barrage of questions: "Did you watch Saturday Night Live? Did you see the musical artist? What did you think of her performance?"
He was referring to Megan Thee Stallion, an artist he'd previously been unfamiliar with and wasn't entirely sure he understood—specifically, how to reconcile her unapologetically sex-positive image (by her own design) with the mid-song declaration she made in defense of Black women while performing her hit, "Savage" on SNL. For my pops—and no doubt many others well-accustomed to the traditional "good girl/bad girl" binary, Meg's identity as both righteous and ratchet might prove challenging, at first glance.
My dad's always been a fast learner (a trait he thankfully passed on), and we had a brief but very constructive conversation about exactly how limiting and destructive that binary is for Black women—limitations being something he's never wanted for his daughters. Regardless of how anyone might receive their imaging or messages (and we are always welcome not to like things), Meg is among a generation of Black female entertainers challenging us to consider Black women in their multitudes—you know, classy, bougie, and ratchet, not inherently either/or.
I had a receptive audience, but perhaps no one can explain this better than Thee Stallion herself, who published an op-ed in the New York Times titled, "Why I Speak Up for Black Women," writing, in part:
I've received quite a bit of attention for appearance as well as my talent...But the remarks about how I choose to present myself have often been judgmental and cruel, with many assuming that I'm dressing and performing for the male gaze. When women choose to capitalize on our sexuality, to reclaim our own power, like I have, we are vilified and disrespected.
G/O Media may get a commission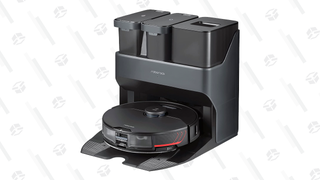 24% off
Roborock S7 MaxV Ultra Robot Vacuum and Mop
Echoing the famous excerpt of the Malcolm X speech she played during her SNL appearance, she wrote:

In the weeks leading up to the election, Black women are expected once again to deliver victory for Democratic candidates. We have gone from being unable to vote legally to a highly courted voting bloc—all in little more than a century.

Despite this and despite the way so many have embraced messages about racial justice this year, Black women are still constantly disrespected and disregarded in so many areas of life...Black women are not naïve. We know that after the last ballot is cast and the vote is tallied, we are likely to go back to fighting for ourselves. Because at least for now, that's all we have.
These are well-established and statistically supported facts, not opinions—and Meg continues to drop them, citing disconcerting data on maternal mortality rates for Black mothers and the disproportionate amount of violence against Black transgender and gender-nonconforming people, as well as the ways in which Black women are especially subject to a system that historically says "there can only be one." But as a woman who has recently been the victim of gun violence at the hands of a man—one she claims not to have been in a relationship with, for the record—Megan has a deeply personal perspective on the very real repercussions of disrespect for Black women, as well as further explaining her initial silence following the shooting.
After a lot of self-reflection on that incident, I've realized that violence against women is not always connected to being in a relationship. Instead, it happens because too many men treat all women as objects, which helps them to justify inflicting abuse against us when we choose to exercise our own free will.

From the moment we begin to navigate the intricacies of adolescence, we feel the weight of this threat, and the weight of contradictory expectations and misguided preconceptions. Many of us begin to put too much value to how we are seen by others. That's if we are seen at all.
Perhaps this better explains (aside from the fact that she wanted to, and he warranted it) why Megan felt the need to publicly take Kentucky Attorney General Daniel Cameron to task during her October 3 performance. "There's not much room for passionate advocacy if you are a Black woman," she writes, even while acknowledging that some, like my pops, might not get it—at least, not at first.
But you know what? I'm not afraid of criticism. We live in a country where we have the freedom to criticize elected officials. And it's ridiculous that some people think the simple phrase "Protect Black women" is controversial. We deserve to be protected as human beings. And we are entitled to our anger about a laundry list of mistreatment and neglect that we suffer.
You can read Megan's op-ed in its entirety—plus a video segment—on the New York Times.