For over 20 years, Missy Elliott has been one of the most influential artists of this generation and the not-so-secret sauce behind hits from 702, Beyoncé, Janet Jackson, and countless others.
And after being announced as a nominee in November, the Portsmouth, Va. native has officially been inducted into the Songwriters Hall of Fame.
She joins a group that includes TLC-architect Dallas Austin (Monica's "Don't Take It Personal (Just One of Dem Days)", TLC's "Creep"), Tom T. Hall, John Prine, Yusuf / Cat Stevens, and Jack Tempchin.
Missy took to Twitter to celebrate the much-deserved honor.
G/O Media may get a commission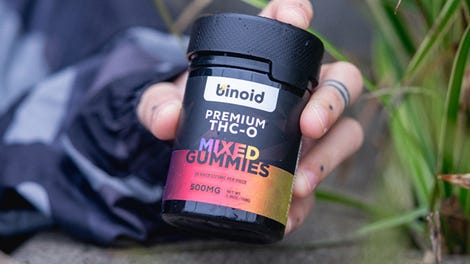 25% Off + Free Shipping
Binoid THC-O Gummies
"I want to CONGRATULATE all the AMAZING songwriters who have been inducted into the 2019 Song Writers Hall of Fame," she tweeted. "Also those who were nominated because their body of work is AMAZING. I AM SO HUMBLY GRATEFUL to now be inducted also. I [love] you all."
The induction ceremony will take place on June 13 at the Marriott Marquis Hotel in New York City.
And for those poor unfortunate souls who aren't up on Missy's extensive list of accomplishments, they made sure to provide receipts:
One of the most significant female artists in contemporary music history, Missy Elliott is a groundbreaking solo superstar, pioneering songwriter-producer, and across-the-board cultural icon. The five-time GRAMMY® Award winner – with nominations spanning three decades – has attained unprecedented success, including U.S. sales in excess of 30 million. Missy's six studio albums have each been RIAA platinum certified or better, marking her as the only female rapper to achieve that remarkable accomplishment.
While Missy racked up an absurd amount of awards, accolades, and record sales with her own music, she's always been down to lend her pen to other established or blossoming artists.
Missy's massive accomplishments extended far beyond her own solo works, including innumerable guest appearances on singles and remixes by a truly diverse span of musical artists. As one of modern pop's definitive songwriters and producers, Elliott's star-studded list of songwriting credits continues to grow, including collaborations with Beyoncé ("Signs"), Whitney Houston ("In My Business"), Ciara ("One Two Step"), Monica ("So Gone"), Destiny's Child ("Confessions"), SWV ("Can We"), Fantasia ("Free Yourself" and "Bump What Your Friends Say"), Mary J Blige ("I Never Been"), Aaliyah ("One In A Million," "If Only Your Girl Knw," and "Hot Like Fire"), Tweet ("Call Me"), Jennifer Hudson ("I'm His Only Woman"), Nicole Wray ("Make It Hot"), Mya ("My Love Is Like Whoa"), Total ("What About Us" and "Trippin"), and 702 ("Where My Girls At?" and "Stello") among others.
And of course, Twitter was quick to shower her with confetti:
With her induction, Missy not only becomes the first female Hip-Hop artist to be inducted, but only the third rapper in the nearly 50 year history of the Songwriters Hall of Fame to do so.
Supa Dupa Fly indeed.
All hail the queen.