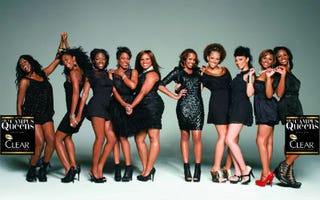 More than 1.8 million readers weighed in to choose the winners of this year's Ebony HBCU Campus Queens contest. The 10 high-achievers who made it to the top of the list were chosen for being "conscious of their communities, resolute in their beliefs, dedicated to their goals and committed to the importance of education."
They represented their respective historically black colleges — dressed to the nines, of course — in a spread in the September issues of the magazine celebrating their accomplishments. We probably haven't seen the last of these up-and-coming leaders, so get to know their names before they take their leadership into their respective fields off campus.
Mea Ashley, Miss Jackson State University, mass communications/Spanish, 21

Janae Roberts, Miss Tougaloo College, chemistry, 22

Eyden Thomas, Miss Hampton University, sociology, 22

Mia Holmes, Miss Xavier University of Louisiana, biology/pre-dentistry, 21

NaKena Cromartie, Miss Florida A&M University, accounting, 23

Alexandria Wilson, Miss Tuskegee University, political science,  21

Erika Grant, Miss Delaware State University, accounting, 21

Harmony Cross, Miss North Carolina Central University, public administration, 21

Kea'ya Reeves, Miss Fort Valley State University, criminal justice, 22

Barbara Henry, Miss Fayetteville University, criminal justice/accounting, 21
Read more at Ebony.com.