In an interview with CBS This Morning, rapper Meek Mill acknowledged that without the high-profile support and endorsements he received, he'd likely still be in prison.
Back in November 2017, Judge Genece Brinkley ordered Meek to serve up to four years in prison for violating his probation on a 2008 conviction on drug and weapons charges. The harsh sentence, given to Meek for technical violations to his probation, stunned criminal-justice advocates and legal experts, especially because both Meek's parole officer and the prosecutor recommended that he not serve jail time.
Since a Pennsylvania Supreme Court ordered Meek to be released on bail two weeks ago, the Philadelphia rapper has emerged as a voice for criminal-justice reform. The Tuesday morning appearance was his first live TV interview since being released from prison.

Conversing with Gayle King, Meek said that he believed God had "put me in a path to bring this to the light and make this a positive situation."
G/O Media may get a commission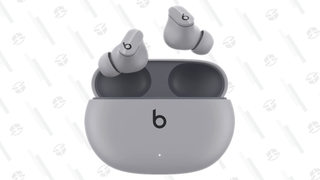 "I heard a lot of people comment on me, like, 'I don't think he should be the face [of criminal-justice reform],'" Meek told King. "I don't care about being the face; I care about saving people's lives and helping the world become a better place, if I can."

Meek also outlined the difference between a technical violation and a crime, citing the example of the two young black men arrested in Starbucks in April as they waited in the restaurant for a friend.

"If I was in Starbucks and got handcuffs put on me and was arrested, I would be in technical violation no matter if I was guilty or innocent," Meek said, adding that a judge could legally sentence him to years in jail based on such an arrest alone.
The Dreams and Nightmares rapper acknowledged that without high-profile support from celebrities like Jay-Z, Beyoncé and Kevin Hart, he'd likely still be behind bars.
"This happens to minorities on a daily basis where they don't have a voice," he said.
Aside from publicly pushing for criminal-justice reform, Meek is also appealing his 2008 conviction, and a documentary series following his battles with the legal system is slated for release on Amazon.com's streaming platform next year.