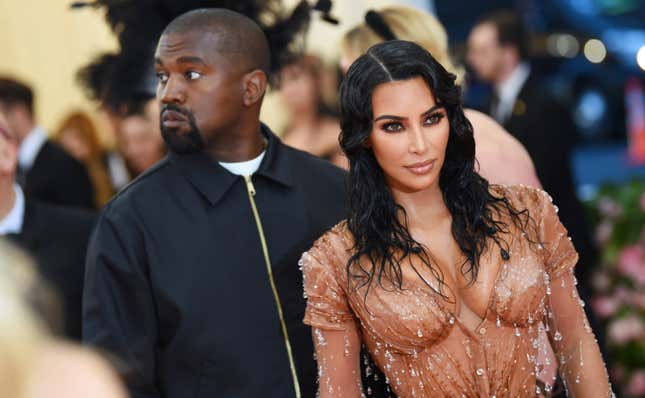 "And I always find, yeah, I always find somethin' wrong/You been puttin' up with' my shit just way too long/I'm so gifted at findin' what I don't like the most/So I think it's time for us to have a toast." —Kanye West
Justice Smith Talks New Dungeons & Dragons Movie, The Get Down On That's So Random
Beware of false prophets—or at the very least, be careful what you ask for.
When Kanye West married Kim Kardashian in 2014 after a long friendship, whirlwind courtship and first child, he presumably knew who he was marrying. It's hard to imagine one of the most famous rappers in the world wasn't as acquainted as the rest of us with the very sexy (and strategically sexualized) image and history of the world's most famous reality star.
But the self-proclaimed genius musician—who has recently been ardently preaching freedom from "mental slavery" (via the MAGA movement, no less)—proved to still be as basic a bitch as ever on Sunday's Keeping Up With the Kardashians, which revisited Kanye and Kim as they prepared for the 2019 Met Gala in May. Putting a predictably sexy spin on this year's theme of "Camp," Kim chose a couture dress in an intentionally exaggerated silhouette by iconic designer (and '90s favorite) Thierry Mugler, intended to evoke the image of a sheer wet dress emerging from the ocean. In fact, the silhouette was much like the look Kim wore to the 2016 MTV Video Music Awards.

G/O Media may get a commission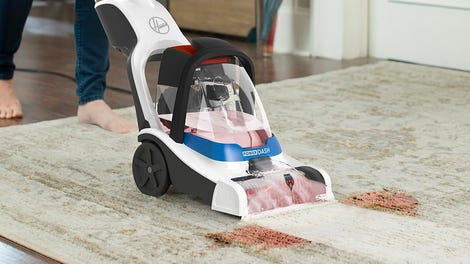 26% Off
Hoover PowerDash Pet Compact Carpet Cleaner
That said, what follows is not a critique or debate of Kim's well-known penchant for revealing looks. (Who knows how we'd dress if we had that body or could afford to get it?) No, our eyebrow is once again cocked at Kanye, a man who has actively participated in the construction of his wife's image into both sex symbol and fashion icon, including overhauling a then-tearful Kim's wardrobe prior to their marriage, lobbying luxury designers and even Anna Wintour herself to help elevate his wife into the legitimate international fame they both now enjoy.
Oh, and remember that time he cringingly envisioned Kim as a topless, buxom and bouncy mudflap icon in his "Bound 2" video? Yeah, we do, too.
But apparently, sanctified 'Ye has had a change of heart since becoming a "spiritual leader."
"You are my wife, and it affects me when pictures are too sexy," the artist formerly beloved as Kanye West earnestly explained to Kim in front of her styling team on Sunday night's episode of KUWTW (h/t Page Six). "I just went through this transition from being a rapper, looking at all these girls and looking at my wife, like, 'Oh, my girl needs to be just like the other girls showing her body off, showing this, showing that...I didn't realize that that was affecting my soul and my spirit as someone that's married, and loved, the father of now—about to be four kids."
We're all for evolution, 'Ye. But you mean to tell us that the image you helped personally cultivate is now the source of your spiritual angst?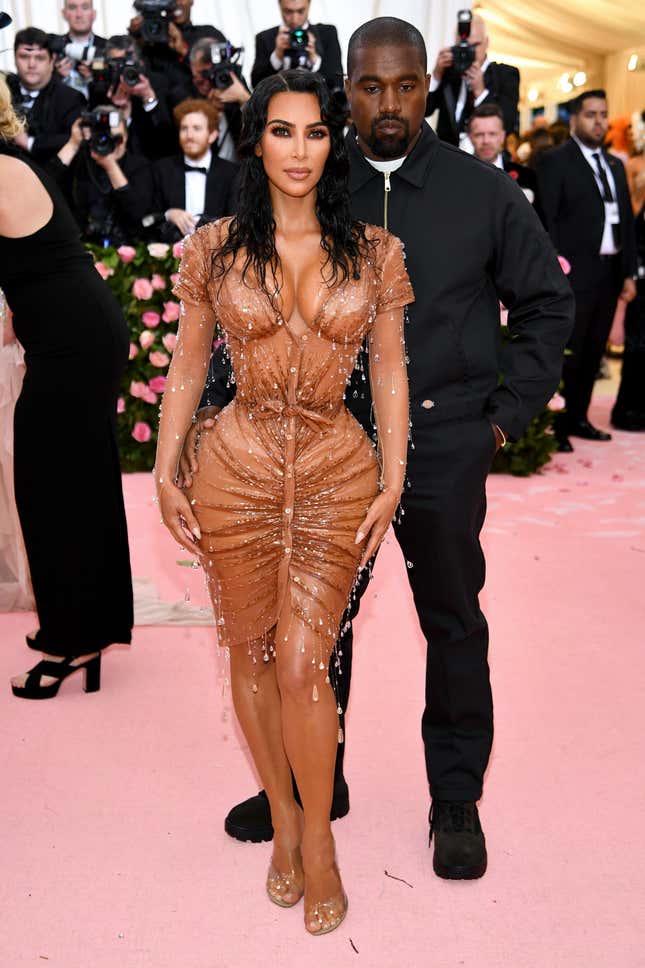 Though it's been frequent fun to dish on the "Kardashian Kurse," accusing the women of the famous-for-being-famous family of casting Kanye and their other black male partners into the "Sunken Place," we can see this for the Beautiful Dark Twisted Fantasy bullshit it is. For one, while cynical observers may have long considered the Kardashian-West marriage a mutually beneficial union of ego and ambition, it's equally true that Kanye has effectively Svengali'd the shit out of at least two women he's been involved with—and subsequently slut-shamed at least one of them once she no longer fit his narrative. Aside from the brutal innuendos laced throughout 2010's MBDTF, who can forget 'Ye's 2015 diatribe on ex Amber Rose (h/t Jezebel)?
If Kim had dated me when I first wanted to be with her, there would be no Amber Rose...By the way, it's very hard for a woman to want to be [with a man] who's been with Amber Rose. You know what I'm saying? I had to take 30 showers before I got with Kim.
And yet, with his recent political and spiritual reawakening, we now witness another moral judgment passed down by Kanye, who, having first encouraged and later complained about the sexiness of many of his wife's Instagram images, declared Kim's corsetted Met Gala look "too sexy." (Did he somehow miss last year's body-skimming look? Or the year before that?)
Who did you marry, 'Ye?
Kanye's sudden crisis of faith conveniently ignores the fact that he has not only personally curated but benefitted from the successful marketing of his wife as a sex symbol (in addition to countless other women, as recently as the summer of 2018). Four adorable children notwithstanding, some might argue that given Kanye's fluctuating popularity and even more questionable politics, he has gained more goodwill from his marriage than Kim—not to mention millions in rumored capital. But despite these well-documented facts, "you are my wife" is the patriarchal trump card (pun intended) he now uses to disavow the very icon he helped create.
In the dating world, this type of about-face is commonly called "negging." And were it not so damned triggering, Kanye's hypocrisy might almost be hilarious. Instead, it brought to mind a 2015 op-ed by Washington Post writer Alyssa Rosenberg, questionably titled "Kanye West is a sexist. That's why I love his music." In it, Rosenberg posited:

West's career has been defined in part by tortured portraits of the relationship between the sexes...Kanye West's music is a fascinating portrait of the ways men can get tangled up in their anger at women, and the extent to which that fury is really anger at themselves...

Really, if anything defines West's music about women, it's a sense of weary self-defeat...Marinating in your own self-loathing is not actually an inherently redemptive act. But if West vents his anger on women in both fiction and real life, his own misery is equally apparent. I wouldn't want to be with Kanye West. But on the basis of his music, the prospect of being him actually sounds even worse.
I admittedly share none of Rosenberg's empathy or fascination with Kanye or any of his recent creative pursuits. But surprising even myself, I do share Kim's bewilderment and righteous indignation that she was somehow expected to metamorphose into the first lady of the church in tandem with 'Ye's long-latent but newly realized evangelist—a contradiction she rightly pointed out to her husband.
"You built me up to be this sexy person and confidence and all this stuff, and just because you're on a journey and transformation doesn't mean I'm in the same spot with you," said Kim, as Kanye shrugged and exited the room, which she called "absolutely ridiculous."
Kim's evolution into a high-fashion icon was perhaps one of Kanye's most successful (if surreal) productions. But if anything's ridiculous, it's the idea that Yeezus thinks any of this Gaslighting 101 is some new shit.
Predictably, by the time two were en route to the Met Gala the next day—an event which happened to coincide with Kim's first solo American Vogue cover (where she was also dripping wet)—Kanye (who couldn't be bothered to dress up at all) was suddenly grinning in agreement that "We made it."
Because isn't attention all it's ever about?
So, if we (for once) find ourselves defending Kim Kardashian, it's likely because we know the feeling. We too thought we were on a journey with Kanye—and frankly, we also feel like he offered his irrational, unasked-for critique...and then, Kanye-shrugged us off, too.
We just happen to think the most offensive outfit in question was the MAGA hat.