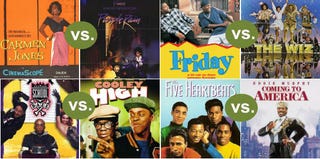 (The Root) – Purple Rain crushed Krush Groove in round 1, but how will it do up against the Dorothy Dandridge classic Carmen Jones in round 2? And how will a 1970s high school tale, Cooley High, do against a late '80s HBCU-themed musical like School Daze? It's all up to you — so vote below to help us determine which comedies and musicals will make it to the Sweet 16.
When you're done, be sure to vote in the action, drama and romance categories. Click here to see the full bracket.
Like The Root on Facebook. Follow us on Twitter.