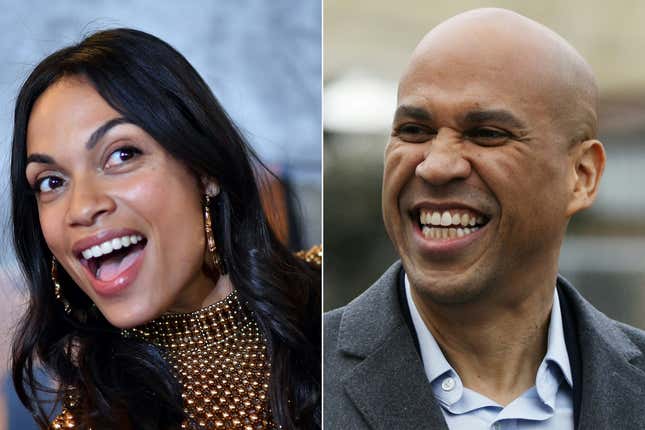 Last month, senator and presidential hopeful Cory Booker teased the possibility of meeting actress Rosario Dawson at the White House altar in her white dress (or whatever coloring of dress she chooses). Now he's doubling down on his declarations of love for Ms. Dawson, telling a New York morning show that the couple is looking at a forever-ever timeline.

America's Got Talent Host, Terry Crews, Shows Full Gratitude For Writers On Strike
In an interview scheduled to air Friday on "Good Day New York" (h/t Page Six), the New Jersey Senator told hosts Rosanna Scotto and Lori Stokes he and Dawson "are not trying to put this through a political lens. We're just two people in love trying to build a great relationship every single day."
Of course, there are haters in the world who think the timing of all this is a bit too convenient. The pair started appearing together in public in December, right around the time all 316 potential Democratic presidential candidates began launching exploratory committees and contacting Wall Street to gauge their fundraising capabilities. Booker says he met Dawson, who stumped for Bernie Sanders in 2016, at a fundraiser for former NAACP chairman Ben Jealous.
Now, cynics will mewl that bachelorhood is a handicap Booker is surely aware of. If elected president, Booker would be the second black man to command the office, and only the third bachelor (the last one was Grover Cleveland, elected in 1886, who ended up marrying his boo thing while in office). Who trusts the single agenda? Not Americans voting for president, apparently.
But to hear Booker tell it, that calculus hasn't entered his mind at all, you gossiping, wayward goats. As he told "Good Day New York:"
"Because I'll tell you what—in my best case scenario, I get elected to president, I serve two terms. That's just 10 years . . . nine years of my life. What I'm trying to create with Rosario is something that'll last forever."
That's sweet. Maybe T-Bone will be best man?