20-Year Anniversary of Million Man Event Minimized
The first viewer comment on C-SPAN's call-in "Washington Journal" on Sunday was from Everett of Jersey City, N.J. The topic for the segment was Saturday's Justice or Else march in Washington, the 20-year sequel to the 1995 Million Man March.
"None of the mainstream media were there. That's a problem," Everett said. "Somebody's got to be held accountable for this."
On Facebook, a photo of the crowd on the National Mall circulated with these words superimposed: "It's crazy how the riots in Ferguson and Baltimore were on all news outlet[s] 24/7 but turn on a news outlet today while the #Millionmanmarch is going on . . . They so easily focus on the negative and never highlight the positive."
Another on social media cited old suspicions. "The lack of diversity inside newsrooms is one of the reasons why I believe this event had little or no coverage at all. No major incidents occurred either despite the fact that some media outlets reported a few days ago that some people feared violence would occur at the event after what happened last year in Ferguson and Baltimore."
A tweet read, "OH YEA AND THERE WAS ANOTHER #MILLIONMANMARCH YESTERDAY BUT CNN DIDN'T TELL US."
G/O Media may get a commission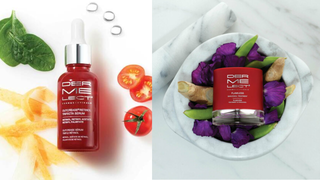 Save $19
Retinol Renewal Kit
In contrast to the attention given the original march and its 10-year anniversary in 2005, C-SPAN was alone among major television networks in providing live coverage of Justice or Else.
A check during the major speech of the day, by Nation of Islam leader Louis Farrakhan, showed regular programming on even the local network affiliates. BET showed still another rerun of the "Martin" sitcom, and TV One, the other major black-oriented network, reprised yet another "Good Times." News channels CNN and MSNBC likewise turned their attention elsewhere.
On radio, Pacifica's WPFW-FM in Washington and C-SPAN's radio counterpart rose to the occasion and went live.
The Pacifica coverage was carried by the other four Pacifica stations, WBAI-FM in New York, KPFT-FM in Houston, KPFA-FM in Berkeley, Calif., and KPFK-FM in Los Angeles. "And online we registered 200,000 listeners, in addition to those listening to the terrestrial radio signals," Askia Muhammad, news director at WPFW, told Journal-isms.
Vincent Thompson of Philadelphia's WURD-AM added by email Monday, "Our radio station, one of the few Black talk radio stations in the nation, carried coverage of Justice or Else from 12 noon to 4 PM Eastern Time which included carrying the full two hour speech by Min. Louis Farrakhan."
BET had declared earlier, "BET.com's news division and our millennial focused BET digital vertical #whatsatstake will have a team of multimedia journalists covering the event."
That network spent $130,000 to advertise the original 1995 march with a full page in USA Today, and on the "Millions More March" 10-year sequel, said it had "BIG plans for sure."
TVOne plans coverage on its "NewsOne Now" with Roland Martin at 7 a.m. Monday.
Saturday's event was also live streamed on the website of Revolt, the music channel founded by Sean "Diddy" Combs and co-owned with Comcast.
A spokeswoman for MSNBC, which shifted last month from emphasizing talk shows to covering more hard news, cited correspondent Trymaine Lee's appearances at 7 a.m., noon and 1 p.m.
Lee did a package of 2 minutes 41 seconds at 12:30 p.m., and on the "Melissa Harris Perry" program appeared live from the National Mall and offered a 1-minute, 30 second piece featuring three generations who were present.
Lee also wrote a piece for msnbc.com.
A CNN spokeswoman insisted Monday, "We covered it through out the day." She did not respond to a request for details.
By contrast, the C-SPAN coverage ran from the rally's 10 a.m. start until its conclusion shortly after 3:30 p.m.
While Fox News Channel might not have provided live coverage, Farrakhan was irritated enough by what it did say to single it out Sunday morning in a standing-room-only meeting of supporters at Washington's black-owned Marriott Marquis hotel.
"Fox News is saying the Palestinians spoke" and promoted the Palestinian cause, as though Farrakhan had ceded control of the event, the minister said. Same with Native Americans who addressed the crowd about Native American issues. "I believe in freedom," Farrakhan countered. "Why would I have somebody speak and try to monitor what they say? Everyone spoke what was in their hearts."
The National Park Service stopped making Mall crowd estimates after being criticized for its count of attendees at the 1995 march. However, Ernest Muhammad, national transportation coordinator for the event, told Journal-isms on Sunday that "well over 500 buses" arrived from as far as Texas, Iowa and Mississippi. It would not be surprising if most African Americans knew someone who attended.
In a front-page essay in the Washington Post on Saturday, Michael Fletcher contended that the significance of the Million Man March was not in its numbers.
"Organizers say black men registered to vote, joined churches and community organizations, and recommitted themselves to their families in unprecedented numbers as a result of the march, even if evidence of that is hard to pin down," Fletcher wrote.
"What is unquestionable is the march's symbolic importance. It has become a cultural touchstone, like the much smaller March on Washington was for an earlier generation. The difference is that the Million Man March was not a demand on government but a call for introspection, one that many black men continue to cite as a seminal moment in contemporary history. . . ."
At the Sunday morning meeting, Farrakhan declared that "there is no separation of the message and the messenger. They are one."
But not all those who attended were Farrakhan followers.
Melanie Eversley wrote Sunday for USA Today of the larger significance that Fletcher mentioned. "Among those people was Rev. Ronald Bell, Jr., a 34-year-old pastor from Wilmington, Del., who was there with his 4-year-old son, Ronald Bell III. The elder Bell attended the 1995 march with his own father, Rev. Ronald Bell, Sr., when he was 14-years-old. He never forgot it, he said.
" 'Just to see all those strong black men in one spot does something to you,' said Bell, who heads Wilmington's Arise congregation.
"Holding his son's hand, he said, 'I hope he gets the experience I did 20 years ago with just the visual that we are strong. That we may not be where we thought we'd be 20 years later but we're still strong.' . . . "
Adelle M. Banks, Religion News Service: Farrakhan 'Justice or Else' rally reaches beyond 'Black Lives Matter'

Johann Calhoun, Philadelphia Tribune: A look at the Million Man March through Philly eyes

Barry Carter, Star-Ledger, Newark, N.J.: First Million Man March was Maplewood resident's step into adulthood

Connie Cass, Associated Press: AP WAS THERE: 20 Years Ago Million Man March Drew Many to DC

Evelyn Diaz, BET: The Struggle Continues for the Men of the Million Man March

Charles D. Ellison, The Root: A Million Man March That Leaves 20 Years of Reflection
Jesse J. Holland, Associated Press: Spirit of family reunion marks Million Man March anniversary

Jazelle Hunt, NBC News: Justice Or Else March Draws Multigenerational Families

Anthony Izaguirre and Leonard Greene, Daily News, New York: Nation of Islam leader compares GOP presidential field to prostitutes during speech at 'Justice or Else' rally in D.C.

D. Kevin McNeir, Washington Informer: Farrakhan Advocates for Black Unity at March Anniversary

David Nakamura and Hamil R. Harris, Washington Post: 20 years after the Million Man March, a fresh call for justice on the Mall

Keith A. Owens, Michigan Chronicle: Why we marched: For the third time, Farrakhan's call attracts hundreds of thousands

Mitchell Peters, Billboard: Million Man March Activists Chant Kendrick Lamar's 'Alright' on 20th Anniversary

Sam Sanders, NPR: 2 Decades Later, A March Of Thousands Looks Back — And Sets Eyes On Future

Jada F. Smith, New York Times: Echoing Calls for Justice of Million Man March, but Widening Audience
How ABC Was Talked Out of a Wrong Approach in 1995
Diversity makes a difference in how stories are covered, as a story of one African American news producer demonstrates.
Lynne Adrine was a producer at ABC News during the Million Man March in 1995. Today, she is director of the Washington Program for Broadcast and Digital Journalism for the S.I. Newhouse School of Public Communications at Syracuse University.
By email a few years ago, Adrine told Journal-isms that speaking up during a story conference dissuaded ABC News from taking the wrong approach in its 1995 coverage.
"ABC News in 1995 was a much more diverse place than it is today. Carole Simpson was a weekend anchor, and correspondents in the Washington bureau included Michel McQueen [who is now Michel Martin of NPR], Michele Norris [now also of NPR] and George Strait, along with Julie Johnson [both of whom have left the news business for public relations].
"I believe there were at least five African American producers in the bureau," Adrine continued, "including A'Lelia Bundles and me." Bundles, now board chair and president of the National Archives Foundation and vice chair of the Columbia University Board of Trustees, is also the great-great granddaughter and biographer of Madam C.J. Walker, the famed hair-care entrepreneur.
"I was senior producer for Morning News, and Glennwood Branche was VP for Operations.
"1995 was the year of the O.J. Simpson murder trial and ABC News, like every other mainstream news organization, had used considerable resources to follow the trial and the media circus left in its wake. At the same time, plans were coming together for the Million Man March, scheduled for October 16 on the National Mall.
"At the start of September, many black employees of ABC News approached management about making special coverage plans for the MMM. I personally knew about repeated suggestions from our black correspondents. The response was ambivalent.
"Until the O.J. verdict.
"The racial disparity in Americans' responses to the verdict baffled the senior management in the news division. Many of us were pulled aside for private conversations with white colleagues who either sought understanding for the different points of view, or to get validation for their perspective. Several stories were done to examine the phenomenon. The execution of those stories varied greatly.
"And suddenly, there was a lot of interest in the upcoming Million Man March. Management decided to bring the main anchors to Washington for the event. Personnel and equipment were brought in from other bureaus. Most people worked over the weekend to finalize plans. A GMA broadcast producer had come to Washington from New York and asked me, 'Do you think there'll be violence?' I patiently tried to explain what the MMM was about, and where our coverage should be focused.
"Back then, Good Morning America belonged to ABC Entertainment, although the News Division contributed coverage. So the Sunday planning meeting before the MMM was run by the senior broadcast producer for GMA (a British man at that time), who would remain in New York.
"During the conference call, the broadcast producer outlined an elaborate opening montage for Monday's 'GMA' which would include a picture of Martin Luther King Jr. morphing into a picture of Minister Louis Farrakhan. The announcer's voice would raise comparisons between the MMM and the 1963 March on Washington.
"The visiting producer from New York looked at my face and said, 'I think Lynne has something to say.' You have to remember that this was not my meeting; I was an employee of the News Division who had been invited to sit in. So there was a risk here.
"I said 'By what measure do you think you can compare Louis Farrakhan to Martin Luther King? What similarities do you possibly see? People came to the 1963 march for a specific goal. If you ask 50 black men why they are coming to Washington tomorrow, you may get 50 different answers. The only comparison I can see between these two marches is the fact that a bunch of black folks are coming to Washington. Cover it for what it is, not what you imagine it to be.'
"After a silence, the broadcast producer asked angrily 'Well, are we going to do my open or the "politically correct" open?'
"And the executive producer said, 'Why don't we do the editorially correct open?'
"That's when I knew I'd made my point, and our coverage approach changed. And that would not have happened if I were not sitting in that room."
A'Lelia Bundles: Flashing Back to News and Race in October 1995 (Comments section)
NABJ Luminaries Among 300 at Services for Sidmel Estes
By Marlon A. Walker
Success came with preparation.
It was a message reinforced — jokingly by some — as more than 300 people paid final respects Saturday to longtime producer Sidmel Estes, the National Association of Black Journalists' first female president. Estes died just after midnight Tuesday after a short illness. She was 60.
"Sid would be upset because I don't have a script," began longtime friend Ann Wead Kimbrough, dean of the School of Journalism & Graphic Communication at Florida A&M University. "I'm a print journalist first and she often demeaned those of us in print, saying, 'You don't understand, you've got to have a script for everything.' I follow Sid's leadership in that area, and I never ever go anywhere without a script, at least minimally in my head."
NABJ president Sarah Glover flew to Atlanta for the service. Also in attendance were three former NABJ presidents, other current and former national officers and members of the Atlanta Association of Black Journalists, of which Estes was a co-founder.
Georgia State Rep. Marie Metze, D-Atlanta, spoke of Estes' work outside the newsroom, including her dedication to her faith and programs that the two worked on together with Christian debutantes and black trailblazers of Atlanta's MARTA public transit system.
"Sidmel wanted to do more for her people" than her work on "Good Day Atlanta," Metze said. "I'm a living witness to her glorious dedication to the church. She encouraged, she motivated and she inspired our young future Christian leaders. I owe a special debt of gratitude to Sidmel."
Some of those in attendance at Elizabeth Baptist Church in Atlanta identified themselves as "Sid's babies," having been guided by her at some point in their careers. Some were friends and classmates from Estes' beloved Northwestern University.
And there was singing.
It began with Bishop Richard B. Langford Sr., singing the Josh Groban song "Remember Me" at the request of the family.
Ce Cole Dillon, who met Estes as a 17-year-old freshman at Northwestern, said the older Estes was always teaching.
"My first week of class, she got me involved in a protest," Dillon said to laughter from the audience. "She said to me: 'You do what you do, but you never forget the struggle. You never forget what went before, and you make sure those that come behind you know.' "
Dillon memorialized their friendship the best way she knew, singing the last part of the "Golden Girls" theme song.
"If you threw a party, invited everyone you knew, you would see the biggest gift is from me, and the card attached would say: 'Thank you for being a friend,' " she sang.
Local print and broadcast journalists, including Estes' former co-workers from the local Fox affiliate, where she co-founded and executive-produced "Good Day Atlanta" from 1993 to 2006, were in attendance.
"I like Sidmel," said friend and retired TV anchor Monica Pearson, who worked for a rival station. "You never had to guess where she stood on anything."
The singing bug even caught up with Pearson who, in saying it was time for Estes to take her rest, reveled in the knowledge that Estes' impact would live on.
"There's a leak in this old building," she sang as an accompanist sought to catch up on piano, "and my soul has got to move."
Mark Shavin, a senior executive producer at WSB-TV in Atlanta who worked with Estes at WAGA-TV, Fox 5, addressed the circumstances of Estes' illness.
"No doubt when I read on Facebook like many of you that Sid was gravely ill and without health insurance, I wondered how is that possible?" he said during the service.
"The Sidmel I knew was determined to take charge of her health and her destiny. Years earlier, she underwent gastric bypass surgery, lost something like 150 pounds. She didn't do it for herself, though. She did it for her boys. She wanted to be around to see them grow up. She went under the knife, severely restricted her diet and consumed a steady diet of postoperative pills — and not because it was an easy way to lose weight, but because she wanted to live. And so, there is irony in the way she died.
"The truth is what happened to Sidmel could happen to any of us. Health insurance cannot be a luxury. It has to be a basic right."
Marlon A. Walker, a reporter at the Atlanta Journal-Constitution, is vice president/print of the National Association of Black Journalists.
Iran Reports Conviction of Washington Post Reporter
"Washington Post correspondent Jason Rezaian, imprisoned in Tehran for more than 14 months, has been convicted following an espionage trial that ended in August, Iranian media reported Monday," Carol Morello and William Branigin reported Monday for the Washington Post. "The verdict — belated and opaque — was strongly condemned by the journalist's family and colleagues, as well as the U.S. government.
"State-run TV and the Iranian Students' News Agency both quoted Gholam Hossein Mohseni-Ejei, a spokesman for Tehran's Revolutionary Court, saying Rezaian, 39, had been found guilty. But Mohseni-Ejei offered no specifics on what charges and whether a sentence has been imposed.
" 'He has been convicted, but I don't have the verdict's detail,' said Mohseni-Ejei, a hard-liner and former prosecutor who criticized Foreign Minister Mohammad Javad Zarif for shaking hands with President Obama during a chance encounter at the United Nations last month, comparing the gesture to consorting with the enemy.
"Rezaian faced four charges — the most serious being espionage. The judge who heard the case is known for handing down harsh sentences, and Rezaian potentially faces a sentence of 10 to 20 years. . . ."
Morello and Branigin also wrote, "Martin Baron, executive editor of The Post, called the guilty verdict 'an outrageous injustice' and 'contemptible.' . . ."
Prosecutor Defends Finding of "Reasonable" in Rice Shooting
"Cuyahoga County's top prosecutor responded to a series of criticisms levied by activists and families of victims of police violence who expressed disappointment over his office's release of two reports that concluded the Cleveland police shooting death of Tamir Rice was 'reasonable,' "Kris Wernowsky reported Monday for the Northeast Ohio Media Group.
"Prosecutor Timothy J. McGinty's office released two reports from use-of-force experts — one a Denver prosecutor, the other a retired FBI agent — that examined the evidence in the shooting. Both concluded that while the shooting of the 12-year-old boy was tragic, it was reasonable for officer Timothy Loehmann to shoot Tamir on Nov. 22 outside the Cudell Recreation Center.
" 'Any suggestion that this office is protecting police is baseless and soundly rebutted when our record of prosecutions against police is reviewed,' he said in a statement released through his spokesman Monday night.
" 'Perhaps some of these community activists are outcome oriented and have understandably had their emotions regarding the absolutely tragic death of a child to influence their position,' he added.
"ACLU Ohio Executive Director Christine Link said in an interview Monday that the public loses confidence in police-involved shooting investigations when prosecutors rely too heavily on the opinions of current or former law enforcement officers. . . ."
Accused Police See Body Camera Videos, but Public Can't
"In the turbulent year since Michael Brown's death sparked protests in Ferguson, Mo., and beyond, politicians, law enforcement officials and community activists have seized on body cameras as a vital reform capable of restoring transparency and trust to police interactions with the public," Kimberly Kindy and Julie Tate reported Saturday for the Washington Post.
"But in Burlington [,Iowa,] and elsewhere around the country, police and other officials are routinely blocking the release of body camera videos while giving officers accused of wrongdoing special access to the footage.
"Nationwide, police have shot and killed 760 people since January, according to a Washington Post database tracking every fatal shooting. Of those, The Post has found 49 incidents captured by body camera, or about 6 percent.
"Just 21 of those videos — less than half — have been publicly released. And in several of those cases, the footage, as in Burlington, was severely cut or otherwise edited.
"Meanwhile, virtually all of the 36 departments involved in those shootings have permitted their officers to view the videos before giving statements to investigators, The Post found. Civil and human rights groups fear that access could help rogue officers tailor their stories to obscure misconduct and avoid prosecution. . . ."
. . . Relatives Give N.Y. Times Horrific Dashboard Video
"For 15 minutes, a man shot by an off-duty officer here lay bleeding from two gunshots in his abdomen as the responding officers stood by without providing first aid," Manny Fernandez reported from Houston Sunday for the New York Times.
"At one point, as the victim, a 53-year-old black man, raised his head, an officer used his foot to keep the man's face on the pavement, according to a dashboard camera video supplied to The New York Times recently by the man's relatives.
"From the time the episode was first reported, at 2:17 a.m. on July 9, 2014, and including the time the man, Charles K. Goodridge, lay unaided on the ground, it took more than an hour for him to arrive at an emergency room. An hour after his arrival at the hospital in an ambulance, he was dead.
"The length of time Mr. Goodridge was left unassisted has angered his relatives and has been criticized by two witnesses to the episode and by law enforcement officials. And like the deaths of Eric Garner on Staten Island, Tamir Rice in Cleveland and Walter L. Scott in North Charleston, S.C., the Goodridge case has raised racially charged questions, not only about what led to the shooting but the actions of the police officers in the aftermath. . . ."
Editorial, Daily News, New York: Arresting development in James Blake probe

Editorial, New York Times: A Law That Hides Police Misconduct From the Public

Jaeah Lee, Mother Jones: Outrage is Boiling Over the Outcome of New Probes Into the Police Shooting of a 12-year-old. Here Are 6 Takeaways.

Goldie Taylor, Daily Beast: So Killing Tamir Rice Was…Reasonable?

Zoeann Murphy, Washington Post: Police body cameras: A struggle over who controls the footage (video)
Endowment Fund Memorializes AP Intern Montano
"A small private liberal arts college in Iowa has established an endowment fund in memory of a young alumnus who was also a news intern for The Associated Press when he died at age 22 in Mexico City in 2012," the AP reported on Friday.
"Grinnell College announced Thursday night it's honoring Armando Montano's passion for writing through the creation of a fund in his name that supports multiple initiatives at the school. It will include a popular visiting writers program and the student newspaper, where Montano contributed stories before graduating in 2012.
"A college spokesman says the family requested that the size of the fund not be released.
"Montano, who grew up in Colorado Springs, Colorado, arrived in Mexico City to work for AP shortly after leaving Grinnell College with a bachelor's degree in Spanish and a concentration in Latin American studies.
"His body was found in June 2012 in the elevator shaft of an apartment building near his home. The investigation into the circumstances of his death remains open. . . ."
Ferrier Named to Lead Journalism That Matters
"The Journalism That Matters (JTM) board elected Dr. Michelle Ferrier, associate dean for innovation, research/creative activity and graduate studies at the Scripps College of Communication at Ohio University, as president of the organization on Oct. 4, replacing Chris Peck, former editor of the [Commercial Appeal in Memphis] and outgoing president of ASNE," the college announced on Monday.
In announcing its most recent newsroom diversity figures, the American Society of News Editors reported, "ASNE has focused more heavily on diversity through community engagement in the past few years by partnering with Journalism That Matters, a nonprofit that convenes conversations to foster collaboration, innovation and action so that a diverse news and information ecosystem can thrive. . . ."
The college announcement continued, "Ferrier has been on the board of JTM for more than five years and has developed new programs for JTM such as the Create or Die series of events in Detroit and Greensboro that birthed media entrepreneurship innovations in those areas and across the United States.
"Ferrier will lead one of the nation's most visionary organizations that for more than 14 years has led conversations helping professionals to navigate the changing role of journalism. A signature approach of JTM has been to bring diverse stakeholders to the table and use unconference practices to foster breakthrough conversations and action.
"A former newspaper columnist and managing editor for online communities, Ferrier has been a pioneer in digital media and content/learning management systems. Ferrier is a researcher and practitioner around online communities, hyperlocal online news, media entrepreneurship and online education.
"Ferrier is also the principal investigator for The Media Deserts Project that examines the changing media ecosystem using geographic information system technologies. . . . "
O'Reilly Admits Factual Errors in Piece on Dearborn
"Fox News anchor Bill O'Reilly admitted to factual errors in a piece that aired on O'Reilly Factor Thursday night, but remained firm in his defense of the feature as satire," Randall Yip reported Saturday for his AsAmNews site.
"In the segment called Watters World, correspondent Jesse Watters traveled to Dearborn, Michigan where the population is about 50 percent Arab, many of them Muslims."
The Arab American News reported last week, "The video segment aired on the O'Reilly Factor Monday night; a day later, close to a dozen calls for bombing Dearborn surfaced on Fox News's Facebook page. City officials and community activists condemned the news network for its inaccurate portrayal of the city. . . ."
Yip continued, "Dawud Walid, the executive director of the Michigan Chapter of the Council on American-Islamic Relations[,] appeared on the show Friday to take O'Reilly to task for many factual errors in the piece.
"Walid called the feature 'old tired bigoted frameworks' about the community of Dearborn.
"O'Reilly admitted to several errors after they were pointed out by Walid.
"The story incorrectly stated the police chief of Dearborn is Muslim when he's a Lebanese Christian.
"The story failed to correct a false assertion by a person interviewed that a Muslim woman was killed there for simply having a condom and that there are honor killings in Dearborn. . . ."
Morocco on "Campaign of Intimidation" Against Press
"As he sits in a jail cell with seven other inmates, Hicham Mansouri, an investigative journalist, worries about his colleagues on the outside," Aida Alami reported Sunday for the New York Times.
"For now, at least, they remain free.
" 'They got to me as a warning to the others,' said Mr. Mansouri, referring to other members of the Moroccan Association of Investigative Journalism. 'Moroccans should start getting concerned about what is happening in their country. The media is more repressed.'
"About a year ago, Morocco, a monarchy that cultivates a pro-democracy image, embarked on a campaign of intimidation against the press, arresting journalists and activists and even deporting foreign reporters. Mr. Mansouri's case is one of the examples of the crackdown on opposition independent voices that emerged after the 2011 revolutions in the region emboldened democracy advocates.
"In May, a judge sentenced Mr. Mansouri, 35, to 10 months of prison on adultery charges in a country where sex outside marriage is illegal. He was accused of having an affair with a married woman. Human Rights Watch denounced the trial as politically motivated and falling 'short of due process and fair trial standards.' . . ."
"Enrique Gratas, an award-winning journalist known famously for being the face and voice of Univision's news show 'Ultima Hora' for over 10 years, died on Thursday," Milly Contreras reported Friday for Latin Post. He was 71. Contreras also wrote, "According to People en Español, Gratas released a statement in September informing the public that he suffered from a critical illness, although he did not specify the exact nature of the illness. . . ."  
"Errin Haines Whack, an award-winning reporter who has written extensively on the intersection of race, inequality and politics, is rejoining The Associated Press as a reporter in Philadelphia," the AP announced Monday. In August, Whack concluded a two-year term as vice president/print of the National Association of Black Journalists.