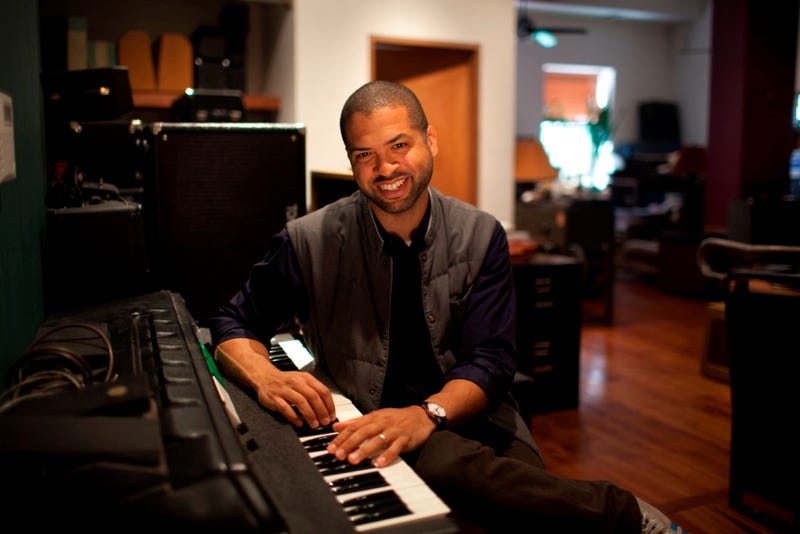 When Jason Moran became the 13th jazz musician to win a prestigious and lucrative MacArthur Foundation Fellowship, he was able to celebrate in a way that no other musician has. He played for a week at jazz's most renowned nightclub, the Village Vanguard in New York City; the engagement was arranged well in advance of the award's announcement, but the timing was a serendipitous coincidence. He used his performances there to illustrate why he was chosen and why he is one of the most forward-looking musicians in jazz today. 
Moran is soft-spoken, articulate and fairly witty, and his taste for hats could become his visual calling card. He had just finished teaching a master class at the New England Conservatory of Music when he received a phone call that left him speechless. He was informed that he was one of 23 recipients of this year's MacArthur Foundation Fellowships. Often called a "genius grant," the award includes $500,000 to spend as he sees fit. 
His response was gape-mouthed silence. "My mouth was open from the time that the director began informing me of the award," he told The Root in an interview. Past winners include Max Roach, Cecil Taylor, Steve Lacy, Anthony Braxton, Ornette Coleman and Regina Carter.
The 35-year-old Moran is one of the youngest musicians to receive the prestigious award, but he has been on the path to greatness for many years. He was born in Houston in 1975 and was inspired to pursue jazz by the music of Thelonious Monk. He first heard the legend when he was 13. "My parents sat watching muted television coverage of a plane crash — someone they knew had died," he remembered. "The only sound in the room was my dad's recording of Thelonious Monk playing his most famous composition, 'Round Midnight.' It was all the commentary they seemed to need, the sound of loss and despair." 
Moran had studied piano diligently to that point, and while his peers pursued dreams of being the next Tony Hawk or Michael Jordan, he practiced Mozart. But he was growing disillusioned with music. After discovering Monk, he learned how to play "Round Midnight" and obsessively began collecting Monk's music. "By the time I was 17, I had amassed a collection of 70 Monk recordings, and begun to think of myself as a committed pianist."
"Oh, he loves doing that. That's one of our favorites," said Waits, laughing about my story a few weeks later when I saw the drummer at another gig. "Jason likes getting people thinking about rhythms in real life and rhythms in music and how they are comparable." 
Moran left Houston and moved to New York, studied at the Manhattan School of Music and was influenced deeply by Jaki Byard and Andrew Hill, two pianists with unique styles. He joined the band of saxophonist Greg Osby in 1997 and started the Bandwagon in 2000. His distinctive sound was apparent almost immediately to jazz fans and became known to a wider audience when, on his 2002 recording Modernistic (Blue Note Records), he covered Afrika Bambaataa's seminal hip-hop hit, "Planet Rock," and added a postscript to the tune that melded the beats into the backdrop of a hymn. 
Moran has received numerous commissions. Three years ago, he developed a stunning tribute to Monk's seminal 1959 Town Hall concert, merging video of Monk rehearsing for the show, visuals from artist Glenn Ligon, and an expanded version of the Bandwagon to play the music and illustrate the relationship to Monk's music of both the legendary composer and Moran. The performance is part of a documentary called In My Mind. The film will be screened Nov. 20 at the St. Louis International Film Festival. (Moran's most recent recording is Ten on Blue Note Records.)
At the Vanguard, Moran and the Bandwagon were drawing from their full repertoire. They played a searing cover of Bjork's "Joga" and followed it with a rendition of "Planet Rock." Then out came the MP3 player; Moran and the band sat and listened intently to Billie Holiday's poignant take on Leonard Bernstein's "Big Stuff." Then the band played its own masterly version of the classic. It was the clearest demonstration I have ever witnessed of a band's unique sensibility with a well-known song.
Now that the rent is not going to be a worry for a while, it will be fun to see what Moran does next. Moran admits that it's mind-boggling to think of what he might do with the money, but don't expect anything immediately. His next year is already booked, and it includes a reworking of Fats Waller's music next spring and a piece he's writing for the Open Mind Festival for a group with guitarist Mary Halvorson and his wife, Alicia Hall Moran. 
He admitted he did have a list of dream projects, and one of them seems immediately feasible. "One was to perform free concerts within America, especially in rural America," he said. "I feel like much of what I've done has been in the major cities, yet much of the Midwest, Southwest, North and South gets neglected. So the fellowship would make the issue not about money, but about taking the music to the people."
Martin Johnson is a regular contributor to The Root.
Martin Johnson writes about music for the Wall Street Journal, basketball for Slate and beer for Eater, and he blogs at both the Joy of Cheese and Rotations. Follow him on Twitter.